Matthew McConaughey Has Increased Lincoln's Car Sales but Not the Way the Company Planned
Matthew McConaughey is an accomplished, award-winning actor. But as Lincoln Motor Company's spokesman, he's created a stir ever since his first commercial back in 2014. Viewers immediately picked up on The Lincoln Lawyer star's mellow, philosophical and slightly absurd delivery and that made his commercials extremely popular.
Lincoln reported that McConaughey's commercials have increased car sales. But it isn't his good looks and keen acting skills that bring in the revenue. So what draws the car buyers in? Let's take a look at the reason why with some insight from HollywoodBranded.com.
A quick review of McConaughey's Lincoln commercials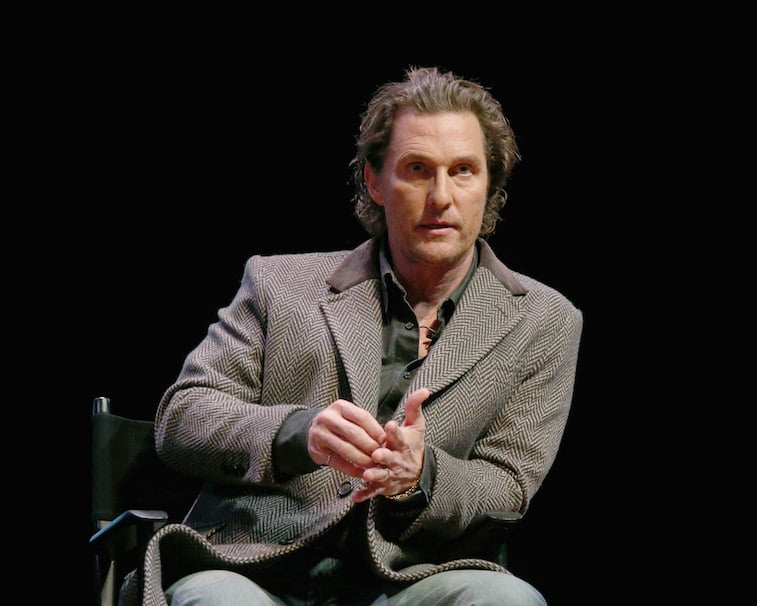 It all started in 2014 with McConaughey driving his Lincoln MKC SUV through a quintessentially Texas Hill Country landscape. The actor explains in a Zen-like way that he drives a Lincoln not because "it's cool" but because he "likes it".
Then there's the moody, rainy night scene where McConaughey leaves a cafe and climbs into his MKZ sedan. He opens the moonroof and exclaims softly, "There we go!" He drives off into the cityscape.
In another vignette, an enormous Texas longhorn bull stands in front of McConaughey's MKC in what looks like an Old West-style standoff. Atmospheric guitar notes float through the air. He ponders the size of the animal and decides to back up and take the long way around.
Other ads show McConaughey comparing driving
Later commercials focus less on props and scenery and more on McConaughey's way of being. He talks about finding the balance between taking care of oneself while taking care of the earth in an MKZ Hybrid commercial. Similarly, he drives an MKZ while mulling over how "sometimes you've gotta go back to move forward".
More recently, McConaughey is seen finishing a run through the redwoods and getting into a Lincoln Nautilus. Another commercial earlier this year shows him warming up in the back of an Aviator while taking a break from ice fishing.
Why McConaughey's commercials increased Lincoln's sales
Public reaction to the Dazed and Confused star's advertisements was strong from the start with almost 18,000 tweets immediately after the first commercials were released. The response on YouTube was equally enthusiastic with more than 11 million views.
The warm reception to McConaughey's laconic, somewhat obscure monologues wasn't lost on some popular celebrities. Ellen DeGeneres was the first to create a hilarious spoof in which she sits in the back seat and responds to his speculations.
Then Jim Carrey's parody for Saturday Night Live was razor-sharp and caught McConaughey's True Detective undertones perfectly. Comedy Central's South Park also captured McConaughey's idiosyncratic musings. It added an even more bizarre twist at the end of the take-off when the actor is pulled into a wormhole.
Did all of the spoofing of McConaughey's commercials hurt Lincoln's car sales? Not a single bit. Instead, the automaker reported that the parodies appeared to boost sales by 13% within a few months of the commercials' release. The MKC, especially, was well-received by both reviewers and buyers, and its sales have seen a gradual increase ever since it was first featured in McConaughey's commercials.
McConaughey's other commercial partnerships
Somehow Matthew McConaughey's quirky, brooding style resonates with not just movie and TV audiences but also consumers. He started his career by making television commercials before breaking into films. In the early 1990s, he made one for the Austin American-Statesman that was his first speaking role. In 2008, he replaced Sam Elliott as the spokesman for the National Cattlemen's Beef Association's "Beef. It's What's for Dinner" radio campaign.
His latest collaboration is with Wild Turkey Distilling Company. McConaughey has committed to a multi-year partnership with the distillery and has helped to create a new bourbon, Wild Turkey Longbranch. This product is inspired by McConaughey's parents, who met at the University of Kentucky, not far from the distillery.
In the YouTube video that promotes the new bourbon, the actor is more interactive. He talks animatedly with Wild Turkey's Master Distillers Jimmy and Eddie Russell. It's surprising, perhaps, because we're so used to the oddball introspection of McConaughey's Lincoln commercials. They are a testament to advertising that succeeds in selling a product while allowing a unique actor like Matthew McConaughey to totally be himself.