Matthew McConaughey Revealed Why Kissing Kate Hudson Was 'Awkward' Every Time
Kate Hudson shared in an interview that kissing Matthew McConaughey on-screen was anything but romantic and, in one case, was downright disgusting. McConaughey recently confirmed that, while Hudson's assessment of their on-screen kisses sounded a bit rude, she wasn't wrong.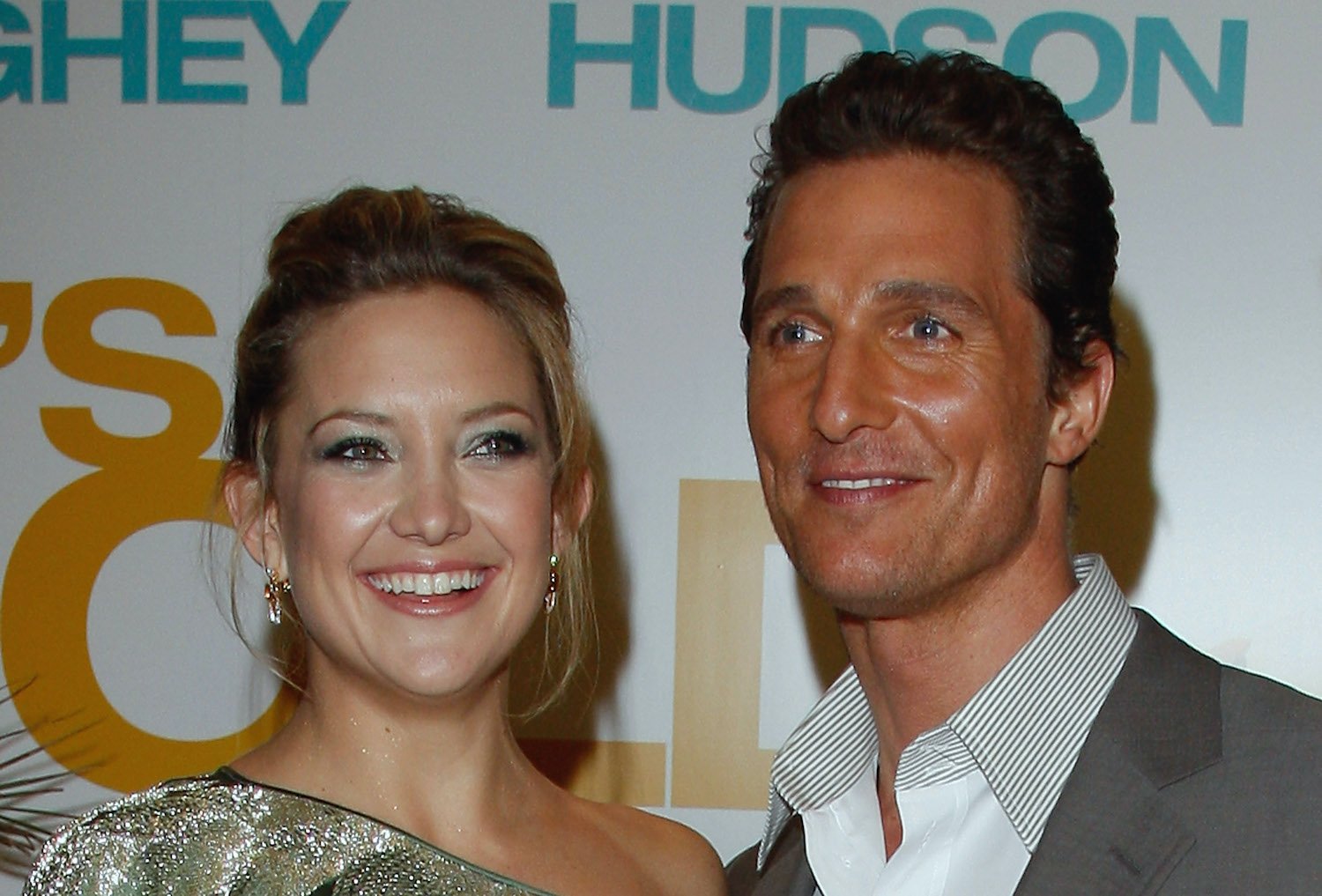 Kate Hudson said kissing Matthew McConaughey wasn't the best
During an Oct. 13 interview on the Goop podcast with Gwyneth Paltrow, Hudson shared some of the details of their movie kisses in How to Lose a Guy in 10 Days and Fool's Gold. When Paltrow asked, "Who was the best on-screen kisser," Hudson gave McConaughey low marks.
"Honestly, I feel like I kind of haven't had the best kissers," Hudson said. "I feel like I should have had better ones."
She continued, "Every time I kiss McConaughey, I mean, it's like there's just something happening and there's like snot or wind. Like when we were kissing, like in the end of Fool's Gold, we're like in the ocean, we had the plane crash, he just had snot all over his face."
Paltrow wondered if kissing McConaughey was like kissing a brother, to which Hudson said, "I think it can be a little sibling-y at times. But no."
RELATED: Matthew McConaughey Said He'd Support His Kids if They Want to Follow in His Footsteps
Related post url: 
Matthew McConaughey confirmed they never had a perfect kiss
Hudson's retelling of their kiss wasn't too much off the mark, according to McConaughey, who clarified the reason why their kisses were never perfect.
In an interview with Yahoo Entertainment, McConaughey broke down the Fool's Gold kiss Hudson spoke of, explaining why he had snot on his face.
"So many of Kate and I's kisses have been awkward," McConaughey explained. "We still like, hey, can we ever get a kiss where it's just like the temperature's right? The ocean's not wiping us away? Nobody's dropping stuff on us, above our head?"
McConaughey explained how 'snot' was part of their 'Fool's Gold' kiss
McConaughey went on to talk about how that ocean water kiss wasn't that romantic in reality. "In Fool's Gold, it's like, 'OK, here's the scene: you're in the middle of the ocean. You go under the water. So on action, go under the water and then come up out of the water like you're gasping for air, you're glad to be alive. Then you look at each other and you swim to each other and go into an embrace,'" McConaughey said of how they were directed for the scene.
"There's a lot of salt water and snot and all kinds of stuff that are in between all those, and so you're doing that and you're like, OK, I think that worked, but did that look any good?," he explained.
McConaughey continued, "[They're] like, 'No, we better do another take.' So there were always, like, elements made it harder … We never got to have our nice romantic kiss. There's still time."
While McConaughey explained why he stopped doing romantic comedies, maybe he will finally share a romantic kiss with his former rom-com co-star.