Matthew McConaughey Used His Shocking 50-Pound Weight Loss for 'Dallas Buyers Club' to Teach His Kids the 'Value of Delayed Gratification'
Parents are always looking for different ways to instill values in their kids, whether they're millionaire celebrities or not. Matthew McConaughey and his wife, Camila Alves, are no different, and try to find cool ways to teach their kids lessons.
McConaughey recently shared how he was able to use his shocking weight loss for Dallas Buyers Club as proof to his kids that hard work and delayed gratification are indeed valuable. 
Matthew McConaughey used his 'Dallas Buyers Club' weight loss to teach a lesson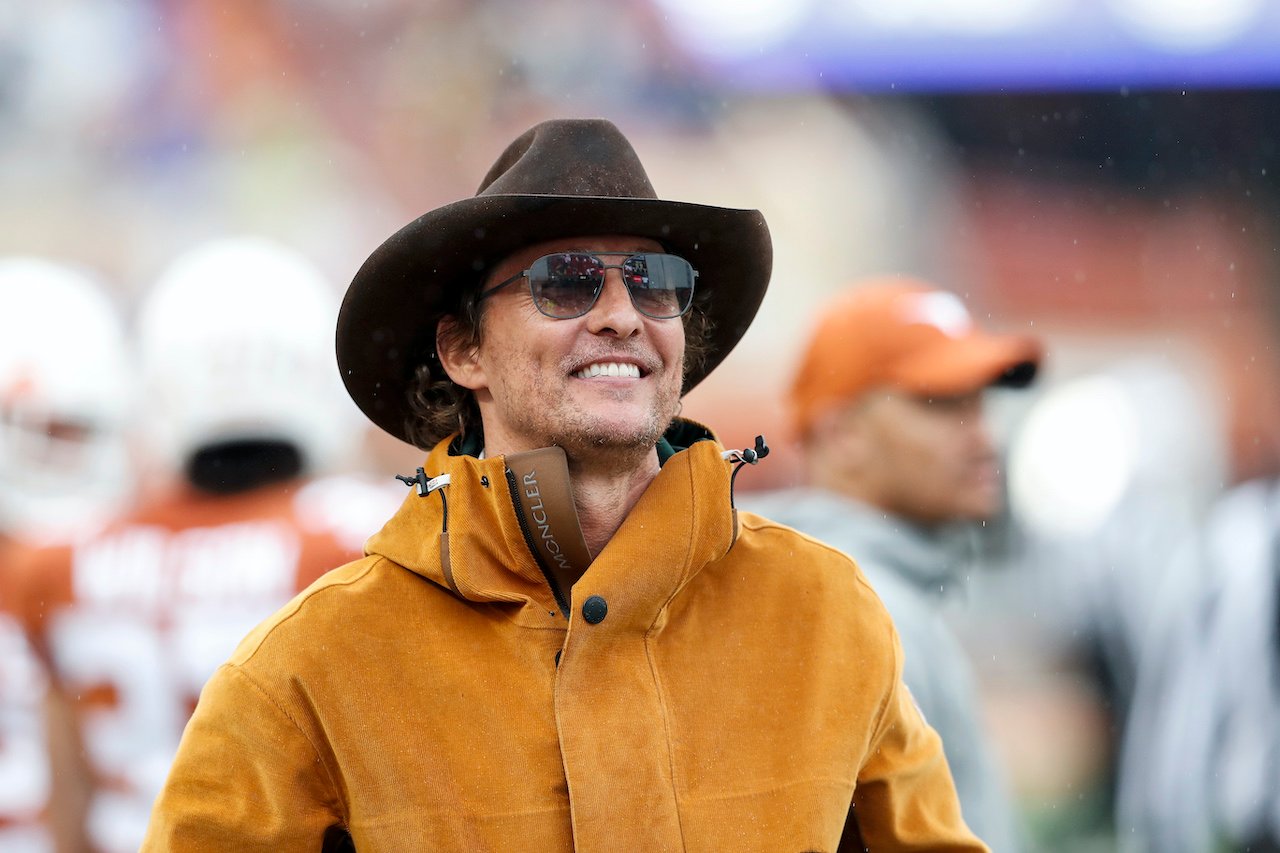 McConaughey has three children with his wife, Camila Alves, and frequently looks for creative ways to instill values in them. According to a recent interview with Access Hollywood, McConaughey relies on his career to show them examples of how hard work pays dividends in the future, as well as the value of delayed gratification. 
"We try to show them examples of how, for instance, my hard work has paid off," McConaughey said. "… I remember when I won the Oscar for Best Actor, and bring the trophy home, and my kids go, 'What's the trophy for?' … And I said, 'Well, you remember a year and a half ago when Popeye was going to work? Every morning you'd wake up and I'd already be at work, I'd come home, you told me I looked like a giraffe, I was really skinny … and they go, 'Yeah.' I said, 'Well, what Popeye was doing every day while he was gone, the work he was doing then, a year and a half later, his peers gave him a trophy, and said 'You did excellent work.' …"
McConaughey then shared how once he explained the results of his hard work on Dallas Buyers Club, his kids understood that the choices they made each day could have a big impact on their future. 
"And so, In their minds, they got—they clicked on, 'Oh, you can do something today that can reward you tomorrow.' You can do things well today, in your work, in your relationships, that can give you, you know, Green Lights tomorrow. … We can be kind to our future selves with the choices we make today. It can really help."
Matthew McConaughey lost 50 pounds for 'Dallas Buyers Club' role
Matthew McConaughey's body transformation for Dallas Buyers Club is one of the most memorable in recent film history. In a separate interview with Joe Rogan, McConaughey revealed that he lost 50 pounds for the role by restricting his diet to fish and vegetables, pudding, and limitless wine. 
"Once I made my mind up, I did the smart thing," McConaughey said. "I gave myself five months. I got on a diet where I'd have my tapioca pudding or whatever, three eggs—egg whites in the morning. Five ounces of fish, cup of vegetables for lunch, five ounces of fish, cup of vegetables for dinner. As much wine as I wanted to drink, and I lost 2.5 pounds a week, like clockwork, no exercise … it didn't matter if I was going to the treadmill and burning 2,000 calories a day or not—2.5 pounds a week. Clockwork."
The Oscar-winning actor turned down a $14.5 million payday for 'Dallas Buyers Club'
Although McConaughey ended up winning an Oscar for his performance in Dallas Buyers Club, it literally came at a price. In order to star in the movie, he had to turn down a role in a romantic comedy that would've paid him $14.5 million. He revealed the details in the same Access Hollywood interview. 
"… That was a time in my life where I was having great success with Rom-coms," McConaughey said. "I absolutely enjoyed doing them, they paid me handsomely. It's just, I started to feel like if I've got the Rom-com script tonight, oh I could do it tomorrow morning. And I wanted to find something that made me sweat in my boots. Something that I'm like, 'Ooh, I don't know what I'm gonna do with this role, but I'm gonna dive in and find out.' I was looking for new challenges, so those new challenges I wanted—those dramas—they weren't coming my way. … Ultimately I said no, and I think that helped send a signal as well, to a lot of people in Hollywood that 'Oh, McConaughey's not bluffing' …"