Maury Povich vs Connie Chung: Who Has the Higher Net Worth?
In terms of the talk show world, few have had a longer track record than Maury Povich. His wife of 36 years, news anchor and reporter, Connie Chung, might concur. Both have had successful careers in their respective categories but who has the highest net worth?
Connie Chung has a background in news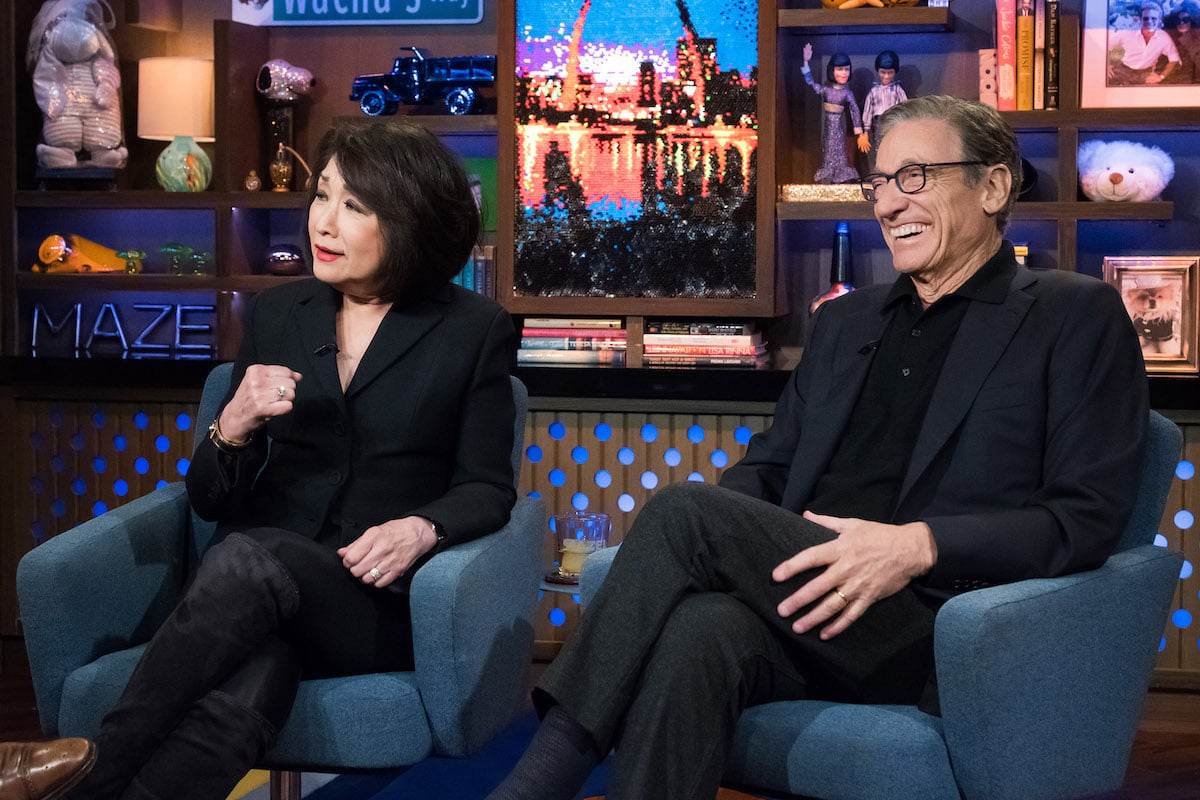 Veteran journalist, Connie Chung, has worn the news anchor crown for years. She got her first big break as the first female co-anchor of CBS Evening News in 1993. She's anchored for networks NBC, CBS, ABC, CNN, and MSNBC.
Born to a Chinese diplomat, Chung attended the University of Maryland where she studied journalism. Chung worked her way up at Washington's WTTG-TV, eventually becoming a reporter for the station.
After interviewing President Richard Nixon during the rise of the Watergate scandal, Chung went on to win an Emmy and Peabody award. She married talk show host, Maury Povich, is 1984.
By 1995, Chung was demoted by CBS following a contentious interview with an Oklahoma City bombing fireman and a string of other questionable interviews. She asked to be let out of her contract, then returned to TV in 1997 as an anchor for 20/20.
Chung filled her time with periods of work followed by long periods away from the business. In 2006, Chung co-hosted Weekends With Maury and Connie but the show only lasted six months before it was canceled.
"On the one hand, I think that women have made incredible advances in news, not only in print but in television," Chung told The Hollywood Reporter amind the #MeToo movement.
"But it's still dominated by an all-male management, dinosaur mentality. And the old boys' network is alive and well. That's still disturbing to me."
She continued: "I don't think there's full disclosure everywhere, where there's been egregious behavior. There still seems to be some information that's being hidden. I think there needs to be a better cleansing of all the news organizations. The attitudes still have to change to some level of parity between men and women."
In 2018, Chung appeared in an episode of Fresh Off the Boat but has otherwise kept her resume fairly open as of late.
She and Povich have one adopted son together, as well as two from Povich's previous marriage.
Maury Povich is a daytime talk mainstay
Many know Washington D.C. native, Povich, from his long-running talk show, The Maury Povich Show (which has become Maury). For nearly two decades, Povich has been the face of paternity testing for TV.
Originally, Povich worked in radio after graduating from the University of Pennsylvania. From there, Povich held jobs as a reporter, news anchor, and sportscaster before landing the talk show, Panorama.
A few years before Povich first appeared in his own "tabloid-style" talk show, he worked as a host on A Current Affair for four years. He's been the star of both iterations of The Maury Povich Show since 1991.
Like Chung, Povich has also guest-starred in shows like How I Met Your Mother and Tyler Perry's Madea's Big Happy Family as himself.
That aside, Chung and Povich created Flathead Beacon — a weekly print newspaper for their area.
"We felt that the community where we lived in the Flathead Valley deserved more in a daily newspaper than what they were getting," Povich told Parade.
"It has been honored as the best weekly newspaper and website in the state. We are very proud of the paper, especially in the climate in which print journalism is trying to stay alive and finding new ways to exist."
Who has a higher net worth?
Both Povich and Chung have had long, successful careers. Their marriage is still going strong, too. According to Celebrity Net Worth, Chung is worth an estimated $15 million and Povich, who rakes in an annual salary of $13 million, is worth approximately $80 million.