Maya Rudolph's Best 'Saturday Night Live' Impressions (Including Kamala Harris)
Now that Kamala Harris has been chosen as 2020 Democratic Presidential candidate Joe Biden's running mate, there's one thing comedy fans have to look forward to: More of Maya Rudolph on Saturday Night Live. The comedian has portrayed the senator and potential future vice president on a few occasions.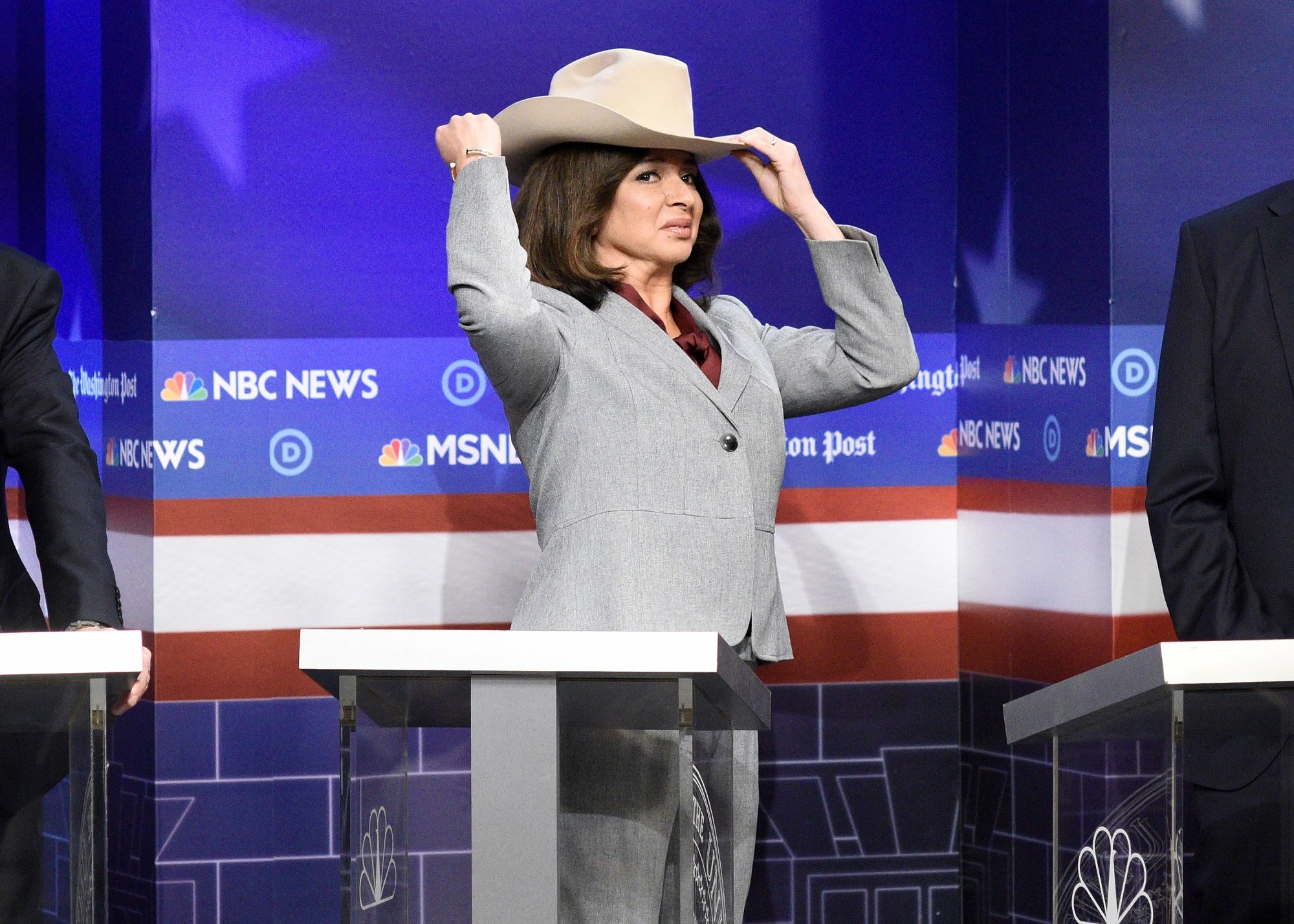 As of August 11, 2020, it's unclear in what fashion SNL could return this year. But in any case, the sketch comedy series will try to get Rudolph on at least once ahead of the November 3 election to reprise her Emmy-nominated impersonation. Here's are some of Rudolph's best impersonation sketches, including two of Kamala Harris.
Beyoncé
One of Rudolph's most popular impressions is that of Beyoncé. She has played the world-famous singer at least five times on the show. Unlike some comedians, Rudolph is particularly well-suited for this role, as it allows her to show off her own vocal chops, which she honed during her time as a musician before getting into comedy.
In 2007, as a cast member, Rudolph as Beyoncé hosted a talk show with Fred Armisen (as Prince), in which they interviewed host Shia LaBeouf as Tobey Maguire. Another sketch (above) came after the birth of Beyoncé's first child, Blue Ivy, in 2012. With Jay Pharaoh as Jay-Z, they introduced their famous friends to their daughter. (Rudolph was the host that night.)
Oprah
RELATED: Maya Rudolph Says Performing On 'SNL' Is 'Joy and Fear' All In One
Related post url: 
The famous talk-show host is another one of the women Rudolph is known for impersonating. She plays to Oprah's popular attributes, from the way she shouts words to get her audience excited to her name-dropping habit, in a 2004 sketch titled "Oprah's Favorite Things: Birthday Edition."
In the previously mentioned 2012 episode where she hosted, Rudolph again did her best Oprah while sitting in on "Weekend Update." In the sketch, she gives out gifts, constantly asking hosts Seth and Amy to look under their seats. She also makes up OWN shows that are just rip-offs of other network series. The dress rehearsal bonus clip can be viewed above.
Kamala Harris
Rudolph began impersonating Harris on SNL in late 2019, during the politician's initial run for president. She plays on Harris' record as San Francisco District Attorney, calling her "the kind of aunt that will give you weed but then arrest you for having weed." She also teases pretend TV shows.
Rudolph has since returned twice to portray the senator. "The funt is back, baby," she says in a subsequent episode (above). "I'm America's fun aunt. I'm also America's cool aunt." She recreates popular memes. It shows off Rudolph's talent for physical comedy, and always getting the punchline.
For her part, Harris has enjoyed Rudolph's impression of her on SNL. She tweeted about it following the first appearance, giving her approval. Harris affirmed this said on Late Night with Seth Meyers, saying she was "overwhelmed," but adding, "I fully intend to make sure she has a good eight years of work on SNL."