'Mayans MC' Season 5: 4 Potential Storylines, Explored
Mayans MC has not yet been confirmed for season 5, but there's reason to think the show will return. There's certainly plenty of story left to tell after the shocking final episodes of season 4. EZ Reyes rose through the ranks of Santo Padre, ending the season with a play for power that left him as president. Meanwhile, a villain from the past emerged, and it seems like the war with the Sons of Anarchy is far from over. Here are several plots that could be explored in season 5.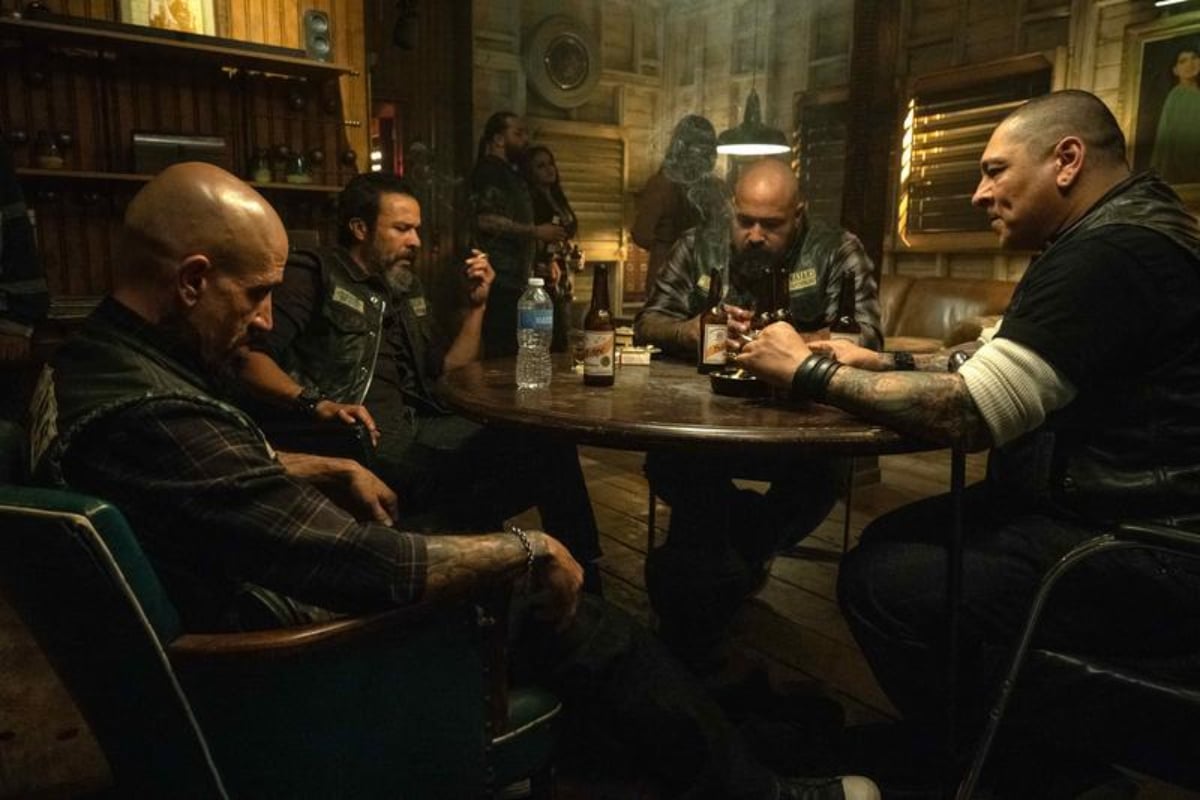 Isaac Packer could be 'Mayans MC' Season 5's 'big bad'
The Mayans MC Season 4 finale revealed that Isaac Packer, "King of Meth Mountain," is actually SAMDINO president Les Packer's younger brother. Isaac returned with a vengeance to join the rest of the Sons in the war against the Mayans. He orchestrated Manny's death in the season 4 finale.
While speaking with Deadline, Mayans MC showrunner Elgin James discussed Isaac's return. "In a similar way to EZ, Isaac doesn't trust anyone to take care of things in his brother's absence. So he's coming home to make things right. He's back now for good and we'll see that electricity." When Entertainment Weekly asked James if Isaac is next season's "big bad," the showrunner responded, "You may see Isaac again. He may come ready to set some fires."
Santo Padre likely hasn't seen the last of Alvarez
The last fans saw of Marcus Alvarez, he was voted out of his own club by the Santo Padre Mayans. A final scene showed El Padrino taking off his kutte and walking away from his bike. EZ is now taking over as president of Santo Padre, with Bishop as VP.
EZ is barrelling toward a war that could have disastrous consequences. He also staked everything on a deal with Galindo and Soledad that is about to fall apart thanks to a warehouse full of burnt heroin. Perhaps Alvarez will need to step in to save the day once more.
Alvarez actor Emilio Rivera hinted that his character's time on the show isn't over while speaking with Collider. "I actually got the script [for the season 4 finale] on the way the premiere, so I was in the car on the way over there and I was reading the script. I was reading it going, 'I live, right?,' and then I read that part. At the premiere, I was like, 'Why are you guys kicking me out?' And they gave me an answer that I really liked. I can't repeat it, but I'm good. I think it's gonna be okay."
Miguel Galindo has some big decisions to make in 'Mayans MC' Season 5
In the Mayans MC Season 4 finale, Miguel Galindo finally learned the truth. Felipe is his biological father, which makes him half brothers with EZ and Angel. "I think it's gonna affect him in a very, very big way. Everything he's believed has just now crumbled beneath his feet," Elgin James told Entertainment Weekly.
"And the question is, once his brothers [Angel and EZ] find out, if they do find out, what's going to happen then — because he and EZ are not set up to be bosom buddies at this point. They are both plotting to take the other out as soon as they can. So this will complicate things."
Emily will return to Santo Padre for Cristóbal
Finally, in the season 4 finale, Miguel managed to retrieve his son, seemingly having Emily's sister Erin killed in the process. Elgin James teased to EW that season 5 will bring many of season 4's separate storylines back together. "This season, a lot of people were really compartmentalized, and now what we're doing is bringing people back. What's going to be great about season five is we've had so many storylines, but they've all been for a purpose."
"And in season five, we can finally focus more and have it all be centered around our core people like we did the first season. Emily has no choice but to come back for her child. We talk about parenthood a lot on the show, and [how] there's nothing you wouldn't do for your child."
All episodes of Mayans MC are currently streaming on Hulu.
RELATED: 'Mayans MC' Season 4 Episode 10 Recap, 'When the Breakdown Hit at Midnight'