'Mayans MC': 'F**k Yeah' There Will Be More Cameos From the 'Sons of Anarchy' Confirms EP Elgin James
During a recent episode of Mayans MC, the Sons of Anarchy Motorcycle Club lost another member. Palo (Gregory Norman Cruz) had been plotting his revenge for the murder of the Vatos Malditos since the season 2 finale.
In the episode titled "Our Gang's Dark Oath," he finally got that revenge when he murdered Montez (Jacob Vargas). Will there be more cameos from SAMCRO in the future? Showrunner and co-creator Elgin James says, "f**k yeah."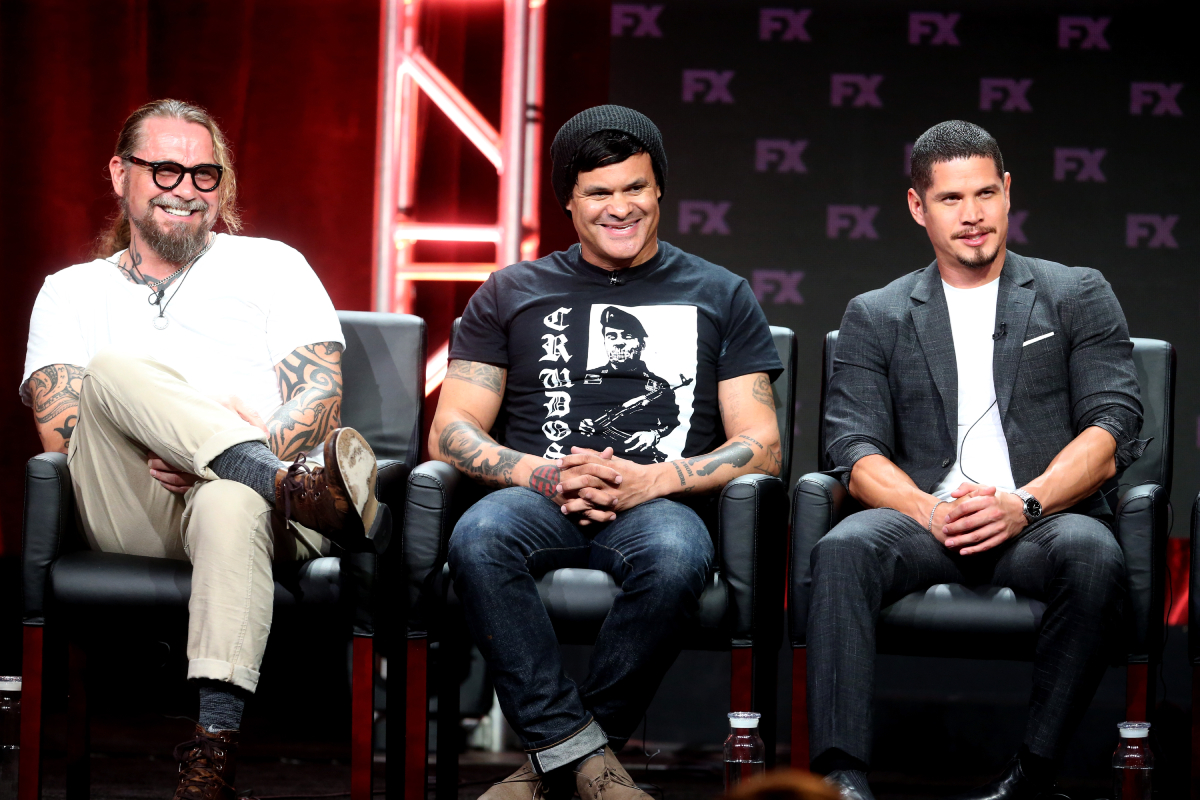 'Mayans MC' is not the same show as 'Sons of Anarchy'
Mayans MC is a Sons of Anarchy spinoff that takes place more than two years after the events of the parent series. It's also set in Santa Padre, a fictional California border town that's hundreds of miles away from Charming.
Co-creator Elgin James says they are proud to come from the mythology and universe of Sons of Anarchy. He explained to Entertainment Weekly that they've been "twisting" themselves for seasons to let everyone know that. However, he stressed that Mayans MC is "a different show."
"This is our show and this is our world. So to answer the question as to whether our M.C. will get into trouble each season and then call up the white cavalry to come save them? Probably f**king not," James said.
SAMCRO will continue to appear when it feels 'organic'
Even though Mayans MC is a completely different animal from Sons of Anarchy, that doesn't mean SAMCRO doesn't have a future in Santo Padre. James says that members of the motorcycle club from Sons of Anarchy will continue to appear on the spinoff when it feels "organic."
"Will SAMCRO be involved? F**k yeah!" James says. "I love Tommy Flanagan [Chibs, president of SAMCRO]. I love all those guys, I want to be able to hang with those guys. And let's not forget, there's still a dead Sons of Anarchy member in the dirt in Mexico and another one rotting slowly in a barrel full of salt right by our clubhouse."
Season 3 of 'Mayans MC' is the first without Kurt Sutter
Season 3 of Mayans MC is the first with James as showrunner. He took over for co-creator Kurt Sutter when he left at the end of season 2. James says he loves working on the show in his new role because they've gone deeper with the characters.
"I spent two seasons sort of being frustrated with knowing the potential of the actors and wanting to let them explode," James explained.
When they had to take a long break due to the pandemic, James realized that "this is our shot." He wanted every scene to be "like a heavyweight bout."
"What you're watching now is what [the actors] came back with. Each actor has annihilated it. I just turn the camera on and I let them explode," James said.
The difference is 'night and day'
The creative shakeup at Mayans MC has had quite the effect on the cast. Clayton Cardenas (Angel) says the difference is "night and day."
"It's like the best thing that could have ever happened for the show," Cardenas told GameSpot. "The environment that we get to work [in], it's such a fun–it's a welcoming, comforting environment. You know, everybody's excited to come to work."
Cardenas went on to explain that it feels like the writing this season is meant for him. He doesn't have to force dialogue. And, he feels like the writing just rolls off his tongue.
Everyone should be 'worried for Coco' in season 3 of 'Mayans MC'
A lot of things at Mayans MC are different during season 3, even their approach to violence.
What's more, to portray his character's descent into drug abuse, Richard Cabral (Coco) lost 60 pounds.
James says that Coco has been making jokes for two seasons about killing his mom or killing moms. But that's just a front, and there is real damage there.
"The chickens come home to roost for Coco, starting with physical pain, but it's all connected to emotional pain," James explained. "He literally goes to hell. Isaac [J.R. Bourne] wants more than a key of heroin from him, he wants his soul. Yeah, everyone should be worried for Coco."
Mayans MC airs Tuesdays on FX.