Maybe Kourtney and Khloé Kardashian are Both to Blame for Their Falling Out, Fans Say
It wouldn't be an episode of Keeping up with the Kardashians without a little drama. However, this season's spat between Kourtney and Khloe seems to be a bit harsher, and has lasted longer than most of their other arguments.
Their falling out has fans speculating about which Kardashian gal is to blame. It seems likely that both Kourtney and Khloe Kardashian might have an equal part in their current feud.
Kardashian sibling rivalry is a tale as old as time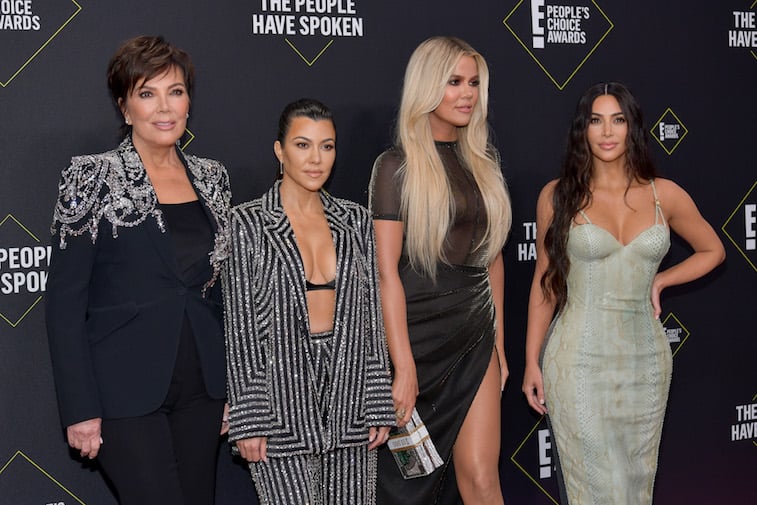 It's no secret that the Kardashian siblings bully one another, its one of the biggest draws of their reality tv show. Fans tune in to see what ridiculous things the siblings are most recently squabbling about. In fact, it is this drama that keeps the show drawing in new viewers season after season.
Currently, in Season 18, the show focuses on drama between the three oldest sisters. But, the drama doesn't just end with them, even brother Rob has been a victim of brutal criticism from his sisters in the past.
Kourtney Kardashian always seems to be in a fight with one of her sisters
"I feel like it's been a lot of built-up resentment from Kourtney…" Kim Kardashian explains when Jimmy Fallon asks her about her filmed fight with Kourtney. Though the girls don't typically resort to physical violence in their arguments, they do have a level of intentional cattiness toward one another.
The negative sibling interactions have recently taken a turn for the worse, as the drama within the show amps up. While their normal arguments have focused on wardrobe and makeup in the past, their fights have recently turned more personal and focus on things like ambition (Kim has called Kourtney lazy) and life goals.
Kardashian arguments are the meat and potatoes of their show's appeal
One Reddit user aptly points out that the story is always the same from season to season. "It was always the Kardashians vs. the Kardashians. Khloé and Kourtney were against Kim in the beginning, Kim and Rob had serious issues at one point, Kendall and Kylie drifting apart, the girls being rude to Kris, Rob vs. everyone."
The fan notes that it's been a similar theme for three seasons in a row. "It's just annoying now because they've been dragging out the same issue for three seasons, and turns out nothing changed anyways because Kourtney ends up staying and is now filming for season 19. It just feels like a waste of time".
Fans think they know who's to blame for their falling out
Fans are convinced that all the drama between the girls can be traced back to pregnancies and babies. Not only that, but Reddit users are pretty fair in their assessment that both girls are equally to blame for the current distance in their relationship.
Despite a lot of "she said, she said" it seems that both Kardashian sisters have made some mistakes in their relationship this season.
There are two main arguments on message boards from fans. The first is that Khloe and Kim have pushed Kourtney too far, bullying her into pulling away from the family and their television personas. One user acknowledges the bullying, noting how uncomfortable it makes them to watch it. "It's so weird to see her crying and emotional," says another Reddit user TennisPro28, "because she normally just bottles everything up inside. I don't think her family realizes how much they bully her and hurt her inside."
The flip side of the argument regards Kourtney as the one who let her sisters down, especially during Khloe's pregnancy. 
As Reddit user eatingthruindy points out, it might not be a really fair assessment. They make the point that "Khloe actually told Kourtney she felt disappointed that Kourtney wasn't really there for her during her pregnancy and after True was born like she [Khloe] was with Kourtney's kids. The only excuse Kourtney had was 'Well…you were in Cleveland'. She couldn't even pick up the phone to check on Khloe. She jet sets her and her kids all over but couldn't go for a visit in Cleveland?"
Kourtney feels good about pulling back from the Kardashian show
Whatever the reason that Kourtney needs distance, she feels good about her decision. Kourtney has recently made the decision to limit her exposure on Keeping Up with the Kardashians. She tells Health magazine that she wants to be able to focus on her kids.
"I'm really trying to put my energy into things that are fulfilling and enjoyable," she admits.
In the same interview she mentions her battle with her mental health, admitting that she has been seeking counseling for her fight with anxiety.
It doesn't really matter which sister is the most to blame for their current distancing. It seems like setting boundaries and taking less time to work on Keeping up with the Kardashians does more than just fuel the gossip wheel, it is something the is necessary for Kourtney's positive mental health.