MCU Director Jon Favreau Brought on Robert Downey, Jr. as 'Iron Man' – Who Has the Higher Net Worth Today?
Robert Downey, Jr. is arguably one of today's most successful actors. Selected by director Jon Favreau as Iron Man in 2008, Downey started his epic run with the Marvel Cinematic Universe and solidified himself as a superstar.
Favreau went to bat for Downey in landing the role since studio execs felt the actor was a risk due to his checkered past. Helping to launch Downey into major celebrity status and affluence, The Lion King director may now be trailing the Doctor Doolittle star when it comes to bank account totals.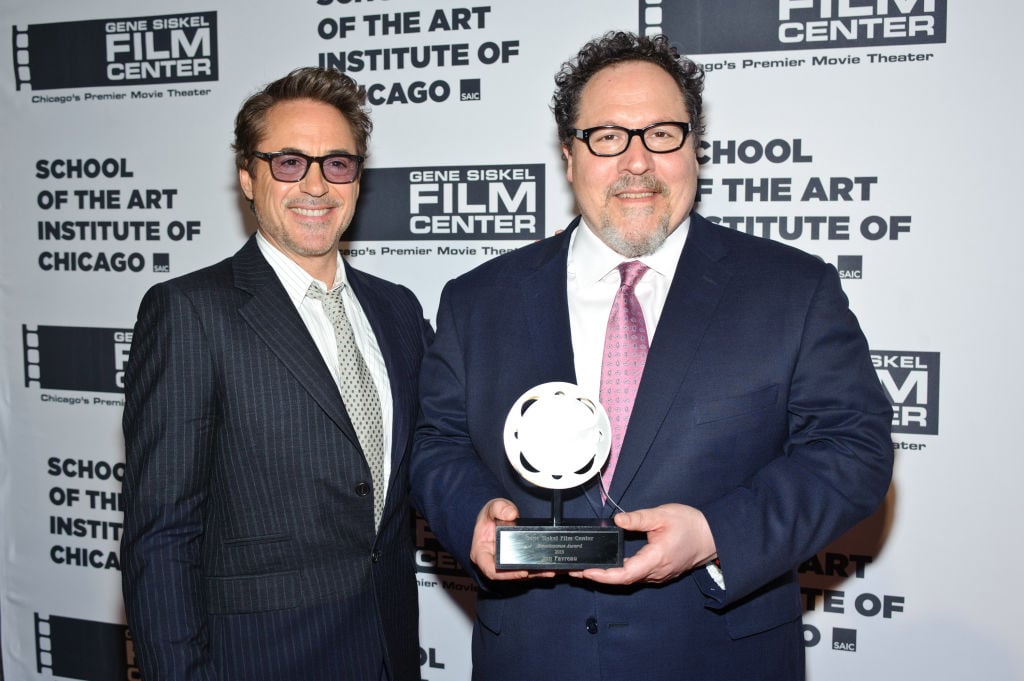 'The Mandalorian' director fights for Robert Downey, Jr. as 'Iron Man'
According to Mental Floss, Marvel "actively rooted against casting" Downey as Tony Stark and actually rejected him multiple times due to his substance abuse issues and arrests. Though the studio saw the actor as too great of a liability, Favreau stepped up to vouch for Downey.
"It was my job as a director to show that it was the best choice creatively… and now the Marvel Universe is the biggest franchise in film history," Favreau said according to Cinema Blend."Everybody knew he was talented."
Favreau was confident Downey could completely embody the Iron Man character since their stories of redemption were so similar. "Certainly by studying the Iron Man role and developing that script I realized that the character seemed to line up with Robert in all the good and bad ways," Favreau said. "And the story of Iron Man was really the story of Robert's career."
RELATED: What 'Iron Man' Robert Downey, Jr. Said About His Time in Prison
Jon Favreau's impressive list of credits
Favreau started off in Hollywood as an actor in the 1993 film Rudy. After writing and starring in the 1996 movie Swingers with pal Vince Vaughn, he went on to land roles in other films and had a recurring part on the iconic NBC sitcom Friends. The Disney+ director also has his own cooking show on Netflix with chef Roy Choi which has become a fan favorite.
Favreau clearly found his calling behind the camera, bringing classics to the screen such as Elf and Jungle Book. Now with the Marvel films under his belt and the overwhelming success of the Star Wars live-action series The Mandalorian, Favreau has become one of Hollywood's most established directors.
Celebrity Net Worth lists Favreau's 2020 tally at $60 million.
RELATED: This Marvel Cinematic Universe Director Also Made a Christmas Classic
Robert Downey, Jr. hits it big as Tony Stark
The Avengers actor had a list of acting credits to his name before Favreau cast him in Iron Man. Garnering an Oscar nomination in 1992 for Chaplin, Downey also starred in a range of films from comedies like The Pick-Up Artist to action thrillers including Natural Born Killers.
Downey has been open about his battle with substance abuse from an early age, where he was arrested in 1996 for possession of cocaine, heroin and a pistol when he was stopped by police for speeding, according to BBC. He was later sentenced to three years in a California state prison in 1999 after violating his probation.
Following his incarceration, the actor began to get his life on track and married producer Susan Levin in 2005. His role in Iron Man truly put him back on the map in Hollywood where he is now one of the most sought-after actors in show business.
With his windfall of success since joining the Marvel franchise, Downey's monetary total surpasses Favreau with a sum of $300 million in 2020.
RELATED: 'Iron Man': Why Robert Downey, Jr. Almost Wasn't Tony Stark