Meek Mill Under Fire for His Reaction to Nicki Minaj's Pregnancy
Meek Mill is being dragged on social media for his apparent reaction to Nicki Minaj's pregnancy.
Nicki Minaj's dreams of becoming a mother are finally coming true.
On Monday, July 20, the Pink Friday rapper revealed she's expecting and "preggers" by her husband Kenneth Petty. Her announcement was met with thousands of reactions on social media, but not all of them were positive. Nicki Minaj's ex-boyfriend Meek Mill, for one, appeared to co-sign a shady tweet that led to him being dragged by fans.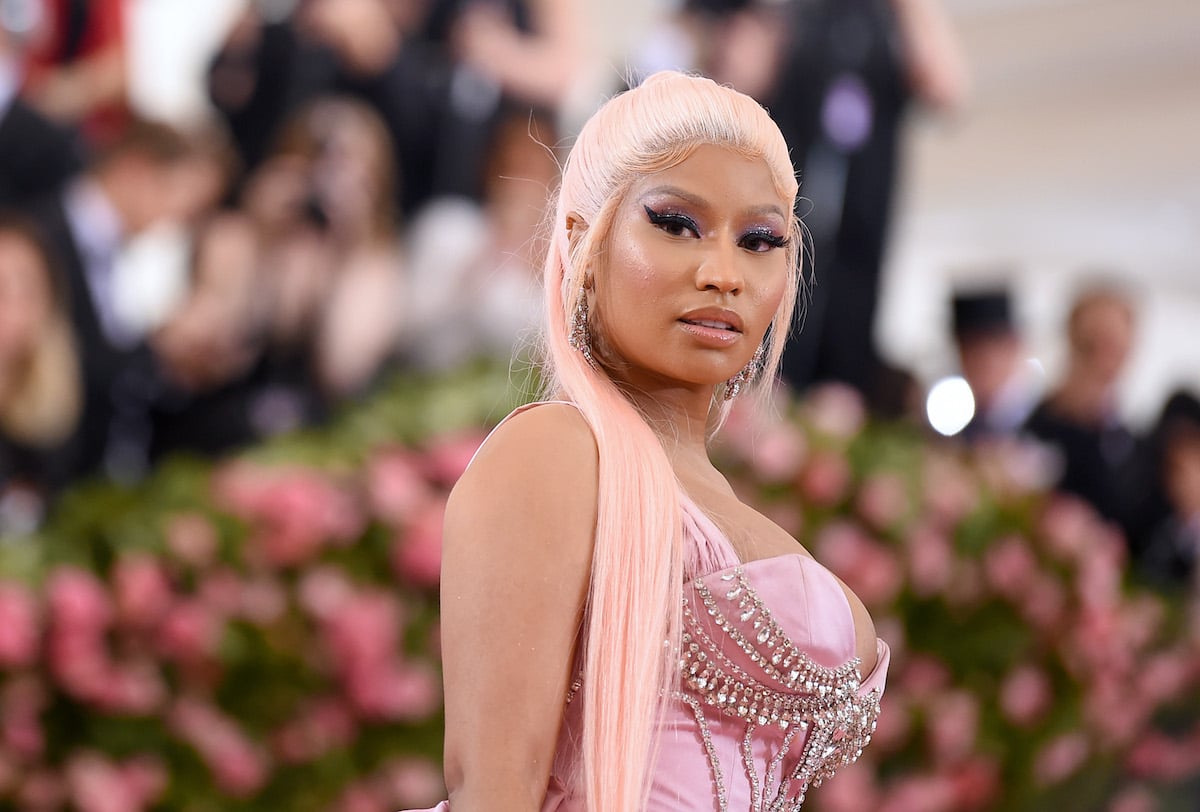 Nicki Minaj's pregnancy announcement
Nicki Minaj broke the news on the morning of July 20 via Instagram, sharing a photo cradling her growing belly. "Preggers," she captioned the image. As congratulatory messages poured in, she began to post more pictures with her belly on full display.
"Love. Marriage. Baby carriage. Overflowing with excitement & gratitude. Thank you all for the well wishes," she wrote in the caption of one photo.
This will be Nicki Minaj's first child and the alleged sixth for Petty, according to Bossip. The couple married in October 2019 after less than a year of dating. However, TMZ reports that the couple, who went public in December 2018, have known each other since they were teenagers living in New York. Sources added that Petty was one of Nicki Minaj's first loves and that they still had "great chemistry, despite all the years between their relationships."
Meek Mill's apparent reaction to Nicki Minaj's pregnancy announcement
As reactions flooded social media, Meek Mill appeared to laugh at a negative meme related to her pregnancy. It said, "Y'all got 1 time to share Nicki Minaj pregnancy picture on your story or timeline and you getting blocked. She don't know you & she didn't post you when you were pregnant. #Respectfully."
The entertainment website The Shade Room posted a screenshot of Meek Mill's apparent comment, noting in the caption that he'd since deleted it.
Nicki Minaj and Meek Mill began dating in 2015 following her split from Love & Hip Hop star Safaree Samuels, whom she dated for over a decade. They were together for about two years before Nicki Minaj announced in January 2017 that they had decided to call it quits.
"They were fighting on and off for a little while about a few topics that upset Nicki. They had a bigger fight and then called it quits," a source told E! News at the time.
It seemed like an amicable split based on the statement, but over time, Meek Mill began shading Nicki Minaj. The jab marked the beginning of a back-and-forth that has lasted for years. One of the latest incidents came just months ago, in January, when Meek Mill ran into Nicki Minaj and Petty at a store and allegedly got into an altercation with them.
Fans are fed up with Meek Mill
After all the years of drama, fans have grown tired of the negativity. Angered by Meek Mill's reported comment, one fan declared, "Meek Mill will never get over Nicki Minaj," while another said, "Safaree was with Nicki for like 10+ years and he's not obsessed with her. Meek it been 4 years. let the hurt go"
"Meek mill is really obsessed with Nicki Minaj. I wonder how his girlfriend (Milan) feels seeing this once again," a third person added, referencing Johnika "Milan" Harris, with whom Meek Mill welcomed a son in May.
Others, however, defended the Championships rapper.
"Y'all worried about #Meek worrying about #Nicki more than he does," read one tweet. "He could type 'eating breakfast' and y'all are going to say 'he's craving breakfast because Nicki is pregnant.' Meanwhile, the government is sending your kids to school, but releasing prisoners due to COVID."
Another argued, "Same b*tches criticizing meek be the same ones ALL UP in they ex's business/social media's when they over with lmaoo cut it out a lot of ya b*tches weirdos especially my ex's."
As of writing, neither Nicki Minaj nor Meek Mill has commented on the matter.