Meg Ryan Said She Was 'A Mess' During Her Romance With Russell Crowe
Rom-com queen Meg Ryan co-starred with Oscar winner Russell Crowe in the 2000 film Proof of Life. Splitting from husband Dennis Quaid after nine years of marriage, the When Harry Met Sally star embarked on a highly-publicized romantic relationship with Crowe.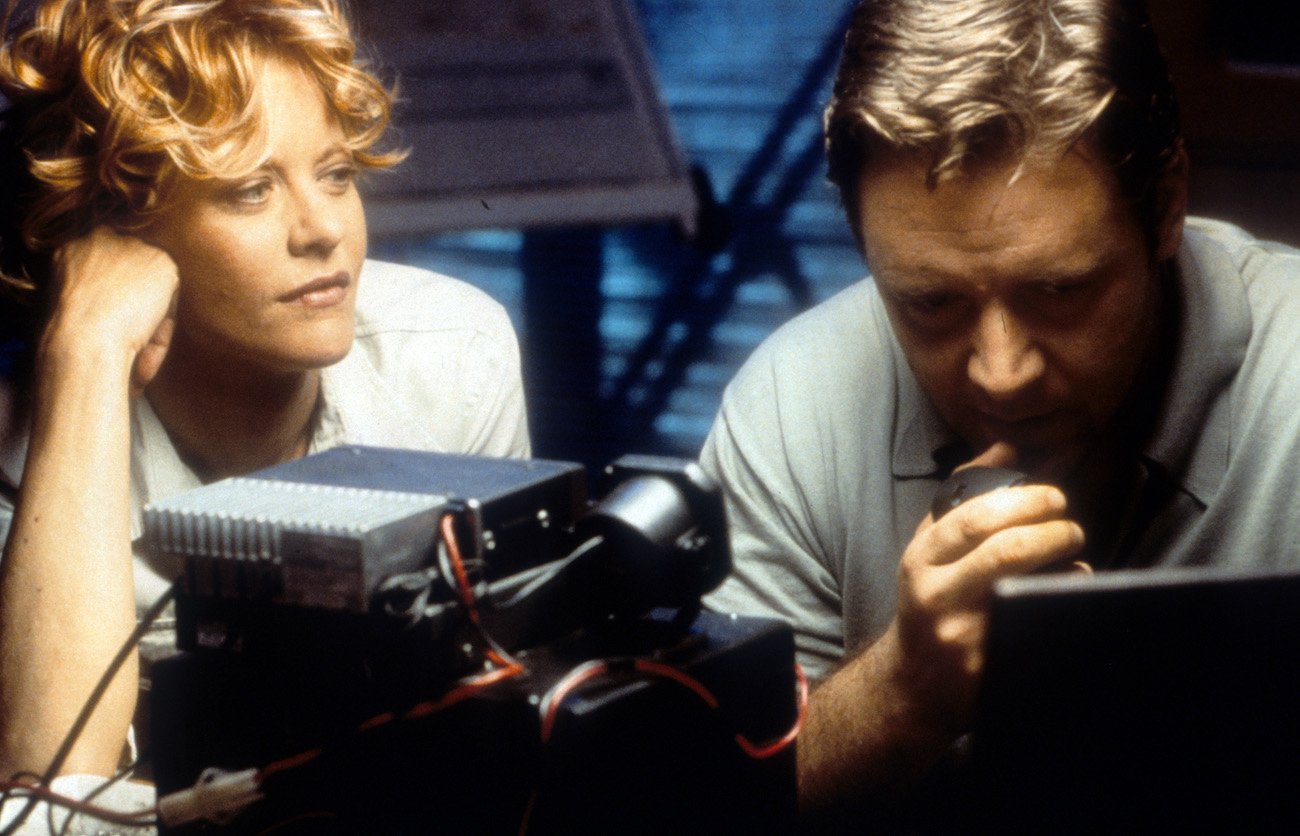 Marriage to Dennis Quaid was less than perfect
After years of starring in romantic comedies like Sleepless in Seattle and You've Got Mail, Ryan was seen as the all-American girl next store. Her affair with Crowe while still being married to Quaid made an impact on her clean-cut image, though Ryan wasn't necessarily distracted by other people's opinions.
"I'd never felt like I was all that concerned with what people thought of me, but then that story never got told right," Ryan said of her divorce, according to Today.com. "I felt the effect, like I was the bad guy or whatever the story was. But I remember letting go of needing to correct anybody."
Ryan revealed that her marriage to Quaid was troubled long before she met Crowe, though few people knew the details.
RELATED: Meg Ryan's Real Name Is 5 Monikers Long
"Dennis was not faithful to me for a long time, and that was very painful," the City of Angels star explained in 2008. "I found out more about that once I was divorced."
Russell Crowe was not the reason for Meg Ryan-Dennis Quaid split
Reflecting on her short-lived relationship with Crowe years later, Ryan emphasized that their romance was not the cause of her breakup with Quaid. She expressed empathy for the Gladiator star and how he was cast in an unfavorable light because of their time together.
"I think he took a big hit," Ryan remarked. "But Russell didn't break up the marriage. He was definitely there at the end, but it wasn't his fault. I was a mess – I hurt him, too, at the end. I couldn't be in another long relationship, it wasn't the time for that. So I got out."
Crowe commented in 2001 on his fondness for Ryan, stating that he was not the catalyst for her divorce.
"The end of her prior relationship had nothing to do with me," Crowe said, according to The Guardian. "Meg Ryan is a beautiful and courageous woman and I grieve the loss of her companionship."
Meg Ryan found freedom in the experience
Living through the fallout of her image being tarnished, Ryan discovered she didn't have to measure up to the public's expectations.
"I am not a victim," she said. "My time as a scarlet woman was really interesting. As painful as it was, it was also incredibly liberating. I didn't have to care about what people thought."
Looking back, Ryan emphasized that what happens in a marriage or relationship can never be fully captured in a gossip article or tabloid tagline.
RELATED: Showtime's 'The Loudest Voice:' You Won't Be Able to Recognize These Two Actors
"Divorce is hard. Love is hard," Ryan remarked. "All those things were so personal. They weren't for mass consumption. The complexity of a life or a marriage is never going to exist in a headline or a tabloid. That was a freeing thing to know!"
Most recently in the spotlight for her on-again, off-again courtship with music icon John Mellencamp, Ryan admitted that she still finds relationships to be a challenge.
"I sometimes think relationships are for aliens," she joked. "Who does it? Who can do it? I don't know how any of us ever do."