Megan Fox Attended the Met Gala Alone, but She Still Matched Outfits with Machine Gun Kelly
On Monday, Sept. 13, stars flocked to New York City for the biggest night in fashion. At the Met Gala, celebrities showed off styles related to the museum's exhibit "In America: A Lexicon of Fashion." Megan Fox turned heads in her vampiric outfit, but she walked the red carpet without her boyfriend, Machine Gun Kelly. Still, she managed to match her musician beau by the end of the night.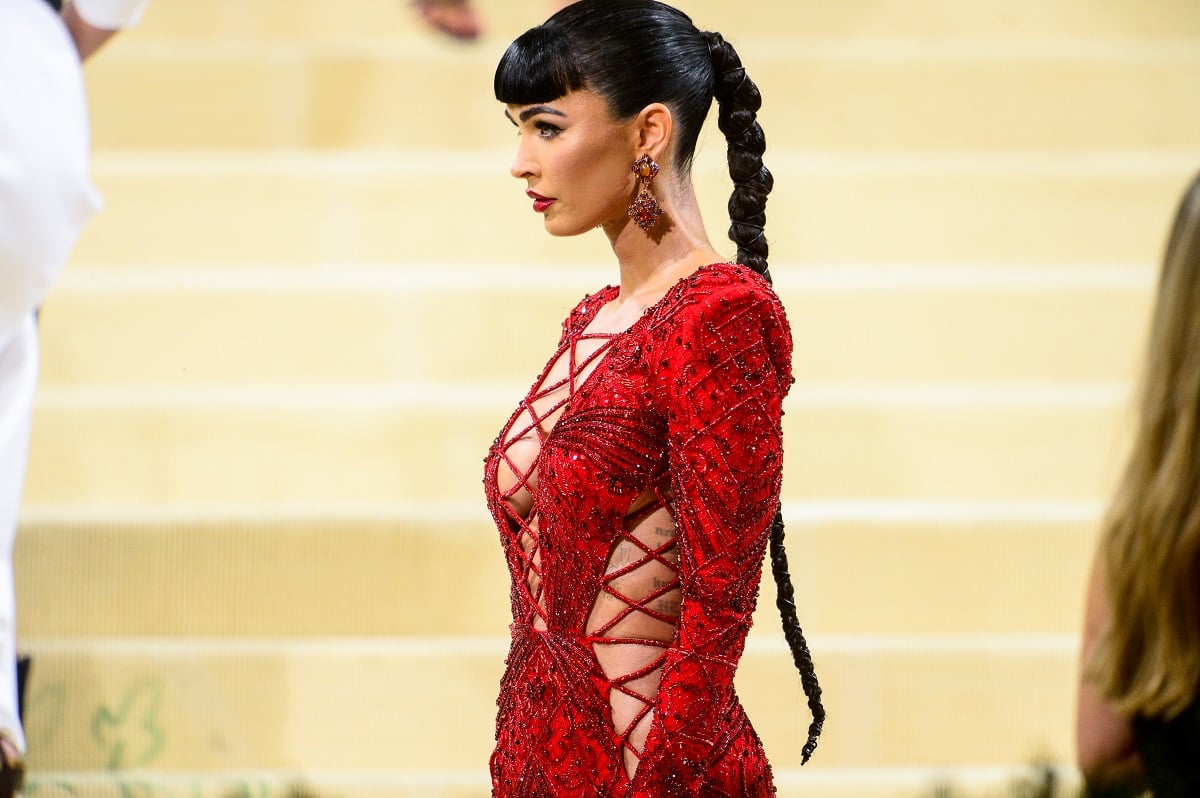 Megan Fox attended the Met Gala for the first time
Despite her longtime celebrity status, Fox made her Met Gala debut in 2021. According to Fox, she wanted a dress evocative of vampires.
"I wanted a dress I had seen in Bram Stoker's Dracula. I'm very into like gothic things and vampires and such," she told Emma Chamberlain reporting for Vogue. 
Fox wore a red cutout Dundas dress, heavily embellished with crystals. She wore her hair in blunt shiny bangs with a long, braided ponytail.
On the red carpet, Fox told Vogue that she wanted to embrace her sex symbol status after years of dealing with its impact.
"I'm not afraid to be sexy," she said. "A woman who is intelligent and also knows how to weaponize her beauty…there's nothing more dangerous than that. There's nothing more powerful than that."
She coordinated outfits with Machine Gun Kelly at the afterparty
Though she walked the red carpet alone, Fox still matched her outfit to Machine Gun Kelly one day after making waves together at the VMAs. Machine Gun Kelly, who was performing in a concert in Central Park, was unable to attend the Met Gala with Fox.
After the concert ended early due to rain, Machine Gun Kelly met up with his girlfriend of a year to attend the Balenciaga afterparty. Per Elle, Fox changed out of her red carpet gown. Instead, she wore a red sequin one-shoulder Dundas x Revolve minidress. Machine Gun Kelly paired a black and red snakeskin jacket with a sheer top and shiny black pants.
This isn't the first time the couple has matched. In an appearance on Jimmy Kimmel Live, Fox told guest host Arsenio Hall that the couple does coordinate outfits "often."
"He's always covered in like grommets, zippers, sequins, everything's pink, everything's glowing," she said. "He's always coming off of a stage show, so I have to kind of match what he's doing."
Megan Fox called Machine Gun Kelly her future baby daddy
Since beginning their relationship in 2020, Fox and Machine Gun Kelly have been very public with their declarations of love. One day before the Met Gala, Fox took the stage at the VMAs and surprised the audience when she introduced her boyfriend and Travis Barker.
Alongside Kourtney Kardashian, Fox welcomed Machine Gun Kelly and Barker to the stage to perform their single, "Papercuts." 
"New York, I need you to get extra loud for our future baby daddies," she said.
This added fire to the rumors of engagement following the couple. Regardless, it's clear that they're not shy to share how happy they are together.
RELATED: Megan Fox Says She Went To 'Hell For Eternity' During an Ayahuasca Ceremony With Machine Gun Kelly