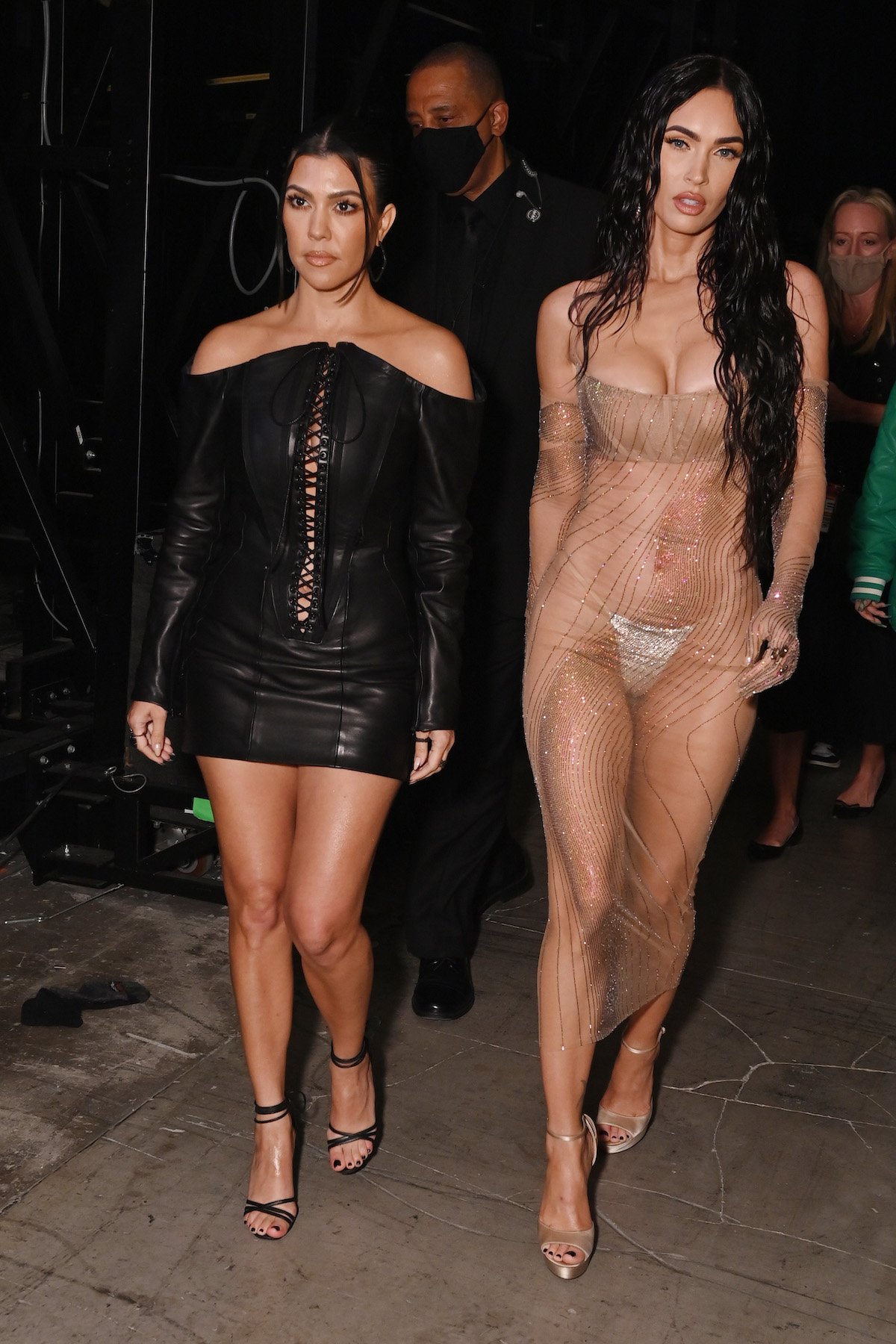 Megan Fox Calls Machine Gun Kelly and Travis Barker Her and Kourtney Kardashian's 'Future Baby Daddies'
Megan Fox and Kourtney Kardashian announced their respective partners at the 2021 VMAs with a nickname that has fans reeling. Find out what they called their boyfriends here and why it's so surprising.
It seems like Megan Fox has babies on the brain! The actor has made headlines over the last year for her PDA-filled relationship with Machine Gun Kelly. And at the VMAs, Fox gave a shout-out to boyfriend Kelly that has fans reeling. Here is what she said and how Kourtney Kardashian is involved.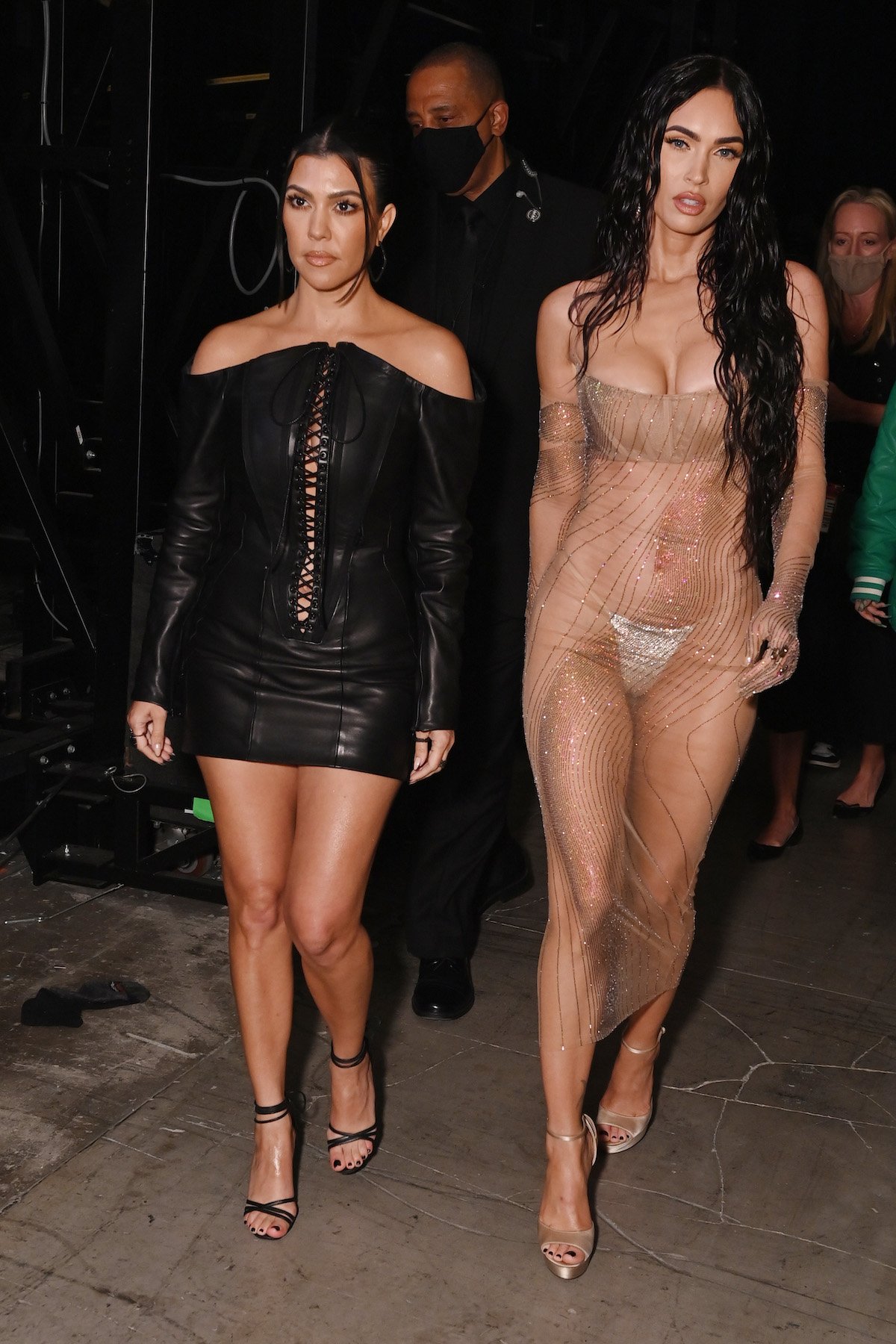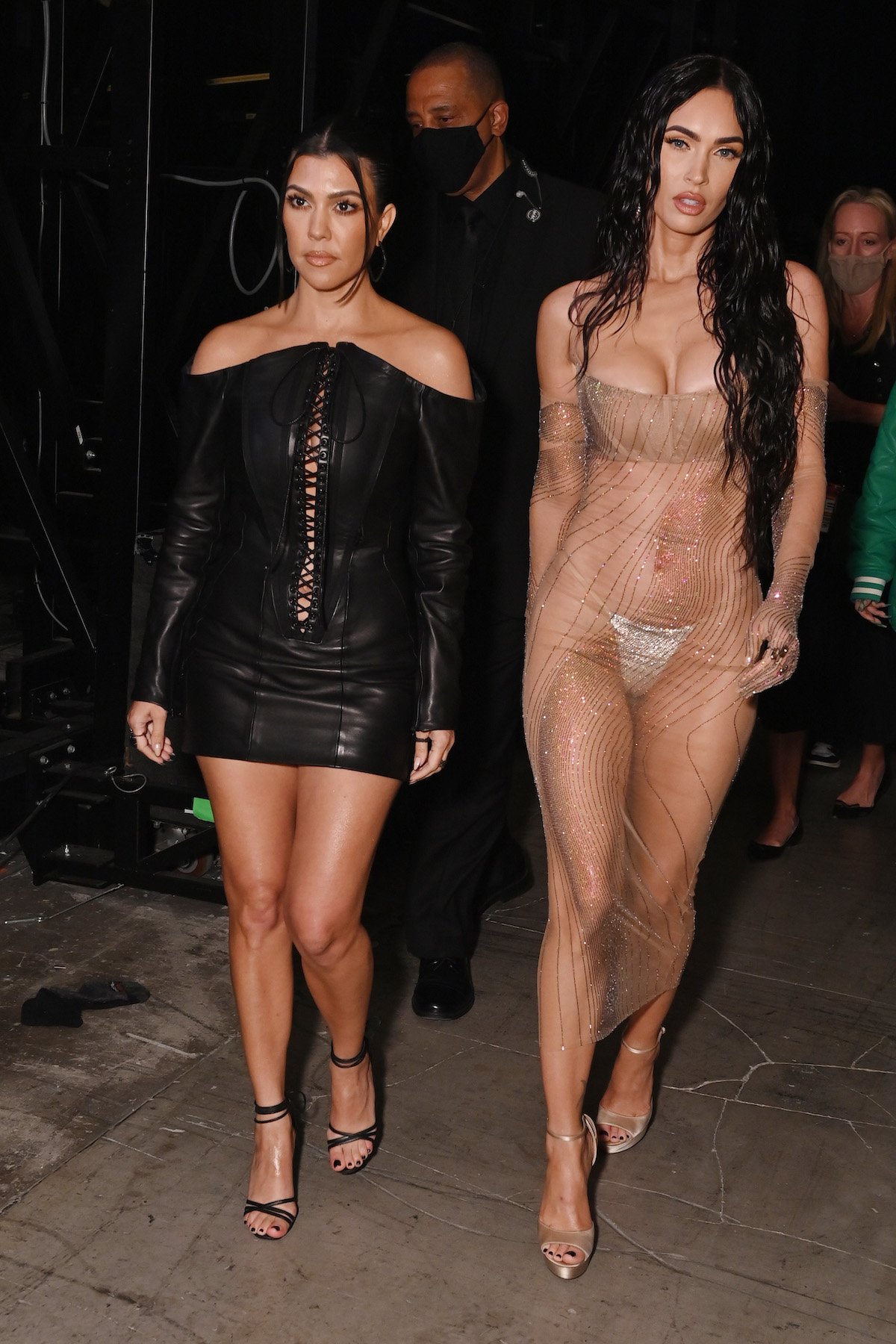 Megan Fox and Kourtney Kardashian are both in highly publicized relationships
Fans love a double-celebrity couple, especially when the romantic connection is unexpected. Both Megan Fox and Kourtney Kardashian have been in the news a lot lately for their relationships. 
Kardashian has been dating musician Travis Barker for several months. The two were friends for years before turning their platonic relationship into a romantic one. Her most highly publicized romance before Barker was with Scott Disick, the father of her three children and fellow star of Keeping Up With the Kardashians. 
Megan Fox was married to actor Brian Austin Green, the father of her three children, before meeting Machine Gun Kelly on the set of the film Midnight in the Switchgrass over a year ago. The two have been practically inseparable since. 
Megan Fox and Kourtney Kardashian supported their boyfriends at the VMAs
Fox and Kardashian escorted their respective partners to the VMAs over the weekend. Kelly and Barker did a live performance, with Barker playing the drums while Kelly sang his song 'papercuts.'
Megan Fox wore a sheer, nude, sparkly dress over a G-string. The look was reminiscent of Rose McGowan's attire at the 1998 VMAs, which she attended with then-boyfriend Marilyn Manson. 
Kardashian wore an off-shoulder, long-sleeved leather minidress with a lace-up front. The outfit complemented Barker's silver-studded black suit nicely. 
Megan Fox called Kelly and Barker her and Kardashian's 'future baby daddies'
Fox and Kardashian not only attended the VMAs but also took to the stage to introduce their boyfriends before their performance. 
"I'm a huge fan of this next performer. I've watched him grow, and not just as an artist but also as a person," Fox began the introduction with Kardashian by her side. 
"I'm a fan too, and I think his drummer is super hot," Kardashian commented. 
"New York, I need you to get extra loud for our future baby daddies," Fox said.
"Machine Gun Kelly and Travis Barker!" Kourtney finished. 
The affectionate nickname is especially poignant since pregnancy rumors have surrounded Kardashian and Barker's relationship, while rumors of a secret engagement or marriage follow Fox and Kelly. 
This isn't the first time she has called Machine Gun Kelly 'daddy'
The introduction isn't the first time Fox has referred to her partner as "daddy." The actor posted a photo of the two of them on Instagram in their VMAs attire and captioned it, "Daddy's gonna win a VMA."
Back in May, Fox posted a different photo of herself in a pink satin jumpsuit and captioned it, "Daddy Issues Barbie 💖" Kelly responded in the comments, saying, "daddy loves you 👑❤️🔪"
Perhaps Fox is serious about wanting to have children with Kelly, who she has called her "twin flame." Or maybe she uses the nickname as a term of endearment.
Fans of both couples will have to wait and see just how serious the "baby daddies" comment was.