Megan Fox and Kourtney Kardashian Have Fans Wishing They Were an Apple in Sizzling New Ads For SKIMS
Megan Fox and Kourtney Kardashian just posted new photos from a modeling campaign on social media. The pictures are getting a lot of reactions from fans.
The ad shows the two friends getting closer than we've ever seen them before. Here's the story of Fox and Kardashian's friendship, the photos everyone is buzzing about, and how fans are reacting. 
Megan Fox and Kourtney Kardashian's friendship has been making headlines
They might seem like an unlikely pair, but reality star Kourtney Kardashian and actor Megan Fox have been getting closer over the past few months. 
Megan Fox has been making headlines with her boyfriend of over a year, musician Machine Gun Kelly. They have been practically inseparable, shutting down red carpets and showing aggressive PDA everywhere they go. 
Kourtney Kardashian is also in a highly-publicized relationship with drummer Travis Barker. Other than her relationship with Scott Disick, the father of her three children, Kardashian has mostly kept quiet about her romantic life in the past. Her public displays of affection and flirtations with Barker on social media have shown fans a whole different side of Kardashian.
Machine Gun Kelly and Travis Barker are friends and frequent musical collaborators. The two musicians and their famous girlfriends spend a lot of time together as a foursome. 
On Sept. 12, they all attended the MTV Video Music Awards. Fox posted a photo on Instagram of herself and Kardashian posing in a bathroom at the event and captioned it, "Kourtney and I are in love." 
Based on the newly released photos of Fox and Kardashian, it appears that the women are getting closer than ever. 
The famous friends flaunted their bodies in a new ad for SKIMS
On Sept. 22, both Fox and Kardashian posted some more photos that got fans' hearts racing. The duo united in an ad campaign for SKIMS, a shapewear line launched by Kardashian's younger sister, Kim Kardashian West.
The pictures show Fox and Kardashian rocking SKIMS shapewear and nothing else. They sprawl topless together on the ground, sensually feed each other cherries, and simultaneously bite into one apple while pressing their bare flesh against each other. 
With their matching long, dark hair and similar skin tones, the two women bear a striking resemblance to one another in the images.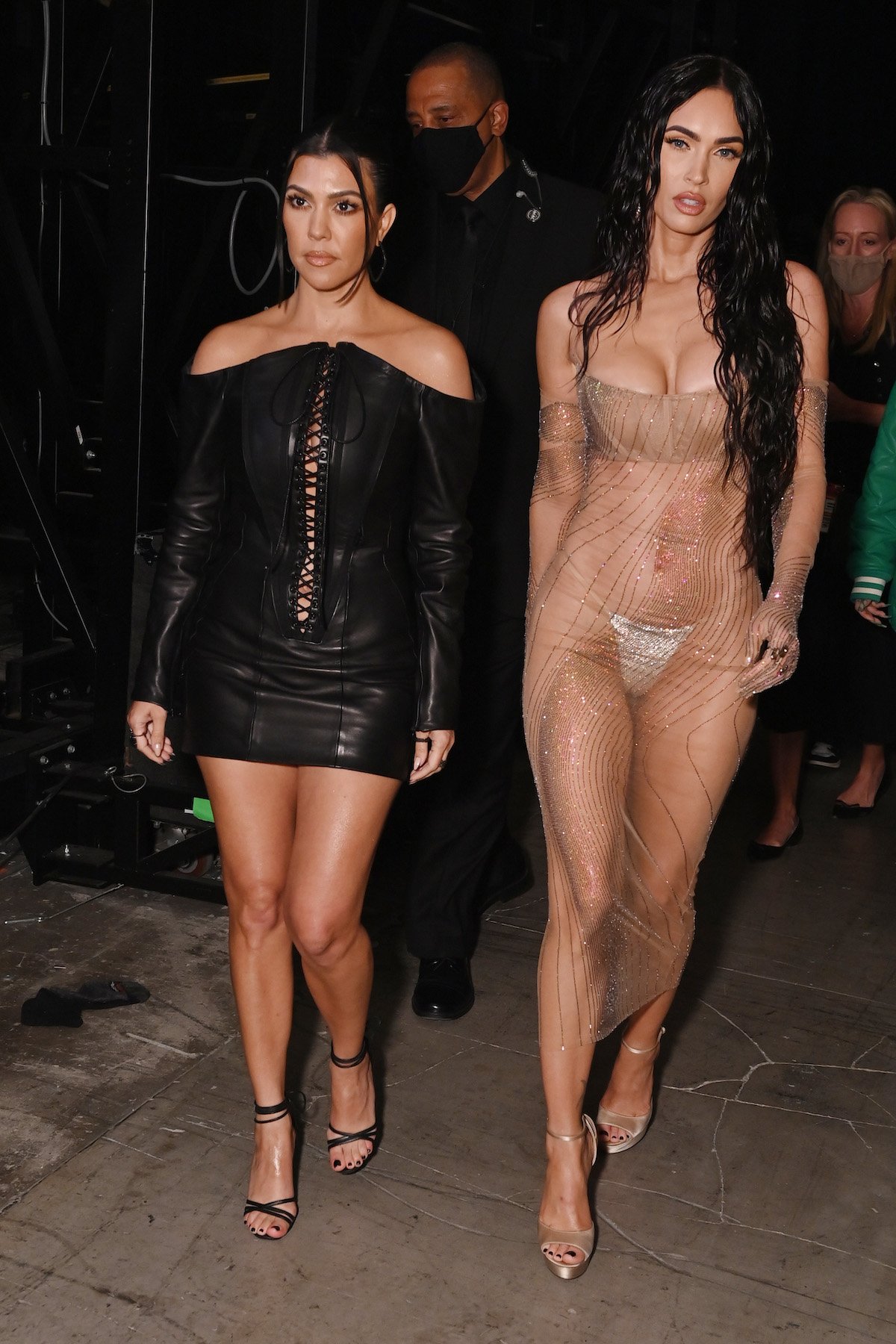 Fans are going wild over the photos of Megan Fox and Kourtney Kardashian
Fox's boyfriend, Machine Gun Kelly, seemed to approve of the photos, commenting a single "🔥" emoji on her Instagram post. 
Fans of the Jennifer's Body star showed their appreciation of the pictures in the comments. "This will be in my dreams tonight," one fan wrote, while another said, "Y'all should ditch Travis and MGK. Date each other."
Fans expressed similar feelings on Kardashian's post. "I'm not okkkkkk ⚰️⚰️⚰️🔥🌡" commented Kardashian's friend Simon Huck. One Instagram user wrote, "OH MY GOD 🥵 this is EVERYTHING 😍🔥" while another said, "I wanna be that apple 🤤"
Many noted that Fox and Kardashian's boyfriends probably feel some kind of way after seeing the photos. "Travis baker and machinegunkelly: 👁️👄👁️" one fan said, while another wrote, "Trav and MGK some lucky souls I'll tell you what."
One commenter even called for Machine Gun Kelly and Travis Barker to replicate the sexy photoshoot. "Now have Travis and MGK do the same shoot! Thanks! 😜😏"
We will have to wait and see if the musicians take the bait.