Megan Fox Says She Went To 'Hell For Eternity' During an Ayahuasca Ceremony With Machine Gun Kelly
Megan Fox and Machine Gun Kelly have been making a lot of headlines with their relationship lately. The two always draw a ton of attention due to their cool outfits and brazen displays of PDA, but now they're the subject of internet discussion for a different reason.
Fox recently revealed that the couple took a trip to Costa Rica for a spiritual ayahuasca ceremony, which ended up being one of the most intense experiences of her life. The couple stayed in Central America for three days while they were guided by a group of indigenous people, who frequently host celebrities and high-profile guests during their first trip.
Even though Fox found the experience to be spiritually enlightening, she also acknowledged that on the second night of the ceremony, she went to "hell for eternity."
Megan Fox and Machine Gun Kelly went to Costa Rica for a psychedelic experience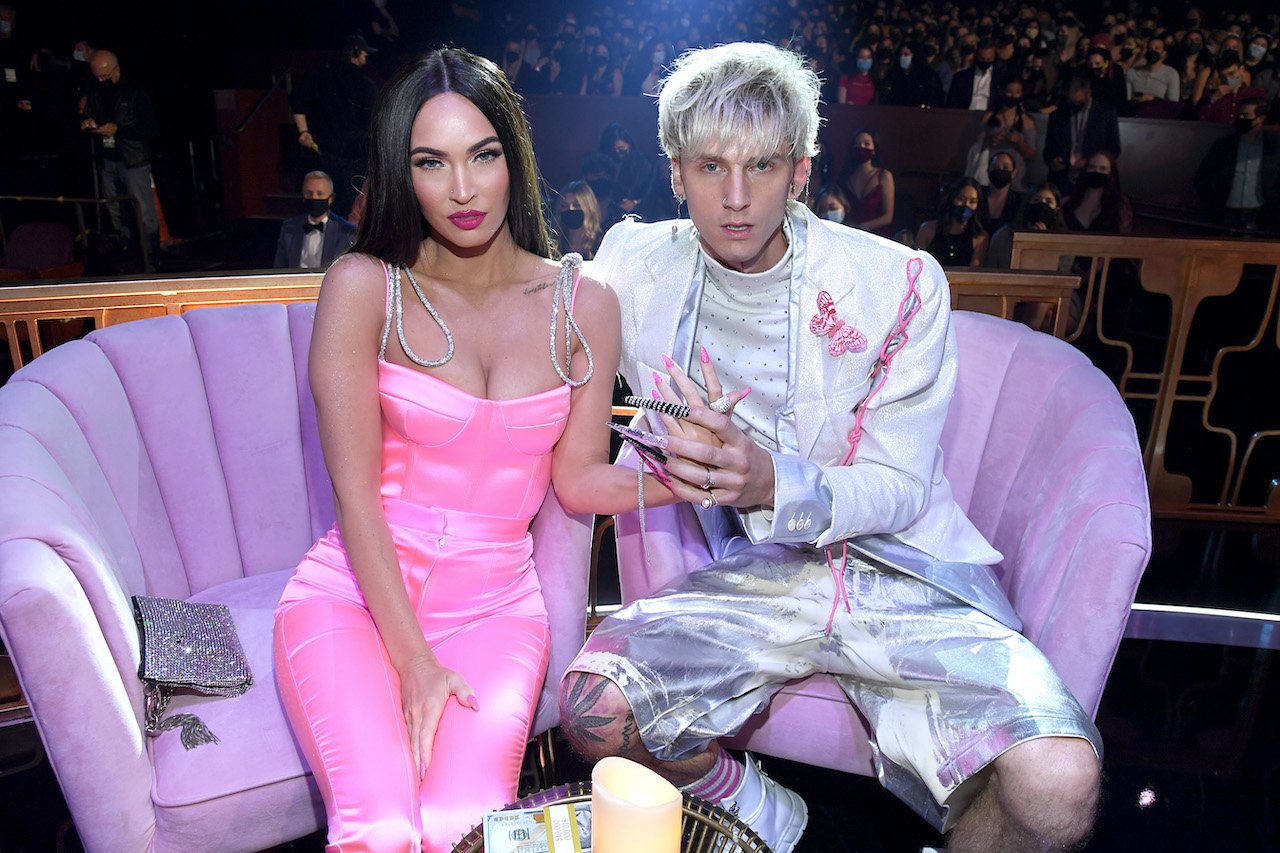 Fox discussed the psychedelic experience during a recent interview on Jimmy Kimmel Live!
"So we went to Costa Rica to do ayahuasca in, like, a proper setting, with indigenous people," Fox told Arsenio Hall, the show's guest host.
Although Fox was initially expecting a glamorous retreat, the reality of the experience was much different.
"You get there and you really are in the middle of the jungle, and you don't get to eat after like 1 p.m. You have to walk a very far distance to get your water, and you can't shower because they're in a drought," Fox recalled. "There was nothing glamorous about it, and it's all a part of making you vulnerable, so you sort of surrender to the experience."
She had to puke out everything in her stomach at the beginning of the ceremony
The initial shock of her surroundings was already a lot for Fox to take in, but things only got more intense. Prior to the trip, she, Kelly, and 20 other strangers had to purge themselves of everything in their stomachs, which was likely not a pleasant experience.
"You all line up at the edge of the rainforest, over this weird fence, and you go three by three and you drink lemongrass tea until you, not by your own volition, just vomit everything out of your body," Fox shared. "And you have to vomit a certain amount until they let you get back with everyone else, so you're like cheering on everyone as they throw up."
Megan Fox went to 'hell for eternity' during the 3 day ceremony
Once the ayahuasca ceremony began, that's when things really started getting interesting. The Transformers star began to have powerful hallucinations, which were terrifying at the time.
"Just knowing it's eternity is torture in itself, because there's no beginning, middle or end. So you have a real ego death," she said. Later in the interview, she described the ceremony "your own version of hell, and I was definitely there."
Despite how scary the experience might sound, Fox recommended that everyone try it at least once. She explained that it helped her better understand herself and that it "surpasses talk therapy or hypnotherapy… because it just goes straight into your soul, and it takes you to the psychological prison that you hold yourself in."
How to get help: In the U.S., contact the Substance Abuse and Mental Health Services Administration helpline at 1-800-662-4357.
RELATED: What Is Megan Fox and Machine Gun Kelly's Age Difference? Why She Told Critics to 'F— Yourself'