What Is Megan Fox and Machine Gun Kelly's Age Difference? Why She Told Critics to 'F— Yourself'
Megan Fox and Machine Gun Kelly's age difference hasn't been the primary focus of their very public celebrity relationship. However, Fox addressed the subject in an article. And she has some harsh words for those who've been critical of their relatively small age gap.
Megan Fox began dating Machine Gun Kelly in 2020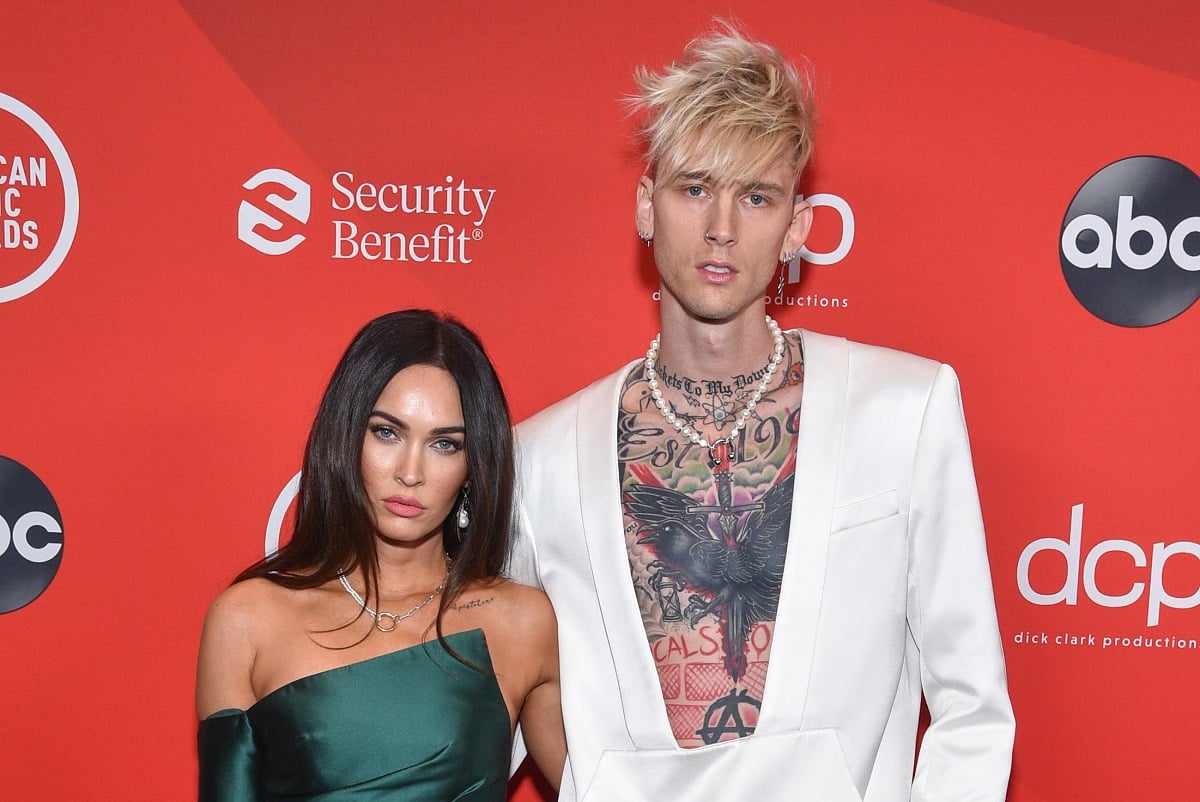 Fox and Kelly (real name Colson Baker) were first linked in mid-2020. After publicly splitting from her then-husband, the pair met while shooting the film Midnight in the Switchgrass. Fox then starred in the artist's music video for his song "Bloody Valentine," and they were photographed in public together.
Kelly and Fox confirmed their romance the millennial way — on Instagram. "waited for eternity to find you again," he wrote in a July 2020 black-and-white post of the couple. A few days later, she responded with a similar image, captioning it, "Achingly Beautiful Boy… My heart is yours."
Fox credits the age difference scrutiny to 'patriarchy'
Kelly and Fox have faced plenty of criticism since they went public. But the thing that really rubs Fox the wrong way? "The fact that he's four years younger than me, and people want to act like I'm dating a younger man," she told InStyle in a July 2021 interview. "He's 31, and I'm 35."
What contributes to the conversation surrounding such a minimal age gap? "Patriarchy," Fox says. "No one would blink twice if George Clooney was dating someone four years younger." (Clooney is, in fact, almost 17 years older than his wife, Amal Clooney.)
Fox admits Kelly's youthful lifestyle could be a factor. "He's lived like he's 19 his whole life, but he isn't 19," she says. And she has a simple rebuttal for those who take issue with their age gap. "Four years? Go f—- yourself. We would have been in high school together. That's so ridiculous that women are treated that way."
What is Fox and ex-husband Brian Austin Green's age difference?
Before Kelly, Fox spent years with another celebrity: Actor Brian Austin Green. Fox and Green began dating in 2004. They married in 2010 and have three children together: Noah, Bodhi, and Journey. She filed for divorce (for the second time) in November 2020.
Megan Fox and Machine Gun Kelly's age gap is much smaller than hers from Green. She met her ex while working on the sitcom Hope & Faith when Fox was 18 and Green was 30 — an age difference of 12 years. "I had to convince him that I was slightly more responsible and well-spoken and had other things to bring to the table besides being 18," she told Elle in 2009.
Though Fox and Green were on a break at that time, the then-23-year-old still sought out older men. "Boys in their twenties are a waste of time," she told the publication. "They have nothing to offer conversationally; they're immature. I feel like I have a better shot with someone in his thirties."
RELATED: Is Megan Fox Married? A Look At the Star's Personal Life & Net Worth