Megan Fox Said Her Relationship with Machine Gun Kelly Comes Naturally Because a Lot of It Is 'Handled' for Them
Megan Fox and Machine Gun Kelly are one of 2021's most popular couples. The pair grabs media attention every time they step on a red carpet together and discuss their spiritual connection on talk shows. Fox recently said that their relationship comes so naturally because it's "handled" by several different forces.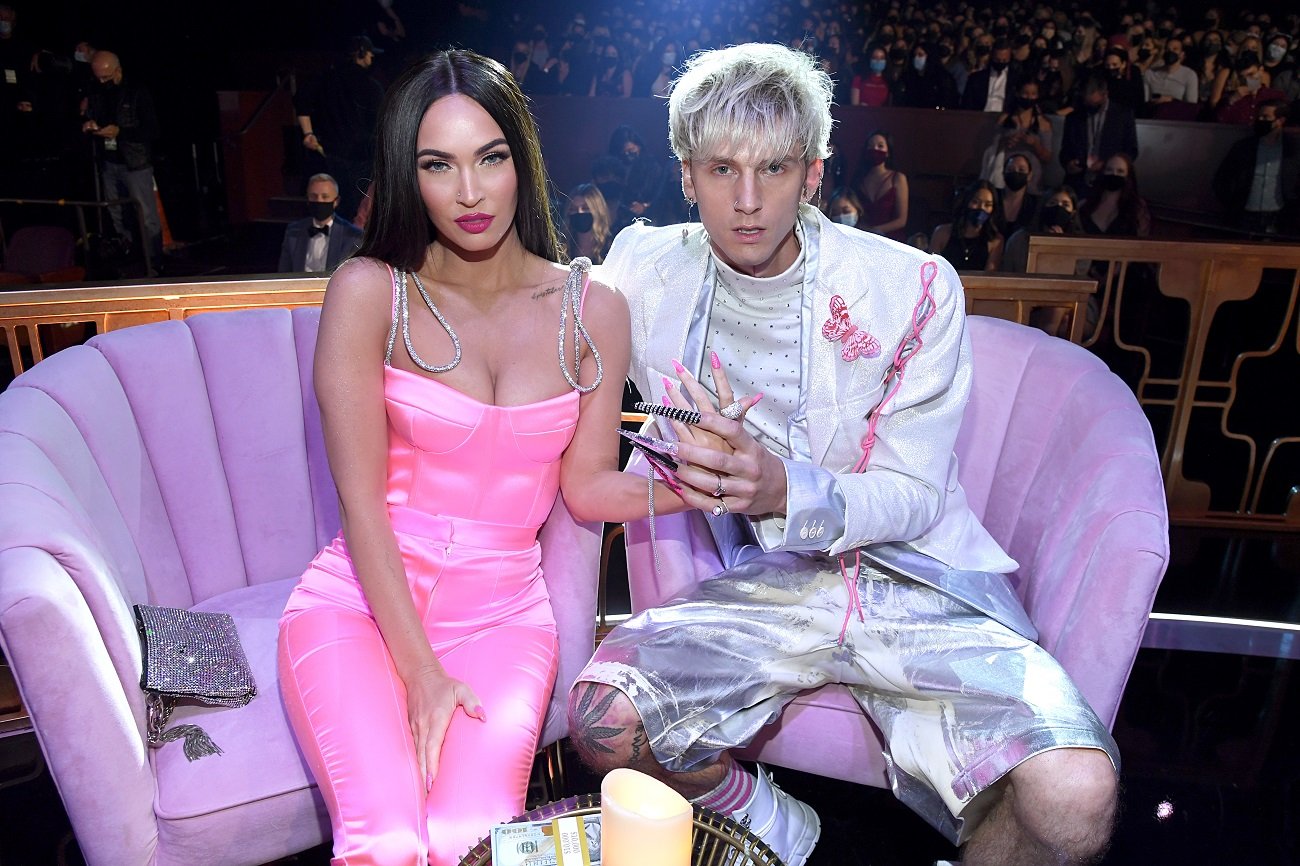 Megan Fox and Machine Gun Kelly have a highly publicized relationship
In 2010, Fox married actor Brian Austin Green. The couple shares three children and ultimately split in 2020. Months later, Fox began a relationship with her Midnight in the Switchgrass co-star Machine Gun Kelly. When the movie paused production due to coronavirus (COVID-19), the co-stars started spending a significant amount of time together.
Though the couple stepped out together in the months following their film shoot, they didn't publicly announce their relationship until June 2020. However, Fox later revealed that she began to feel a deep connection to the rapper just two days after meeting him. 
"I knew right away that he was what I call a twin flame," she said on the podcast Give Them Lala…with Randall. "And I said that to him almost immediately because I felt it right away."
Fox said their relationship is 'handled' for them
Well over a year after their first meeting, the couple is still going strong. Fox explained that the relationship is effortless because the couple considers themselves twin flames. According to Fox, the depth of their connection goes beyond this plane.
"I think part [of our connection] comes naturally because our relationship is so karmic that our spirit, our souls, are so intertwined on that higher plane," Fox told CR Fashion Book via Buzzfeed News. "A lot of it is handled for us by our ancestors and the spirits and energies that are watching over us." 
The sense that their relationship has guidance from their ancestors is tied to Fox's belief that the pair met in another life. She detailed this feeling in an interview with Who What Wear.
"When I met [Machine Gun Kelly], I knew instantly that this is a soul I've traveled with before, that this was a soul-mate connection, and that there was a purpose here," she said. "There was my logical brain chiming and being like, 'This will never work for 101 reasons.'"
Ultimately, her sense that the relationship was spiritually destined won out, and the couple have been together ever since.
Megan Fox and Machine Gun Kelly sparked engagement rumors
The apparent intensity of Fox and Machine Gun Kelly's relationship has many fans wondering if an engagement is forthcoming. Rumors ran especially wild when Fox watched Machine Gun Kelly rehearse for the VMAs. A source told Us Weekly that she was wearing what looked like a "ring on that special finger." 
Ultimately, though, it doesn't look like the couple is engaged just yet. Still, they have apparently spoken about marriage. Fox is just waiting for her divorce with Green to be finalized. 
A source close to Fox told E! that Fox and Machine Gun Kelly "plan to get engaged and married" in the future. "They are very much in love and have a strong and intense relationship," said the source. "Her divorce is moving along, and they are hashing out custody details."