Celebrity / Royal family / TV
All of Megan Markle's Jewelry From Her Oprah Interview Sends a Message
Meghan Markle's jewelry choice for her Oprah interview sent a strong message.
It was just about a month ago that people around the world tuned in to watch Prince Harry and Meghan, Duchess of Sussex sit down with media mogul Oprah Winfrey for an explosive tell-all interview. Royal fans are well aware of the fact that the Sussexes have been struggling for the past couple of years, becoming overwhelmed with royal life, personal issues, and bullying from the British tabloids.
For months, fans and the news media had been speculating about things that they thought were happening with Meghan and Prince Harry behind closed doors, and it was great to see the couple finally get a chance to tell their side of the story. Not only did they reveal some shocking details about their time as working royals, but it would also appear as if the Duchess of Sussex carefully planned out all of her fashion choices.
Here is how the jewelry that Meghan wore from her Oprah interview clearly sends a message.
Why did Meghan and Harry sit down with Oprah in the first place?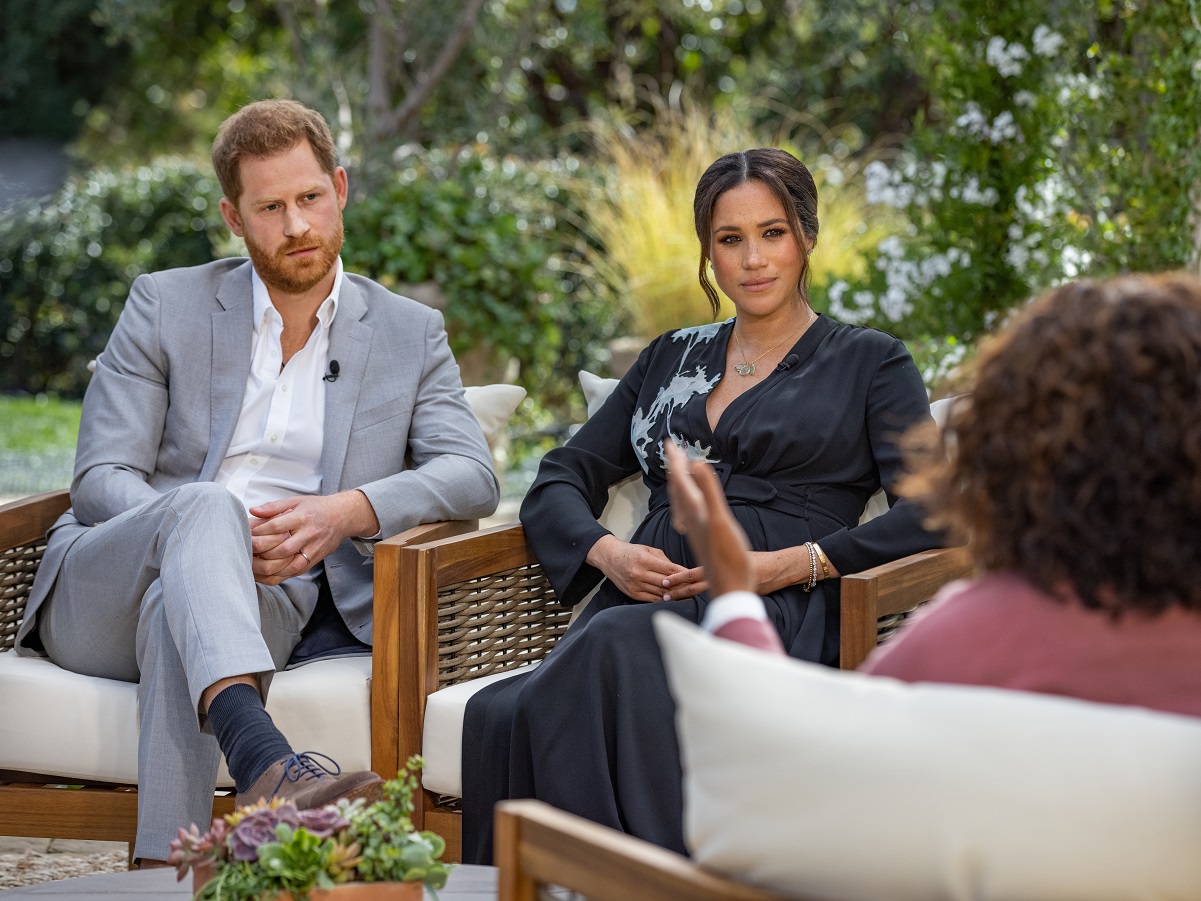 From the outside looking in, it may seem that royal life is a dream come true for anyone. For Meghan and Prince Harry, however, this couldn't have been further from the truth.
Almost from the moment that they announced that they were in a relationship after meeting several years ago, the news media had been relentless, bullying Meghan for everything from her skin color to her relationship with her family. The couple more than expressed their desire for privacy, but things only seemed to get worse over the years. There was so much being reported that it was hard to separate fact from fiction, and it got to the point where the couple felt that it was necessary to step back from royal life.
So, why talk to Oprah? According to Town & Country, Meghan and Prince Harry didn't make any money from the tell-all interview, and Oprah herself said that they wanted to do it because they had been "lied about for a series of years," and were ready for the world to hear what they had to say. 
What were the main talking points?
Once the cameras were rolling, viewers were captivated by everything that Meghan and Prince Harry spoke about. They really opened up about Meghan's relationship — or lack thereof — with members of her family.
According to The New York Times, they also talked about the royal family and spent some time discussing Meghan's mental health struggles in detail. Fans were shocked to hear that the duchess thought about ending her life during her time as a working royal.
Millions of hearts went out to her when she said: "I knew that if I didn't say it, I would do it. I just didn't want to be alive anymore." The couple discussed getting married in a private ceremony a few days ahead of their royal wedding, and fans were delighted when the couple revealed the gender of their upcoming baby, smiling along with them as they told the world they were expecting a baby girl.
All of Meghan Markle's jewelry from her Oprah interview sends a message
Meghan and Prince Harry's interview spoke volumes, but as it turns out, the former actress sent some silent messages as well with her jewelry choices. According to The Adventurine, she made sure that Princess Diana's diamond tennis bracelet was on full display.
In addition to this, she sported her Cartier Love bracelet, possibly to signal some positivity for the emotional interview. Meghan also wore a stunning Pippa Small 18K Gold Aquamarine Triple Colette Set Pendant on a Cord, and the four pendants may be a nod to her family.
The finishing touch? Meghan's earrings were Birks white quartz and silver studs, which represent clarity, and since they were likely bought during her acting days, they may be regarded as a sign of happiness.