Megan Thee Stallion Accused of Shading Saweetie Over Her YouTube Series
Aside from being a rapper, Megan Thee Stallion is also a girl-power advocate. She's someone who believes there's room for everyone to win and makes it her mission to spread love and positivity whenever possible. Yet, fans have been convinced that she's beefing with fellow female rappers, most recently accusing her of shading Saweetie. Ahead, learn more about her history with the self-proclaimed "Icy Girl" and why fans are saying she shaded her.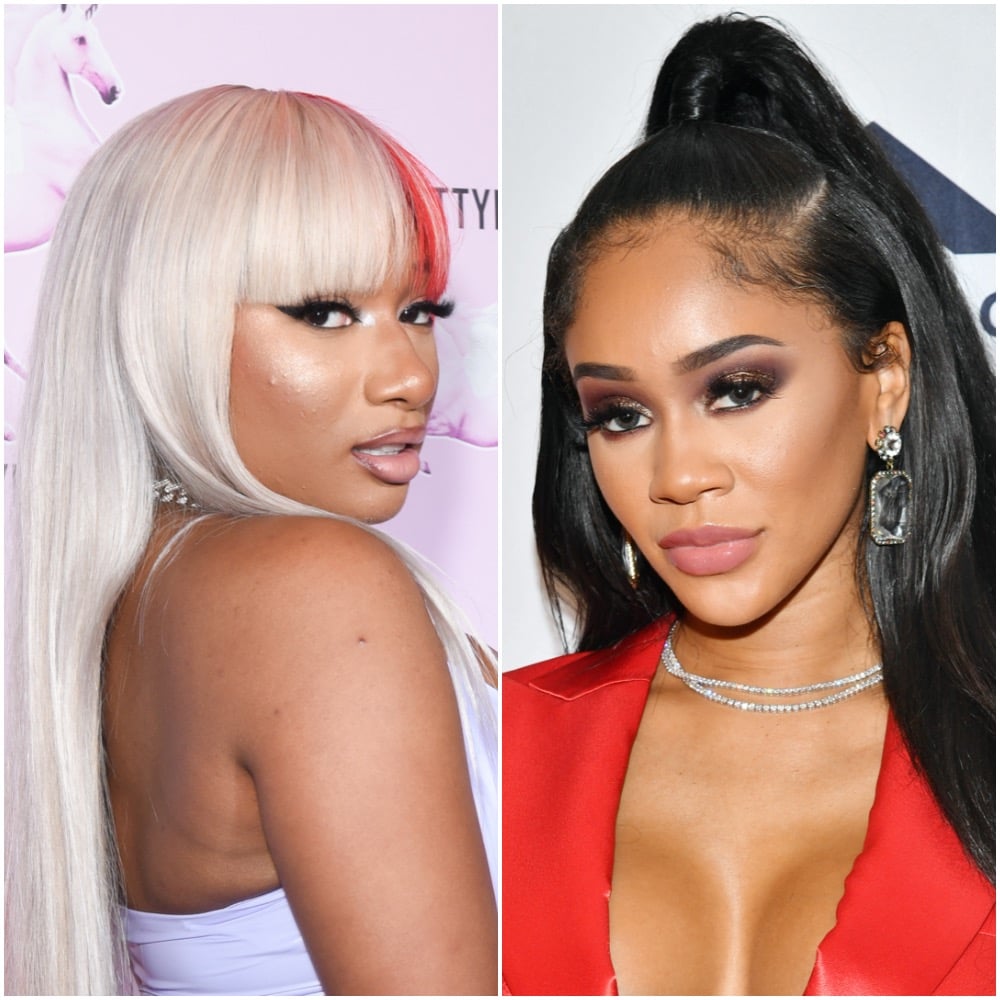 Inside Megan Thee Stallion's relationship with Saweetie
It's unclear if Megan Thee Stallion and Saweetie have ever met or if they know one another very well. Nevertheless, fans started pitting them against each other due to their respective nicknames, Hot Girl and Icy Girl, Empressive reports.
This continued in August 2019, when Saweetie wrote on Twitter that she would be taking over the wintertime after Megan Thee Stallion's "hot girl summer," with many fans of Megan Thee Stallion laughing at and attacking Saweetie in the comment section.
RELATED: Megan Thee Stallion Is Being Called Out for 'Stealing' Her Famous Catchphrase 'Drive the Boat'
While it seemed like it was mostly fans trying to kick up a feud, Megan Thee Stallion fueled speculation herself in November 2019, when a video emerged showing her telling a DJ at a club to cut off Saweetie's "My Type" (via Black Sports Online).
Later, the "Savage Remix" rapper said in a tweet that it was a misunderstanding and that she did not have issues with anyone. However, feud rumors have persisted.
Megan Thee Stallion recently made a comment that fans think was about Saweetie
The latest comment came during the Oct. 1 video premiere for her Young Thug-assisted song "Don't Stop." She had been talking about her YouTube vlog series HOTTIE WORLD when she made a one-off comment about others with similar programs.
"We've been doing this sh*t for a while," she began. "Like, we're on literally season five, episode 11 of HOTTIE WORLD and we've been going for years strong. I've seen many try to duplicate it. None really got it correctly but, like, HOTTIE WORLD is the sh*t and it is the OG."
RELATED: Cardi B Reveals What Her First Interaction With Megan Thee Stallion Was Like Following Feud Rumors
Some people who were tuned in interpreted this as a jab at Saweetie, who also has a YouTube series called The Icy Life. Like HOTTIE WORLD, it focuses on Saweetie as she balances her personal and professional life. But it came out over two years after Megan Thee Stallion launched hers, in March 2018.
The entertainment blog Empressive reports that several viewers took to websites such as Twitter after the video premiere and started accusing Megan Thee Stallion of shading Saweetie. But the outlet also suggested the remarks could have been aimed at others like her 1501 Certified Entertainment labelmate Erica Banks, who has been accused of ripping Meg's style.
So far, none of them have addressed the matter. But knowing Megan Thee Stallion and the way she's constantly supporting her female peers, it's hard to imagine that she was actually targeting Saweetie. Maybe one of them will clear up the drama one day soon.