Megan Thee Stallion Addresses Rumored Feud with Cardi B
From the moment she hit the mainstream rap scene, Megan Thee Stallion made it clear that she had love for everyone. She came in praising many of her predecessors — from Lil Kim and Foxy Brown to Nicki Minaj and Missy Elliott — and stressed that she was not trying to take anyone's place. She just wanted to rap and do her thing.
Still, fans have long been convinced that there's bad blood between her and Cardi B. While she usually ignores the noise, she spoke out on April 1 after a Twitter user floated a new rumor regarding the rappers.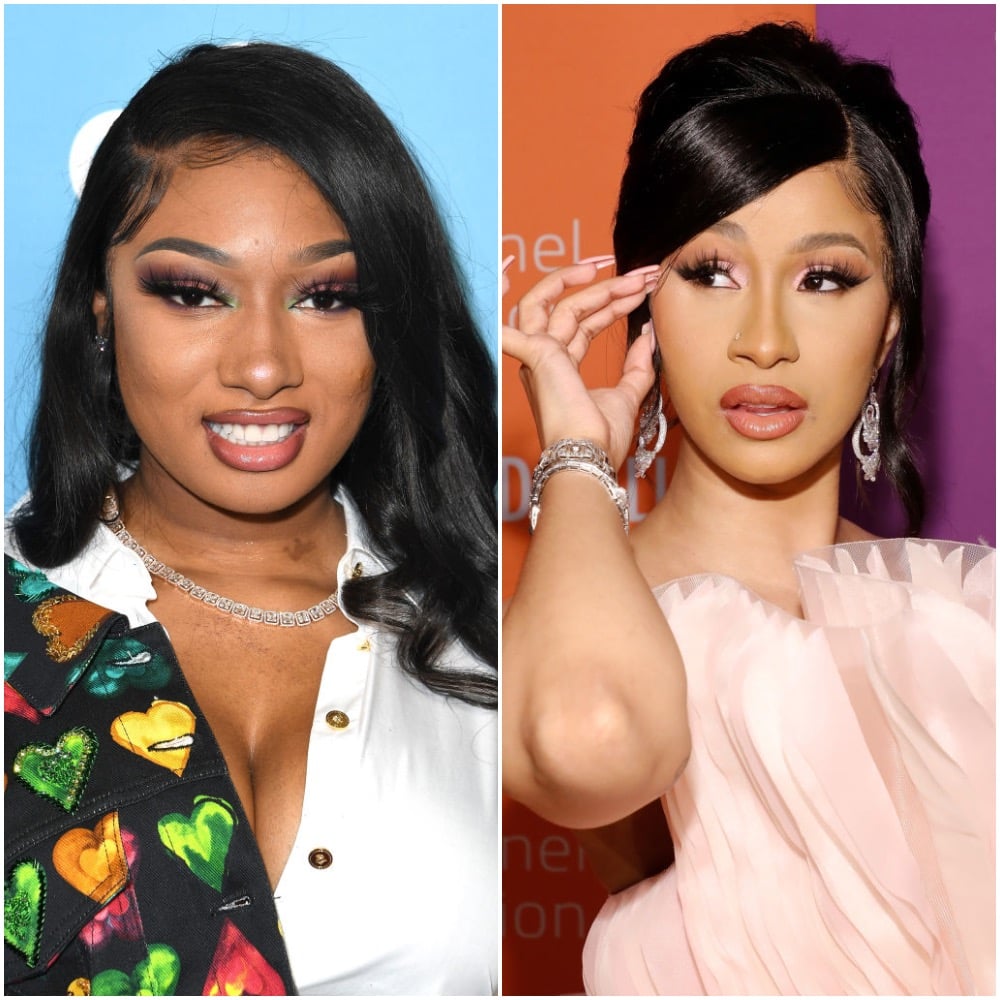 What Megan Thee Stallion said about her rumored feud with Cardi B
Her response came after a Twitter user claimed she had liked a comment under the YouTube video for her song "B.I.T.C.H." that said she "exceeded" Cardi B. Another account shared screenshots of the comment in question and said it is "proof" Megan Thee Stallion hates the "Bodak Yellow" rapper.
Taking to Twitter, Megan Thee Stallion wrote that she definitely did not like any comment on YouTube and that she doesn't even control her account.
"I did not like no damn stupid a** comment like this. I don't even upload my own sh*t to my YouTube my label does," she wrote before once again stressing that she's cool with everyone.
"I DO NOT HAVE A PROBLEM WITH ANYBODY," she continued. "I don't like drama I do not bring other females down stop trying to start fake beef."
When the feud rumors started
It seems that people have been trying to pit them against each other ever since Megan Thee Stallion broke through in late 2018 with her song "Big Ole Freak."
In March 2019, Cardi B wrote on Twitter that nobody could ever take her spot but appeared to deny that she had been talking about Megan Thee Stallion in a follow-up tweet.
"I barely been getting online. I haven't been talking to nobody just straight promoting! Stop putting me in bullsh*t let me keep minding my business in peace. Thank you," she tweeted.
The rumors resurfaced when Megan Thee Stallion became friends with Nicki Minaj
Fans took this as her siding with the "Super Bass" rapper, who has a longstanding feud with Cardi B. But Megan Thee Stallion told E! News' Daily Pop in August 2019 that that isn't the case.
"I really hate the fact that [people do that]. It's really like a lot of the fans," she said in the chat (via iHeartRadio). "They really make it seem like you're picking sides. I really, really, really like both of them. They're two different people, two different rappers. It's not even the same. I feel like we need to stop trying to compare them."
She even said she was a fan of Cardi B and would "definitely" collaborate with her if given the chance.
For her part, Cardi B has not said much about Megan Thee Stallion. But she praised her talent and voice in an October 2019 appearance on T.I.'s ExpediTIously podcast.
If all of this doesn't convince people that there's really no bad blood, we don't know what will.