Megan Thee Stallion and Cardi B Give Fans Ultimate 'WAP' Gift on Twitter
"WAP" is continuing its domination streak on social media and streaming platforms. The Megan Thee Stallion and Cardi B collaboration is this summer's banger and is everywhere.
Shaun T is dancing to it, Lisa Rinna made her own "WAP" video, and the viral videos keep coming. To keep the party going, both rappers are serving up some fan appreciation on Twitter with a major gift.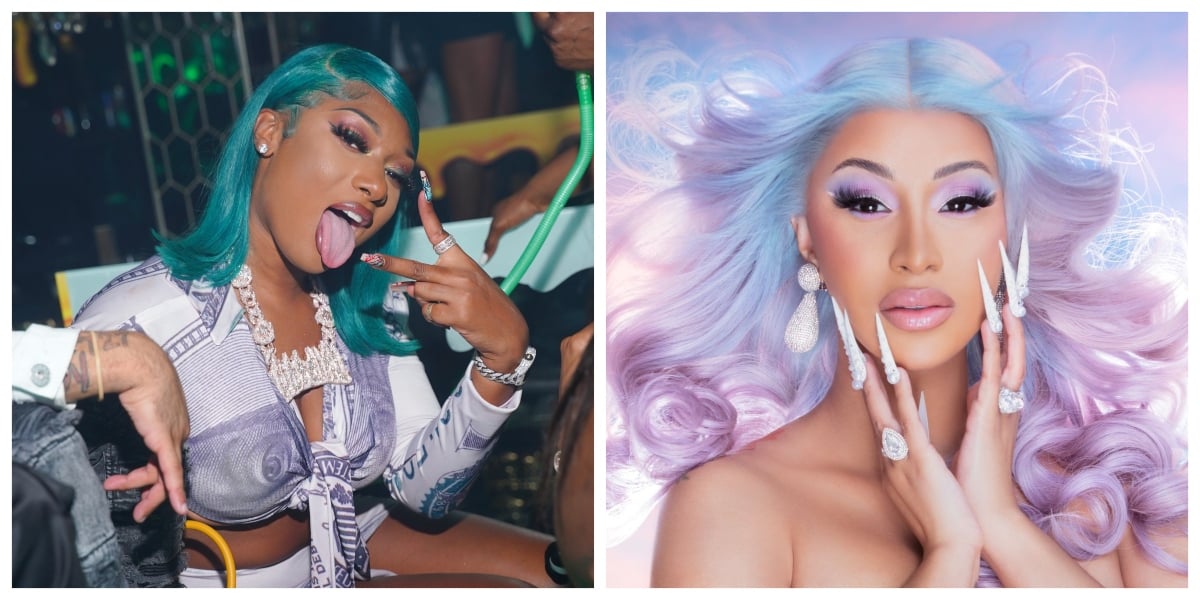 Megan Thee Stallion and Cardi B are handing out 'WAP' money
For anyone having trouble grasping the reach or popularity of "WAP," the proof lies with the fans.
Megan Thee Stallion and Cardi B are giving back by fattening some lucky fans' bank accounts. Both rappers hit their social media pages to announce the giveaway campaign which is happening live on Twitter.
They partnered with Twitter and Cash App to drop $1 million in cash to thank the millions of women "WAP" supporters.
RELATED: Cardi B Announces Collaboration With Megan Thee Stallion and Fans, Celebs Celebrate
It's been going on all day and all one has to do is tweet their cash tag name with the hashtag #WAPParty for a chance. Check Megan Thee Stallion and Cardi B's Twitter feeds and you'll find fans are receiving $500 Cash App deposits. According to the promotion's rules, the giveaway ends on Aug. 20.
Megan Thee Stallion urged her Instagram followers to head over to Twitter to enter so they wouldn't miss out, and many thanked her for sharing the wealth. Both she and Cardi B are receiving compliments for giving back to the people.
'WAP' snagged the number 1 spot
Although it's not that surprising, "WAP" catapulted to the top spot on Billboard's Hot 100 charts. The song made history in the streaming department with 93 million during its first week, per Vulture.
That's the highest amount for a debut week and it's the most streams for track in 2020. Billed as a female empowerment anthem, "WAP" marks the second number one hit for Megan Thee Stallion and fourth for Cardi B.
Megan Thee Stallion scored her first number one back in May when she released the "Savage" remix featuring Beyoncé. Musically, the Houston-bred rapper has been having a great year. She and Cardi thanked fans and the video's guest stars for showing so much love for "WAP."
Cardi B and Megan Thee Stallion have given money away in the past
Though the "WAP" phenomenon is driving the current wave of generous cash drops, each rapper is experienced in sharing money with social media fans.
As recently as April, Cardi B partnered with Fashion Nova for a coronavirus-related promotion that gave out $1,000 every hour for a full month. Fans were instructed to share their stories of hardship for the opportunity to win.
Since quarantine began in March, Megan Thee Stallion reached into her own pockets to help fans out with bills and other needs. She used Cash App to send thousands of dollars to individuals and in a separate effort, donated funds and tablets to a Houston nursing home facility.
It's not too late for fans to get in on the latest promotion. Catch the "WAP" cash giveaway on Twitter until Aug. 20.