Megan Thee Stallion Appeared Irritated With Tory Lanez in Video Before Her Allegedly Shot Her
There are still so many questions in regards to what happened between Megan Thee Stallion and Tory Lanez. But a video taken hours earlier might offer up some insight. The clip depicts them having an awkward moment at the party that left Megan Thee Stallion with gunshot wounds to her foot.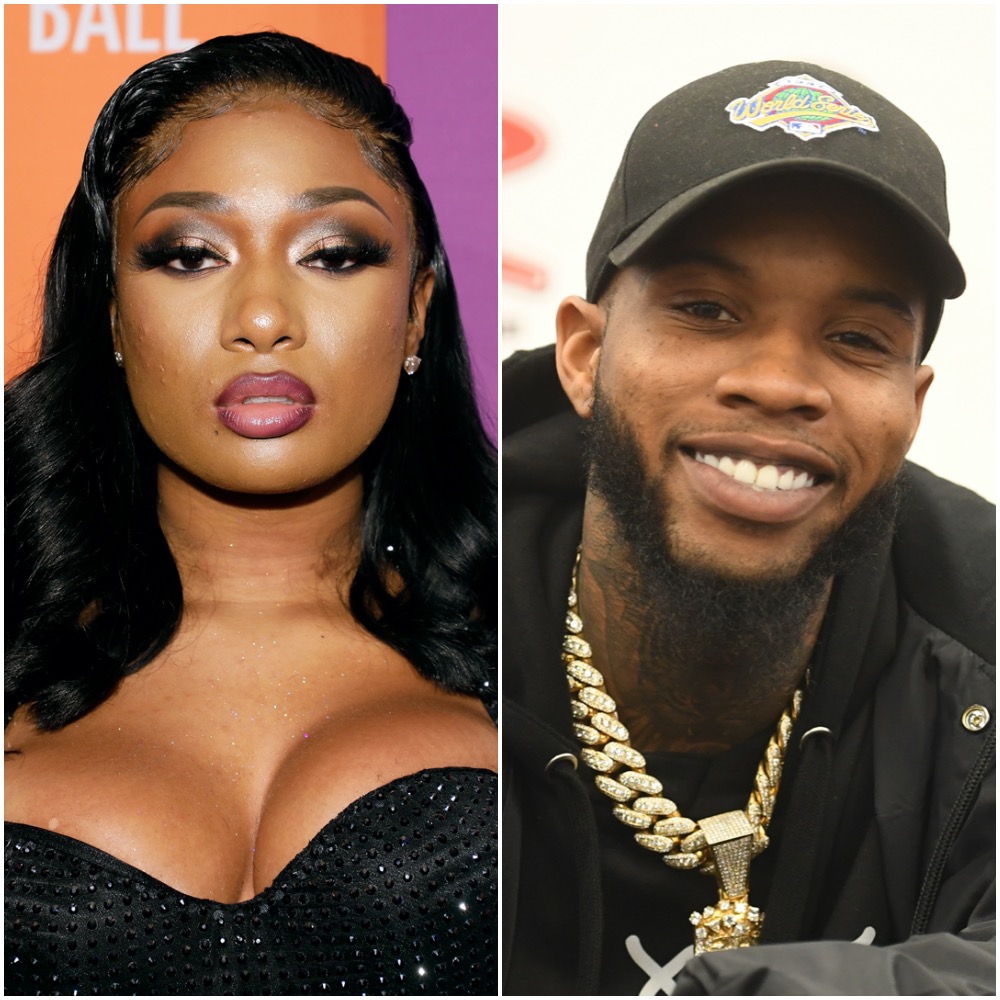 The video of Megan Thee Stallion and Tory Lanez
The video is from the evening of July 11 — hours before the alleged shooting.
Megan Thee Stallion had been at a Hollywood Hills party with Kylie Jenner, Tory Lanez, and her best friend Kelsey when the "Savage" rapper decided to hop on Instagram Live. In the video, she and the makeup mogul are seen wearing bikinis and kicking back in a luxurious, purple-lit pool as they talked and posed for the camera.
"We had to come kill the streets," she said in the video as Jenner gave a slight smile and threw up the peace sign. As Jenner leaned over to talk to an unknown person, Tory Lanez moved into the gap between them, resting his arms on their shoulders.
"What y'all n****s talkin' about," he asked, getting closer to the camera. Megan Thee Stallion was expressionless but seemed irritated as she said, "Tory, don't get my phone wet." She then moved her phone to the side as he backed away and drifted to the other side of the pool.
RELATED: Megan Thee Stallion Accused of Being a Fake Friend After Hanging Out with Kylie Jenner
Megan Thee Stallion was shot after the party
TMZ reports the rappers got into an argument after leaving the party. Police, who were responding to a disturbance call, found them in a car and pulled them over. Upon searching the car, they found a gun and noticed Megan Thee Stallion had injuries to her foot.
Tory Lanez was then arrested for carrying a concealed weapon while the "Cash Sh*t" rapper received treatment for what was initially believed to be a cut from shattered glass. However, as reports about the incident began to spread, she claimed on Instagram that she had actually been shot by someone "with the intention to physically harm me."
RELATED: Tory Lanez's Past Comments About His Use of Guns Resurface After Alleged Megan Thee Stallion Shooting
Who shot Megan Thee Stallion?
She didn't say names in her post, but a Page Six source identified the alleged shooter as Tory Lanez, who sparked dating rumors with Megan Thee Stallion in April when they were seen hanging out during the coronavirus quarantine.
"Tory fired the shots from within the vehicle while Megan was outside trying to leave," the source continued. "There is video and the police are investigating. This is a case of a man physically harming and abusing a woman."
However, TMZ sources said a lack of witnesses had made it hard to bring more charges against the "Say It" rapper.
Ever since the incident occurred, both of them have kept their comments on the situation to a minimum. But Megan Thee Stallion has said she will talk about it when she's ready.
RELATED: Megan Thee Stallion Goes Off on 'Basketball Wives' Alum Draya Michele for Joking About Her Shooting Incident