Megan Thee Stallion Details Text Conversations with Beyoncé and JAY-Z
Megan Thee Stallion really blew up in front of our eyes. She went from rapping in small Houston cyphers to topping the Billboard charts quicker than you can say her signature "Ahh!" She's amassed a loyal following of fans she affectionately calls the "Hotties" and made friends in the highest places of places. Even Beyoncé and JAY-Z consider her a friend and have apparently even texted the "Hot Girl Summer" crooner in the past.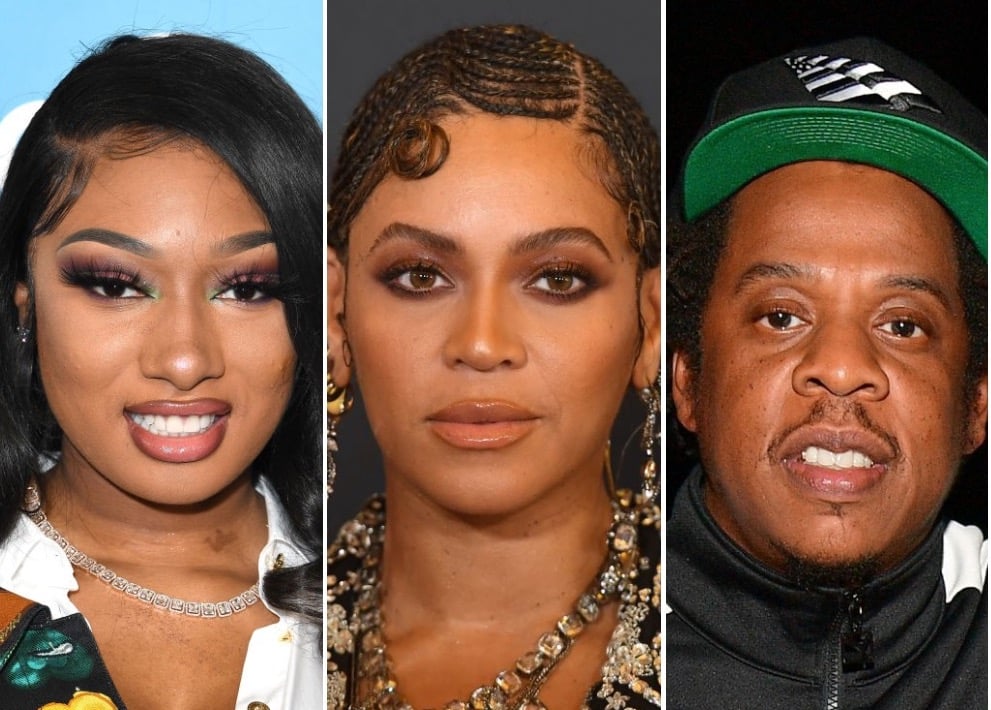 Megan Thee Stallion's relationship with Beyoncé and JAY-Z
It appears the trio established a working relationship in September 2019 when Megan Thee Stallion signed a management deal with JAY-Z's company Roc Nation. They seemed to hit it off so well that Megan Thee Stallion received a personal invitation to celebrate the New Year with the notoriously private couple. The Fever rapper posted two photos from the evening on Instagram, showing her posing with Beyoncé and her eldest daughter, Blue Ivy Carter, 8.
"That was legit my first time meeting Beyoncé," she recalled in a May 1 interview with Apple Music host Ebro Darden (via Variety). "And, oh my God, we danced all night — I was really in there, cutting it up. I was like, 'Wow, Beyonce accepts my turn up! She likes 'Ratchet Megs' and I love it!"
The artists later collaborated on a remix to Megan Thee Stallion's "Savage" and released it on April 29. It landed at No. 4 on the Billboard Hot 100 before creeping up to the top of the chart in later weeks.
Megan Thee Stallion's texts with Beyoncé and JAY-Z
In a recent interview with Entertainment Tonight, Megan Thee Stallion detailed some of her text conversations with the power couple following the release of the "Savage Remix."
"After I heard the song, I texted JAY-Z like five times like, 'Oh my god, thank you, thank you, thank you, thank you,'" she explained to the outlet.
She said that the Lemonade star contacted her a day later. "Then Beyoncé texted me the next day," she continued. "I was like 'Oh my god, Beyoncé got my number.' [Beyoncé] texted me two, three times the next day, and the day after that. I'm like, 'Girl, I'm friends with Beyoncé.'"
She didn't get specific there, but told Darden in the aforementioned interview that Beyoncé encouraged her to "keep going."
"I talked to [Beyoncé] after the song came out," she revealed. "She was just super supportive. Every time I see her she's always like telling me, 'Keep going, keep going hard, you really got it. Do you,'" she explained.
Next, Megan Thee Stallion intends to release her debut studio album. The title and official release date are not yet known, but we'll keep you updated.
Read more: Producer Reveals Why Cardi B and Beyoncé's Collaboration Never Came Out