Megan Thee Stallion Reveals Potential Future Collaborators After Beyoncé Duet
Megan Thee Stallion has a quintessential hip hop story. She went from rapping at small events to garnering buzz on projects like 2018's Tina Snow and 2019's Fever to collaborating with some of the biggest names in the industry.
Following her recent collaboration with Beyoncé — the ever-popular "Savage Remix" — Megan Thee Stallion sat down for an interview and revealed who she'd love to get on a song with next.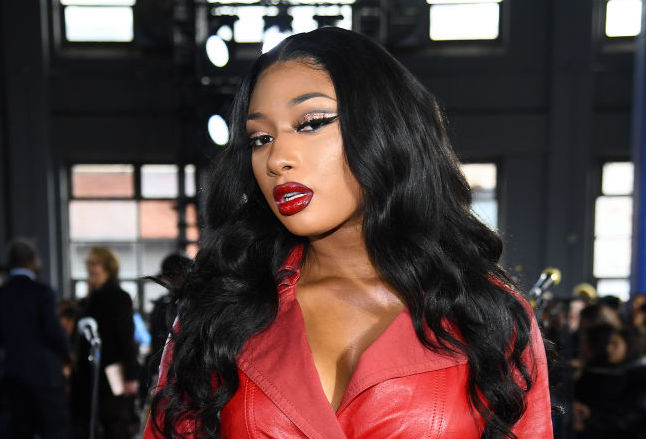 Megan Thee Stallion on potential collaborators
When asked who she'd like to work with next in a May 5 interview with Dazed Digital, she said: "I'm good, I don't need anyone else to collab with. I already collabed with Nicki [Minaj] and I've collabed with Beyoncé, my life is made — bye, thank you. Thank you, everybody!"
But when the interviewer asked whether she would work with Rihanna, Megan Thee Stallion changed her stance.
"Rihanna is that girl, and I always wear Fenty, so… Oh my God, that would blow my mind! If I could collab with Rihanna, I would honestly be super happy," she shared.
The funny thing is, she and Rihanna were rumored to be working on a song called "Whip It" back in 2019. Rihanna later called it a "lie" on Instagram, leaving fans everywhere crushed. But she did bring Megan Thee Stallion on as a Savage x Fenty ambassador in mid-May, which is at least something, right?
…Guys?
Megan Thee Stallion also talked to Dazed Digital about how the 'Savage Remix' came together
According to the "Cash Sh*t" rapper, it was her management company Roc Nation, which was founded by Beyoncé's hubby JAY-Z, that set the collaboration up.
"Somebody from my team called me like, 'Hey, Beyonce wants to do a 'Savage' remix,' and I'm like, 'Shut up — y'all are lyin'!' They're like, 'Seriously, go record a new verse.' I didn't hear the song again until the week after that. When I heard it, I was like, 'This is really Beyonce! Like… this is really Beyonce. Do y'all know that this is really Beyonce?!'" she exclaimed.
The song came out on April 29 and debuted at No. 4 on the Billboard Hot 100 chart. It later rose to the top of the chart, marking Megan Thee Stallion's first No. 1 song. She came to tears while discussing the milestone on Instagram, explaining how it's always been a dream to work with the Lemonade singer.
Megan Thee Stallion's upcoming projects
Megan Thee Stallion is gearing up to release her debut studio album. It has no title or official release date just yet, but the "Big Drank" rapper told Jimmy Fallon in April that she has been busy recording material for it.
"That's the best thing about the quarantine," she continued. "I would have been working on [the album] anyway, but what else am I doing right now? I've just been writing and we set up a little studio in here. So, you know, we're going to have new music for when we can go back outside."
She is also creating a horror film, which is inspired by her love for The Human Centipede. Details are not yet known, but she has said she would love to get Get Out director Jordan Peele on the project. We will share any updates as they become available.
Read more: A Rapper Appeared to Hit On Megan Thee Stallion and Fans Are Not Here for This Potential Couple