Megan Thee Stallion Says Men are Intimidated by Her
Megan Thee Stallion has no plans of dimming her light for anyone, especially a man. In a recent interview, the Houston-born rapper opened up about encountering men who are taken aback by her boldness and her success. Apparently, not everyone can handle the self-proclaimed "Hot Girl." Stallion says it's their loss.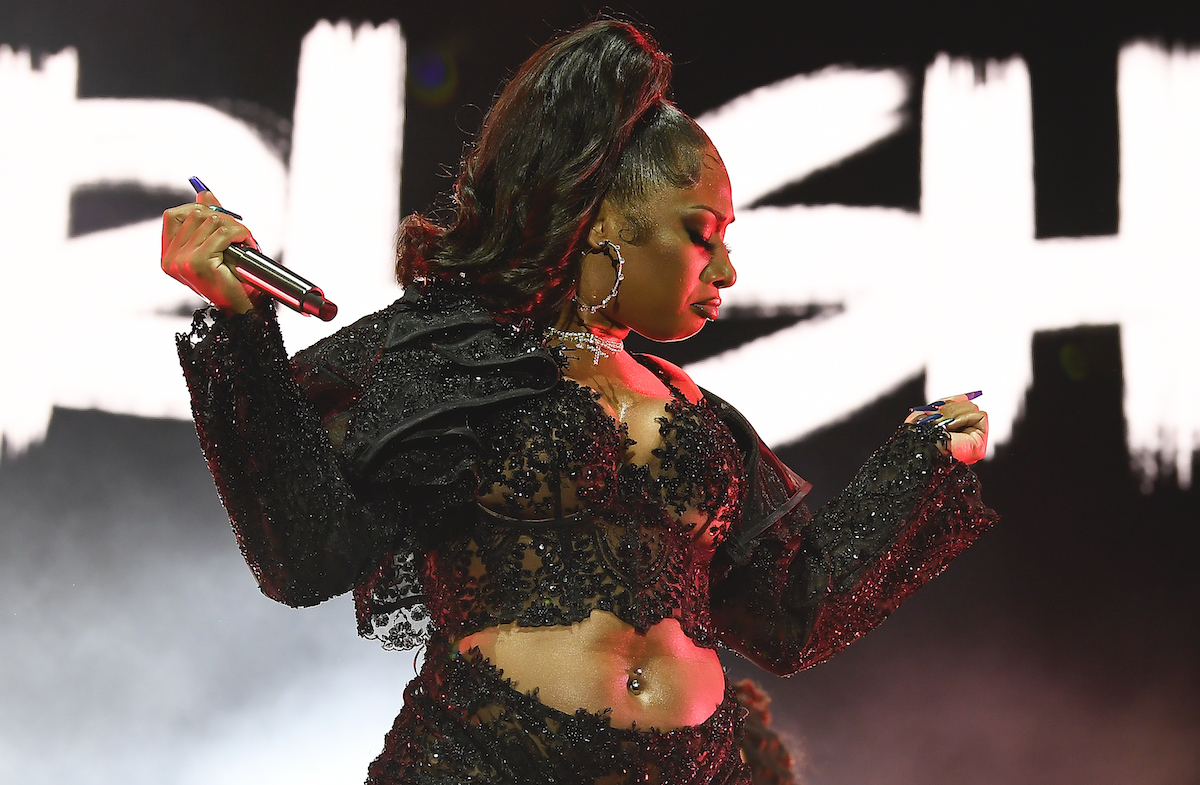 Megan Thee Stallion says 'ignorant' men are intimidated by her
Madame Noire reports on a recent interview that the "Savage" rapper did when she opened up about difficulties of interacting with men. She says men who don't view her as a "damsel in distress" can't handle her.
Related: 'The Breakfast Club' Hosts Slam Megan Thee Stallion Over Her Interview Restrictions
"I'm starting to see how much more ignorant men are than I thought," she told Evening Standard. "When you're a woman who's not a threat, men don't really bother you…Like, 'How dare she talk about her vagina? She loves herself and she don't need me and she's going to take my money.' I just feel like I make a lot of them uncomfortable and I feel like that's my job."
But just because men may take issue with her boldness, doesn't mean she's going to conform to their desires, noting, "You can't stop looking the other way, because you like what you see and you hate that you like what you see," she continued. "They're emotionally ignorant. Once they come to grips with who they are, maybe they'll grow up."
The rapper says her current boyfriend is not insecure
Luckily for Stallion, her current boyfriend, Pardison "Pardi" Fontaine, can handle all that comes with her. But she admits to giving him a hard time when they first began dating because of prior negative experiences with men.
"I'm not going to lie, my guard is constantly up, 24 /7. But with him it was easy to be more relaxed because he made me feel safe," she said. "So it took a few months for me to really understand, it wasn't just about him."
Stallion says Pardi is equally confident, adding, "He came into it and he was comfortable and he wanted to be my man, but I had to really figure out, did I really want to be his woman? Am I ready to let my guard down and do this? Because I don't want to piss him off and be guarded, I don't want the relationship to feel one-sided. But he waited. After I met him, I was with him every day."
Who is Megan Thee Stallion's boyfriend, Pardi?
Pardi is also an artist, known for his collaboration with Cardi B on "Backin' It Up." He also co-wrote Cardi B's breakout debut single "Bodak Yellow," Kanye West's "Violent Crimes," and Ed Sheeran's "South of the Border." In 2019, he released his mixtape, UNDER8ED, through Atlantic Records.
Related: Who Is Megan Thee Stallion's Boyfriend, Moneybagg Yo?
Despite his success, he makes time for his lady. The two debuted their love on Instagram months ago and he goes out of his way to make sure Stallion feels special. For Valentine's Day 2021, he chartered a private jet, filled Stallion with lots of red roses, and curated a special menu with the title, "Pardi with a Hottie."