Megan Thee Stallion Shares Her Anime Crush, Discusses Anime's Influence on Her Style
April 15 marked National Anime Day, and the occasion was trending around the world as fans celebrated their favorite shows and movies.
Megan Thee Stallion is always shouting out her love for the genre, and she recently did a Q&A on Instagram Live with Crunchyroll, one of the world's leading streaming services for anime and manga.
Rocking an Aggretsuko tee, she waxed poetic about her first experience watching anime, the series she's currently binge-watching, and which characters resonate with her. The "Hot Girl Summer" rapper also shared how anime influences her personal style and musical artistry.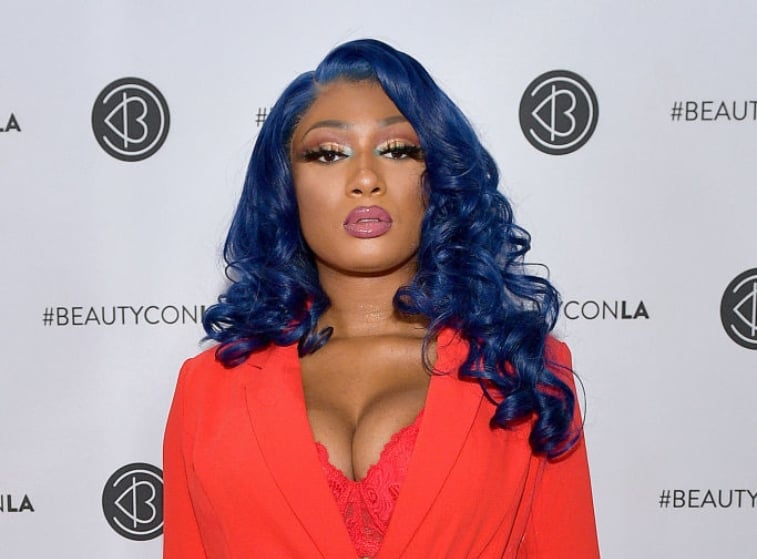 Who is Megan Thee Stallion's anime crush?
You may have heard her talk about this before, but Megan Thee Stallion has a soft spot in her heart for the immortal Ban from Seven Deadly Sins. She joked that they're in a very special committed relationship.
Fans of Ban love his personality and laidback energy, but also sympathize with him because of his sad backstory.
Why does Megan like him? She told Crunchroll's Tim Lyu "I like guys with attitude, guys with fire." He's not the only anime guy she's fond of, as Inuyasha also scored points with her for being "fine," always being ride-or-die for his woman, and his general badassery.
Megan discussed how she uses anime style
Though she hasn't gone full cosplay for a convention, Megan Thee Stallion is no stranger to donning colorful wigs as a way to tap into her favorite characters. As some of her fans know, one of her monikers is Todoroki Tina, and ode to the My Hero Academia series and her alter ego, Tina Snow.
She shared that her hair, makeup, and fashion team will pull together looks if she's in the mood to take on a persona like Naruto (orange/fiery) or any other anime show she's feeling. Fans see that during her performances with her outfits and hair.
But Megan Thee Stallion said that some of the characters influence her music too because of their power and attitude.
Citing Naruto, she said, "Naruto is a character that really resonates with me because he was going against his whole village, nobody liked him – and he was committed to being the number one. That's me! Every time I feel like someone is going against me, I'm like 'I'm going to keep going hard, I'm going to keep training.' People can't hate on him."
She has a list of female and male characters she loves like Mikasa from Attack on Titan, but there's one from My Hero Academia who's winning. She said, "A character that just inspires me and really pumps me up would definitely have to be Deku."
Which shows does Megan Thee Stallion recommend for fans?
Of course, My Hero Academia is one of her top suggestions for anime fans. Megan Thee Stallion praised Soul Eater (she loves Death the Kid), Tokyo Ghoul, Assassination Classroom, Blue Exorcist, and JoJo's Bizarre Adventure – the '80s version and the newer one, urging fans to watch.
Fans can also get ready to hear more anime references in her lyrics. Megan revealed that she's recorded some new tracks that touch on all the series she loves most.