Megan Thee Stallion Shows Off Gift From Beyoncé In Honor of the 'Savage Remix' Going No. 1
Four years ago, Megan Thee Stallion was an unknown name. Even after gaining traction in a viral Houston cypher, there was little known about her and music. Then came 2018's "Big Ole Freak," which pushed her into the spotlight and became her first Billboard-charting hit.
Fast forward to 2020, Megan Thee Stallion is considered one of the hottest rappers in the game and recently scored her first No. 1 song. After the Beyoncé-assisted "Savage Remix" topped the Billboard Hot 100, Megan The Stallion took to social media to celebrate. She also revealed that she'd received a special gift — flowers with a personalized card — from her collaborator.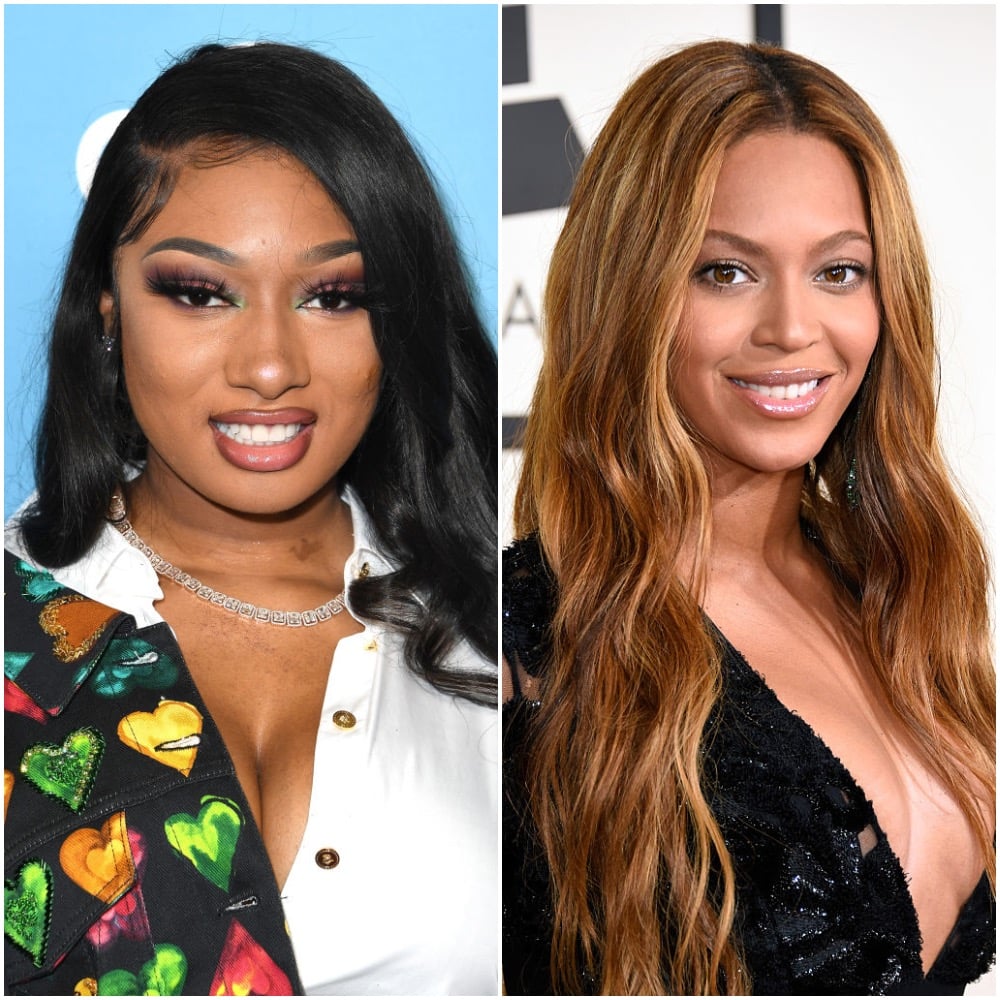 The "Savage Remix"
Fans had been hoping for a collaboration ever since January when Megan Thee Stallion revealed that she'd spent New Years with the Lemonade singer. But when Marie Claire asked whether they had something in the works in an interview published on April 6, Megan Thee Stallion seemingly said no. As a lifelong Beyoncé fan, though, her eyes reportedly "[lit] up at the thought" of a collaboration.
"Everybody knows I super love Beyoncé," she told previously told Billboard. "I'm from Houston, she's from Houston. I've been listening to her all my life and she is just somebody that, when I'm feeling like, am I doing the wrong things or am I feeling the wrong way? I just go back and watch her old interviews. I watch her talk about going through the same struggles that I feel like I'm going through right now."
Although she seemingly downplayed the rumors, a writer for the music website All Hip Hop later claimed that the artists indeed had something in the works, namely a remix to Megan Thee Stallion's "Savage," which went viral on Tik Tok and led to many dance challenges.
The remix dropped just under two weeks later, on April 29, and instantly took over the Internet. The song battled against Doja Cat's "Say So" remix featuring Nicki Minaj, ultimately landing in the No. 4 slot on May 4 while Doja Cat topped the charts. But during the week of May 24, it surged to No. 1.
Megan Thee Stallion's gift from Beyoncé
In a video shared on her Instagram Story on May 26, Megan Thee Stallion showed off a bouquet of different flowers from the EVERYTHING IS LOVE songstress.
"Congrats on your number one Queen," read the accompanying card. "Love, B."
"We did that, thank you Queen," Megan Thee Stallion captioned the video, tagging Beyoncé.
Megan Thee Stallion continued to celebrate on her Instagram feed, sharing a screenshot of the Billboard chart along with a message to her fans. "HOTTIES WE ARE NUMBER 1 ON THE HOT 100 FOR THEE FIRST TIME EVERRRR🔥🔥🔥🔥🔥🔥🔥🔥 WE F*CKING DID IT 😭😭😭😭 thank you GOD🙏🏽🙏🏽🙏🏽 this is our first but it damn sure won't be our last!"
Megan Thee Stallion's upcoming projects
Next up is Megan Thee Stallion's debut album. She has not said much about it but gave fans a taste of what could come on the March EP Suga. Speaking to Apple Music host Ebro Darden in an interview published on May 1, Megan Thee Stallion added that Beyoncé has been a huge supporter, often encouraging her to "keep going."
'I talked to [Beyoncé] after the song came out. She was just super supportive. Every time I see her she's always like telling me, "Keep going, keep going hard, you really got it. Do you,"' she explained.
Read more: A Rapper Appeared to Hit On Megan Thee Stallion and Fans Are Not Here for This Potential Couple