Megan Thee Stallion Shows Off Lavish Gift From Cardi B in Honor of 'WAP' Going No. 1
It's official: "WAP" has hit No. 1 on the Billboard Hot 100 chart.
Cardi B and Megan Thee Stallion's girl-power anthem reached the milestone on Aug. 17, and both rappers celebrated the moment on their respective social media pages.
Taking it a step further, Cardi B also sent the "Savage Remix" rapper a lavish gift that she showed off on Instagram. Ahead, we'll talk more about their collaboration, relationship, and what Megan Thee Stallion got from Cardi B in honor of "WAP" going No. 1.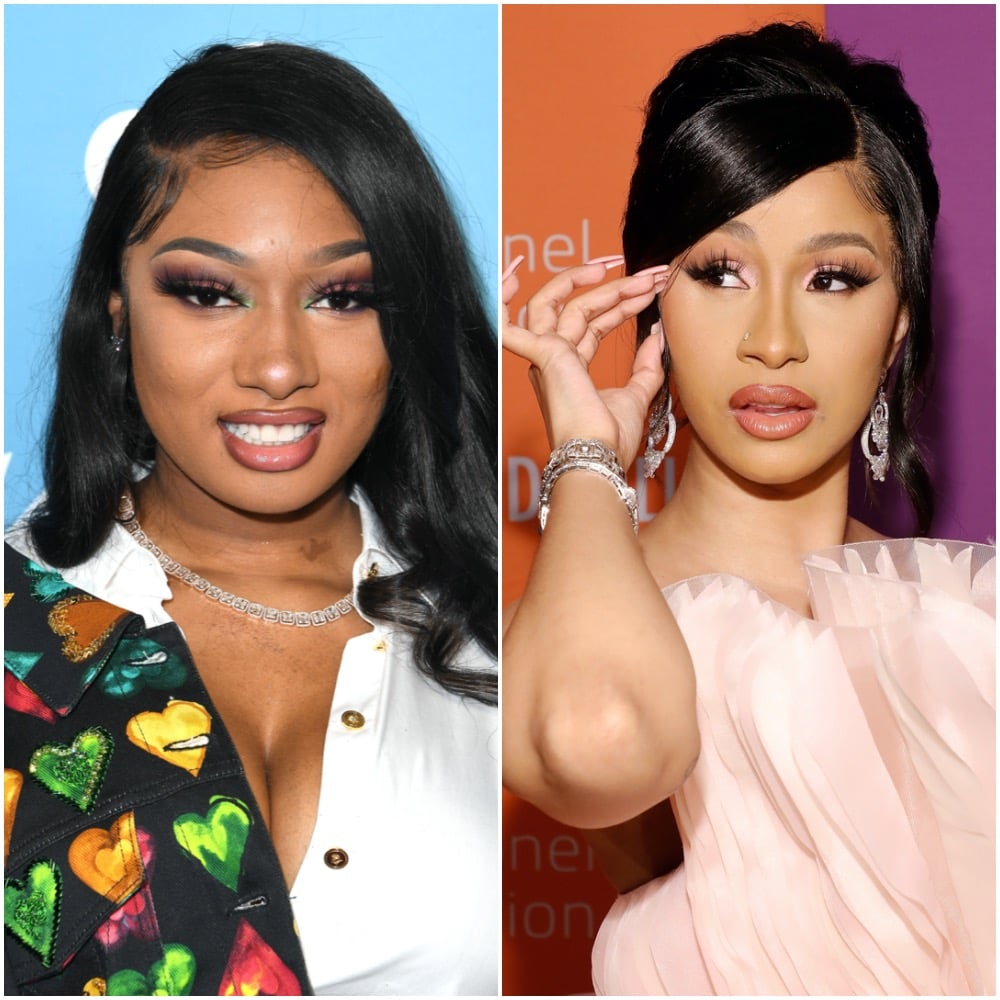 The release of 'WAP' came after collaboration rumors
Fans had been hoping for a collaboration since 2019 when both of the rappers showed love for one another in interviews. After months of no word regarding a potential song, rumors emerged on July 8 that the artists had a collaboration in the works.
Neither of them addressed the speculation, but it was suspected the song would be for Cardi B's highly-anticipated follow-up album to her Grammy-winning debut, Invasion of Privacy (2018).
Less than a month later, on Aug. 4, Cardi B announced a song called "WAP" featuring Megan Thee Stallion. The track came out three days later and instantly took over social media for its raunchy lyrics and bold visuals, which included sultry coordinated outfits, celebrity cameos, choreographed dance routines, and more.
After its release, Cardi B confirmed that it will indeed appear on her second album, though a title and release date are not yet known.
RELATED: Cardi B Previews Unreleased Song Dedicated to Daughter Kulture That Samples a Classic Eve Song
'WAP' has hit No. 1 on the Billboard Hot 100
The success of "WAP" has been huge for Cardi B, as it's her first solo song since "Press" — a track the artist recently told ELLE didn't perform as well as she wanted it to. While the anti-media banger received praise from critics upon its May 2019 debut, it didn't do as well as some of Cardi B's other hits and quickly tumbled off the Billboard Hot 100.
RELATED: This Tweet From Cardi B Has Fans Concerned For Her Well-Being
To celebrate her latest milestone, Cardi B took to Instagram to give a shoutout to her fans and those who had a hand in its success. "Number f*ckin one !!!!! NUMBER 1 !!! My 4th number 1 on @billboard hot 100….I'm just so thankful I want to hug the LORD !! Thank you soo much @theestallion," she wrote in the caption of a video of her showing off the Billboard chart.
"I don't even know how to thank you, I wish I can give you a big a** hug !!!" she continued. "Thank you to my fans Megan fans, Thank you the world for listening. Im just soooo thankful I can't even type it. Imma get like a bad b*tch and tell ya later. Love ya WAAAAAAAPP."
She also sent Megan Thee Stallion a fancy gift
Later on, Megan Thee Stallion went on Instagram and posted a video unboxing an accessory she received from Cardi B. It's a bright orange Birkin bag featuring a painting of Megan Thee Stallion alongside a tiger, which was a scene in their music video. On the back, it has the words "Be Someone," inspired by a sign in Megan Thee Stallion's native Houston, Texas.
"Thank you Meg, really appreciate you! Cardi B 2020," Cardi B wrote on the underside of the bag.
In the caption of her post, Megan Thee Stallion wrote, "My manager just walked in and said cardi sent you something 😭😭😭😭 not the birkinnnnnnnn 😭😭😭 thank you frennn omg I can't believe you 🧡🧡🧡🧡🧡 I wonder what I'm gonna get her 😈😈😈 @iamcardib."
It's unknown if she has gotten Cardi B anything yet, but if she does, we'll let you know.