Is Megan Thee Stallion Still Close to Her College Friends?
Music sensation Megan Thee Stallion became a Grammy Award-winning rapper in March 2021. She took home three wins, including Best New Artist. She climbed to the top with hits including "Hot Girl Summer," "Savage Remix," featuring Beyoncé, and "WAP" featuring Cardi B. 
Before her fame, the Houston native was in college and determined to make her music dreams come true. Now that she's achieved a plethora of success, is the "Big Ole Freak" artist still in touch with her friends from college?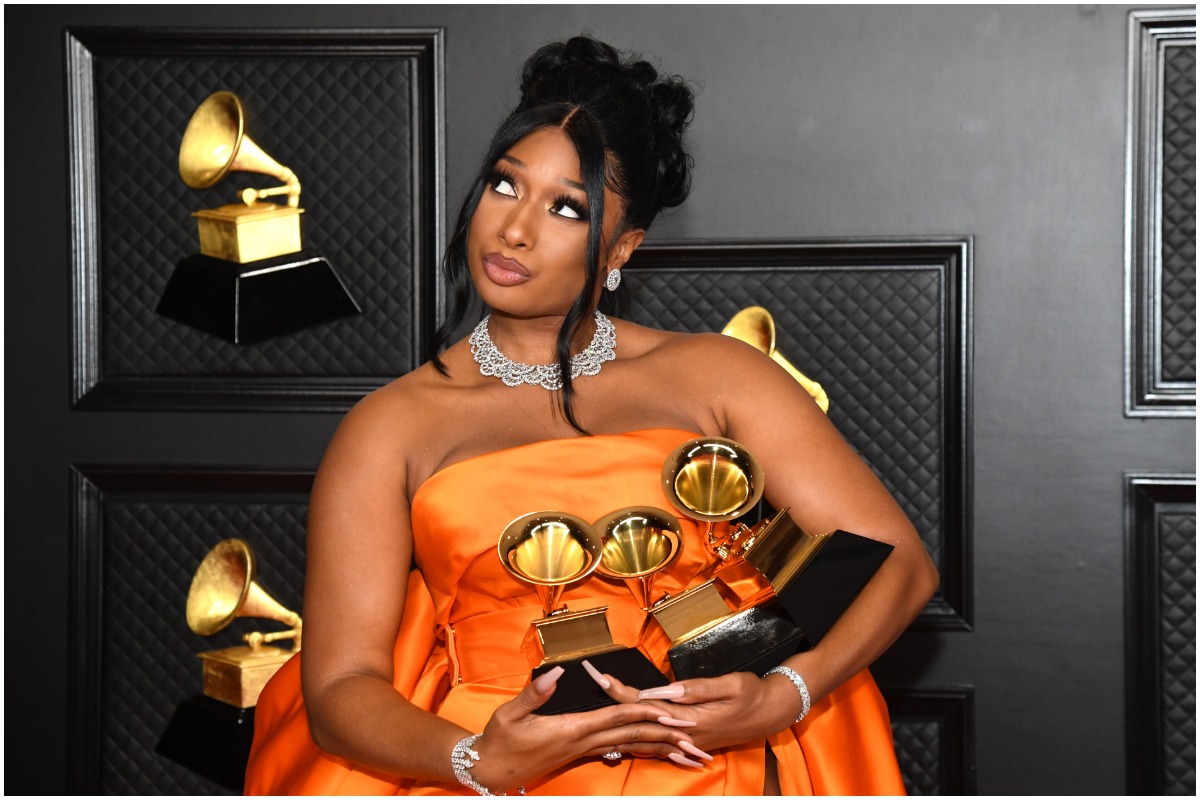 Megan Thee Stallion posted a photo with her college friends on Instagram
Before her career exploded, Megan studied healthcare administration at Prairie View A&M in her hometown of Houston. Once she became famous, however, she told Billboard that she had trouble balancing both of her dreams. Nonetheless, Megan continued her studies and often shared updates about her coursework on social media. Last year, the "Body" artist posted her 2.7 GPA and informed fans that she needed to prioritize school more. She also transferred to Texas Southern University as a part-time student in 2020. 
While Megan scaled down her college experience to maintain her career, she confirmed in March 2021 that her core group of friends remain the same. One day after the rapper won her first Grammy for Best New Artist, she posted an Instagram photo with her three best friends from Prairie A&M. The artist then captioned the picture by saying how happy she is that they were by her side during the event on Sunday, March 14, 2021. 
"Still hanging with the same crew, aye," Megan captioned. "The fact that I went from being shy to rap for them in our dorm room to now they watching me rap on stage all the time is crazyyy. Thank y'all for being my sisters and loving me unconditionally. I got y'all's back fa eveaaaa -OG hotties." 
Is Megan Thee Stallion still in college?
Although Megan's career skyrocketed in 2019 with her catchphrase and song "Hot Girl Summer," she shared with Harper's Bazaar that she's determined to graduate in 2021. Instead of dropping out of school when she got famous, Megan decided to finish her studies to honor her mother, Holly Thomas. Thomas died of cancer in March 2019. 
"Before my mom passed, she really would be on my butt about getting my degree," the artist said. 
The "Don't Stop" rapper also shared with the outlet that she plans on having "the biggest graduation party" when she graduates this year. Megan, who has a reported net worth of $6 million, also said in 2018 that she wants to support her classmates financially after they receive their degrees. The rapper said employing her friends will help them find a job after graduation and use her healthcare experience to help others. 
Megan Thee Stallion has several famous friends
Although she's close to her college friends, Megan formed other bonds within the entertainment industry. In 2019, the "Cry Baby" performer and Jordyn Woods posted several photos on social media. Although she and Cardi B added the actor's former best friend, Kylie Jenner, to their "WAP" video, Woods and Megan are still friends. 
The "Captain Hook" artist also shared in 2020 that Beyoncé and Jay-Z are apart of her inner circle. Before they collaborated on "Savage," Megan signed to Roc Nation. However, she said her relationship with Queen Bey got stronger after they worked together. During an appearance on The Late Show with Stephen Colbert, the rapper confirmed that the power couple often gives her advice on managing her fame. 
"I would say Jay-Z gives the fun advice," Megan said. "Say if I'm having a bad day, he'll be like, 'Megan, girl, you need to be somewhere driving the boat. Turn up. Turn up, have a good time,' You know what I'm saying? He gives me like, the more 'hot girl' advice."
"Beyoncé is like, 'Look, queen, just rise above,'" she continued. "She says it the nicer way."