Megan Thee Stallion Talks About Hangouts With Cardi B and Beyoncé: 'It's Two Totally Different Experiences'
With her bubbly personality and lively spirit, Megan Thee Stallion seems like the kind of person that can get along with anyone.
Since hitting the mainstream in 2018, she's hobnobbed and mingled with all kinds of people — from OG rappers to fashion designers. She's even managed to form close relationships with A-listers such as Beyoncé and Cardi B, who she admitted in a new interview offer two "totally different" vibes.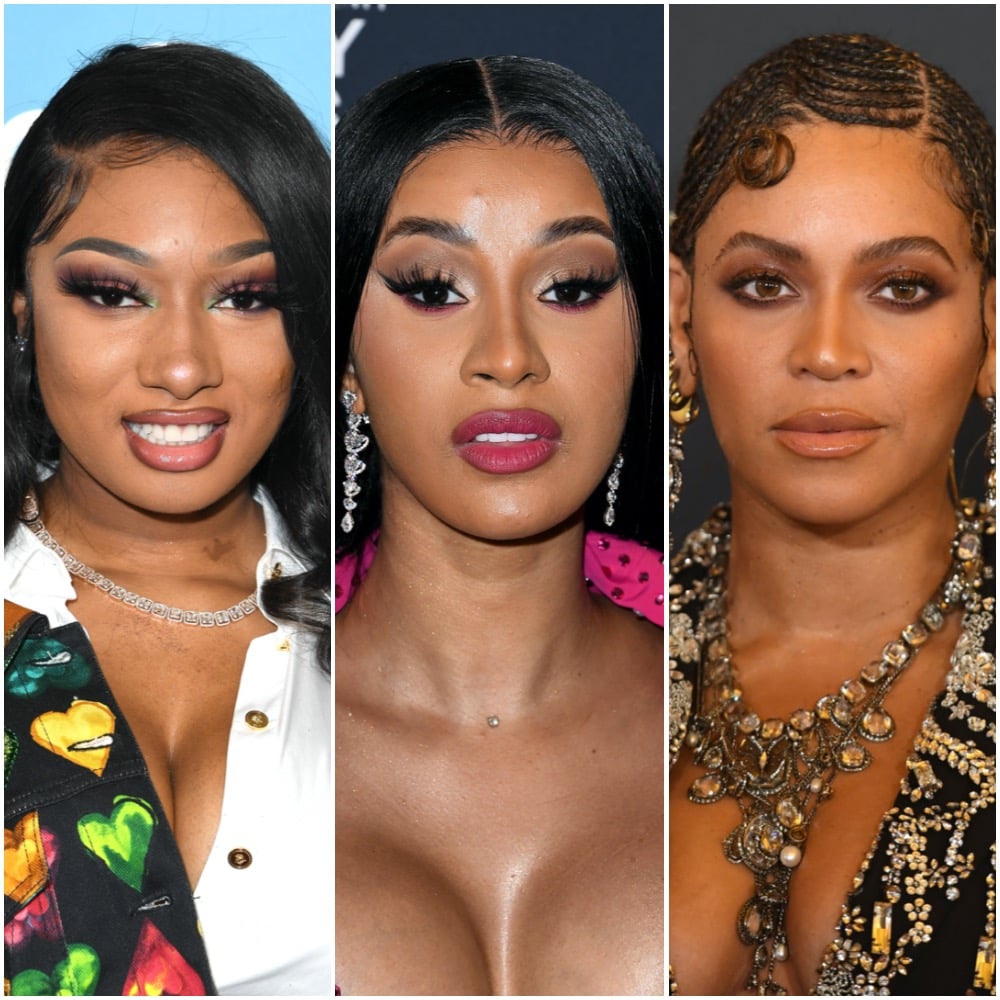 Megan Thee Stallion became fast friends with Beyoncé and Cardi B after they met
Megan Thee Stallion appeared to meet Beyoncé first, in early 2020, when she attended the singer's New Year party. The artists famously posed for an Instagram photo at the event along with Beyoncé and Jay-Z's eldest daughter, Blue Ivy Carter, 8.
The two would go on to collaborate on the remix to Megan Thee Stallion's "Savage," a viral track that spawned a dance routine on Tik Tok. Released in April, the "Savage" remix immediately took over social media and eventually nabbed the No. 1 spot on the Billboard Hot 100.
RELATED: Megan Thee Stallion Shows Off Gift From Beyoncé In Honor of the 'Savage Remix' Going No. 1
As Megan Thee Stallion's star continued to rise, Cardi B approached the "Cash Sh*t" rapper with what would become the girl-power anthem "WAP," she said on Instagram Live. The song blew up immediately after its release in August, breaking YouTube's record for the biggest 24-hour debut and topping the Billboard Hot 100.
Megan Thee Stallion recently recalled what it was like to work with both Beyoncé and Cardi B
Megan Thee Stallion opened up about their relationships in an Entertainment Tonight interview posted online during the week of Nov. 15. When asked what it was like to work with the artists, she admitted, "Working with Cardi and Beyonce, it was two totally different experiences, but they were both amazing."
Starting with the Lemonade singer, Megan Thee Stallion said: "Beyoncé is the OG. Like, she is the standard. Like, you want to be like Beyoncé, you grow up and want to be like Beyoncé … Beyoncé is somebody that is just so top-tier, so you just feel so great to know that you even made it to where you can be in the room with Beyoncé. Like, I feel like, 'Girl I was breathin' Beyoncé air.' That is a flex."
Going on, she added, "After 'Savage' remix, I've said it before, me and Beyoncé and Jay have a very good relationship. They both text me all the time and send me inspirational things, and that is just so crazy."
Cardi B, on the other hand, is a really cool friend, says Megan Thee Stallion
As far as her thoughts on Cardi B, Megan Thee Stallion said, "Cardi is, like, [her] homegirl."
"She is so great, she's so fun," she continued. "We're both unapologetically us and to be two women with big personalities and big confidence and still be able to coexist comfortably with each other, like, that is a really big deal to me."
"Like, I really respect her, I appreciate her. She's great, like, we crack the same jokes. Like, she's really somebody that I appreciate having in my life 'cause she's great," she added.
RELATED: Megan Thee Stallion Shows Off Lavish Gift From Cardi B in Honor of 'WAP' Going No. 1
Sounds like a blast. Here's hoping we get more from them and see more of them in the future.