Meghan Markle Accused of Being a Jinx to Serena Williams: Why She's Bad Luck
Meghan Markle is no stranger to being under the microscope by her critics, but this new attack on the duchess seems unnecessary. Markle traveled to New York to support tennis pro and close friend Serena Williams at the U.S. Open and it seems her presence is anything but a good luck charm.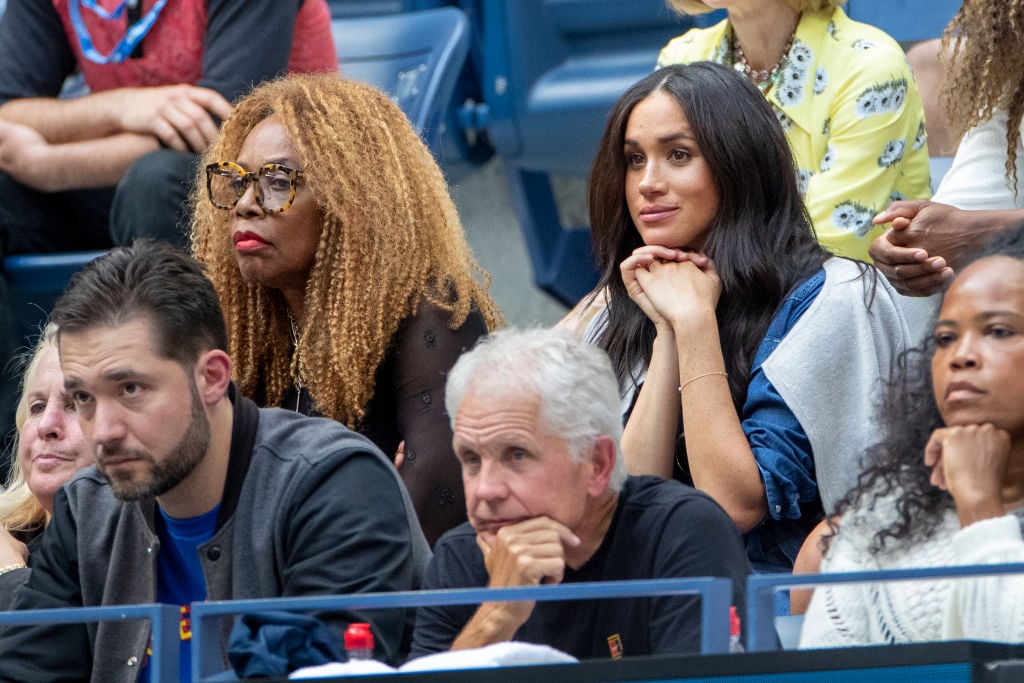 Markle watched Williams at the US Open
Rather than spend time with the Queen in Balmoral, Prince Harry and Markle reportedly snubbed the invitation, with rumors that the couple didn't think their four-month-old, Archie, was old enough for the trip.
It's clear now that the duchess decided to instead travel to the U.S. to see her friend play in a tennis tournament, a move that prompted many of her critics to go on the attack.
Markle was mom-shamed
Among the criticisms hurled at the duchess was the typical mom-shaming that's been known to happen, with many believing that Markle shouldn't have made the trek solo and left Archie at home with Prince Harry.
On Instagram, one person asked: "What kind of mother leaves their 4 month old baby at home to go and watch the US open final which can easily be watched on tv?"
A Twitter critic noted: "Meghan Markle watches pal Serena Williams lose US Open tennis final in New York after last-minute dash across the Atlantic leaving baby Archie at home. What mother would leave a newborn baby and fly across the atlantic just for a match."
The duchess was called a jinx
Among the negative comments were those who pointed out that Markle's attendance at Williams' matches hasn't yielded the best outcome. The duchess was on hand to cheer her friend on at Wimbledon this year and Williams was defeated by Simona Halep. Markle was also at Williams' Wimbledon final last year, when she lost to Angelique Kerber. This weekend, Williams was beaten again, with Markle in attendance, losing to Bianca Andresscu.
Markle's critics were quick to point out how she might be unlucky, with one Twitter user remarking: "Dear Meghan Markle please stop attending Serena's finals matches. You are a jinx. Signed fans who are not her friends."
Another person tweeted: "Meghan. Duchess. Love you so much. Really do. Are you a jinx though? Has she been at most of the losses?"
Others noted: "Meghan is a Jinx!! It happened when she showed up in Wimbledon and now at the U.S. Open" and "She always loses when Meghan shows up. I like her but she's bad luck for Serena. She should stay away."
Another Twitter user wrote: "I'm not saying, entirely, that Duchess Meghan is a jinx, but Serena's lost every finals match she's attended ever since she became a princess…"
Were Williams' coaches worried about Markle attending?
While there are plenty of vocal critics happy to share their thoughts on Markle being a jinx, New York Post's Page Six also reported that members of Williams' team were worried and "superstitious" about the duchess being in the crowd.
A source shared: "Serena asked her coach about Meghan coming when she won last night and everyone is worried, as tennis players are very superstitious, and Serena lost when Meghan came to watch her at Wimbledon."
The insider added: "[Williams' coach] Patrick keeps telling her, 'Focus focus focus.' The aim is getting her to win her 24th Grand Slam."