Meghan Markle and Kate Middleton Are Obsessed With These Shoes for Traveling
There is no hiding the fact that Kate Middleton and Meghan Markle wear outfits from some of the top designers in the entire world. Both duchesses always look spectacular from head to toe, each one having her own personal style.
Everything that they wear seems to sell out in a matter of minutes and we can only imagine that designers are delighted when one of the royal women wears something from their label. There is no doubt that both Meghan and Kate have their go-to favorites. We have seen pictures of Meghan enjoying downtime, looking extremely cozy in leggings, boots, and even the occasional baseball cap.
Kate, on the other hand, has been photographed relaxing on her days off wearing everything from jeans and sneakers to cute, affordable sundresses and comfortable shoes. Both duchesses spend countless hours jetting off to different places, and when it comes to footwear, they don't sacrifice comfort for style.
Let's talk about how Meghan Markle and Kate Middleton are obsessed with these shoes for traveling.
Kate's impeccable fashion sense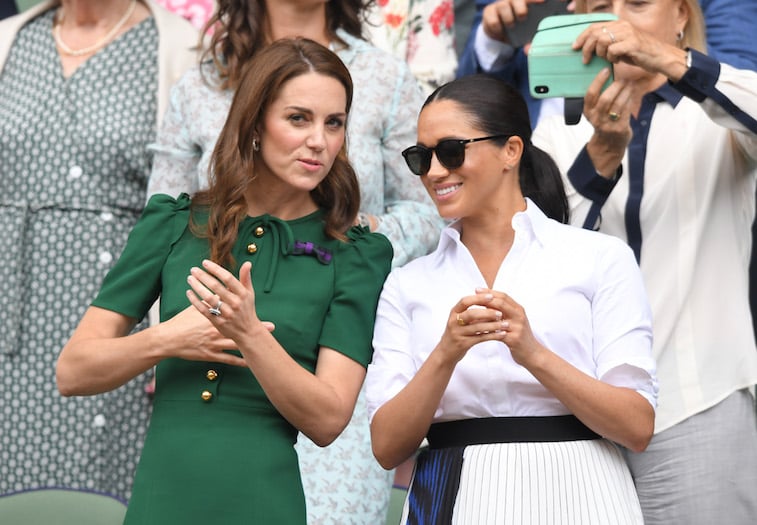 Kate Middleton always looks perfectly put together, and when she first joined the royal family, her incredible style was admired by millions of people around the world. In fact, her fashion sense became known as the "Kate Effect," since once she was spotted wearing something, designers couldn't keep it in stock.
According to Elle, the future queen has a style that is classy and regal, and she knows how to pull off everything from a floor-length gown to a blazer and wide-cut pants. Some of her favorite designers include Erdem, Jenny Packham, Reiss, and of course, Zara for more casual engagements.
Some of Kate's most famous looks? Just recently, the duchess attended an event at Evelina Children's Hospital in a Dolce & Gabbana suit that hit just above the knee.
Famous for recycling looks, she re-wore an elegant white and gold dress to the BAFTA awards, and don't forget her blue Alexander McQueen coat dress, which we have seen – and loved – several times in the past.
Meghan's unique sense of style
When it comes to fashion, Meghan pulls it off effortlessly, and fans everywhere are known to copy her style. She is known for her trademark "messy bun" hairstyle, and her ability to nail every look perfectly.
The Duchess of Sussex is a bit more daring than Kate and has made appearances in sleeveless dresses, leather skirts, and belted trench dresses. Who are some of her favorite designers?
According to Town & Country, Meghan is a fan of Barbour, Misha Nonoo, and, surprisingly, J. Crew. She never hesitates to take a fashion risk and has been seen in everything from mismatched earrings to dark nail polish, somehow looking amazing every single time.
Meghan Markle and Kate Middleton are obsessed with these shoes for traveling
Shoes are an important part of anyone's wardrobe, and for Meghan and Kate, not just any footwear will do. Both duchesses spend a lot of time on their feet, so practical choices are extremely important.
We often see Kate and Meghan sporting fashionable heels that perfectly complement what they are wearing, however, when they travel to warmer places, both women reportedly love to wear espadrilles.
According to Express, Meghan and Kate have been seen wearing the style several times while traveling. Espadrille shoes can be worn with dresses, pants, and skirts, and both Kate and Meghan know how to make them look fabulous.
What some people may not know is that Queen Elizabeth is not exactly a fan of the espadrille shoe.
Even though Meghan and Kate both know this, they still slip the comfortable style on their feet, and given how great they look with any outfit, it is no wonder that her majesty doesn't say a word!