Meghan Markle and Kate Middleton May Have Interacted At Commonwealth Day After All
Meghan Markle and Kate Middleton seemed to ignore each other at the Commonwealth Day service. The event marked Meghan, Duchess of Sussex, and Prince Harry's final joint public appearance before their exit becomes official. Although it looked like Meghan and Kate, Duchess of Cambridge, barely said anything to each other, one royal exit believes they may have interacted more during Commonwealth Day.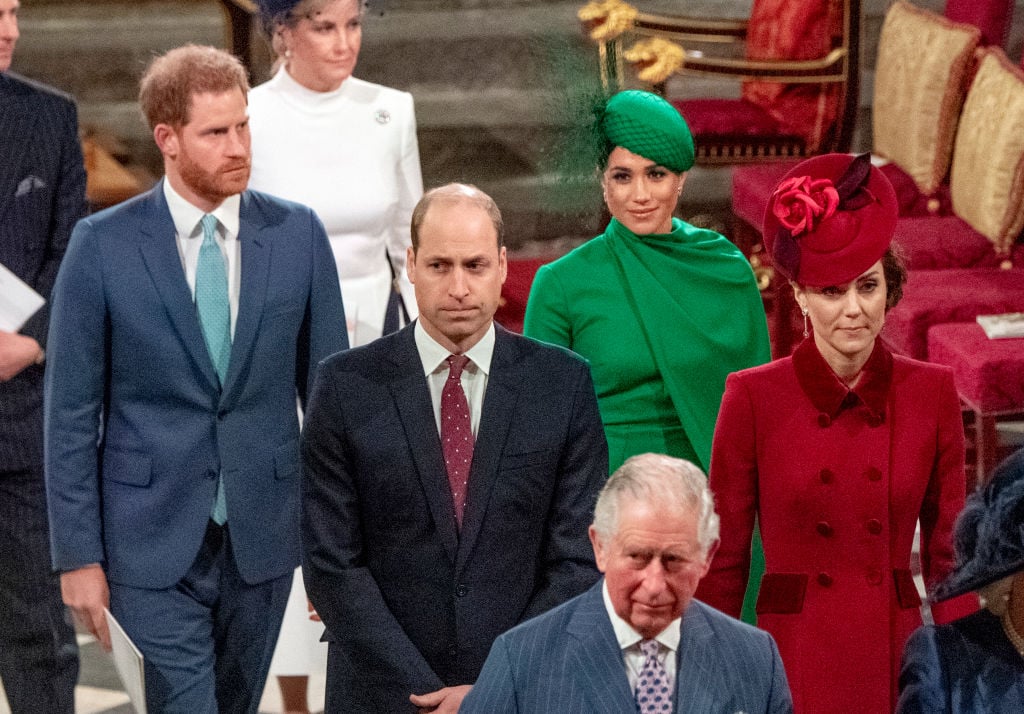 Kate Middleton seemingly ignores the Sussexes
Meghan and Harry took part in a slew of royal engagements before making their final appearance for the cameras at the Commonwealth Day service at Westminster Abbey. All of the high-ranking members of the royal family were in attendance, setting the Sussexes up for a big reunion.
But fans were very disappointed when Meghan and Harry barely interacted with their royal counterparts. Not only were they left out of Queen Elizabeth's grand procession, but they only exchanged brief greetings with William and Kate during the service.
When the Cambridges were shown to their seats, Meghan Markle and Prince Harry seemingly said hello to the couple, who did not gesture back. According to Express, royal expert Maggie Rulli thought the royals missed an opportunity to show a sense of unity, especially in light of recent events.
"The moment a lot of people are talking about is where they had the chance to have the optics of unity," Rulli shared. "A lot of the younger royals were sitting together and it appears in this moment Meghan sort of mouths hello to William and Kate who are sitting nearby to them and it appears no one gestures back."
That said, there is a chance that the couples interacted more than what fans witnessed on the live broadcast.
Did Meghan Markle and Kate Middleton interact more at Commonwealth Day?
Royal expert Omid Scobie noted that everyone was watching a live feed during the event and that the cameras were not always focused on Meghan and Harry. It is entirely possible that the Cambridges and Sussexes interacted more, the cameras just didn't capture it.
"I think we need to point out that we are going off a live feed from inside the Abbey that didn't remain on the couples at all times," Scobie explained. "So as much as I would like to talk about it definitely there is always the chance that something took place when the camera wasn't on them."
Scobie admitted that the moment that was featured in the live feed seemed like a "frosty reception," something the royals probably wanted to avoid at all costs. For reference, Kate and Meghan exchanged a warm kiss on the cheek during last year's Commonwealth Day service.
Regardless of what happened when the cameras were not rolling, Scobie believes the royals missed a huge opportunity to show the world that everything is okay between the Cambridges and the Sussexes.
Meghan Markle and Prince Harry returned to Canada, where they are expected to remain until their exit becomes official on March 31. At that time, the pair will cease using their royal titles and will be spending most of their time in North America.
Prince Harry leans on his wife for support
Body language experts have also examined the footage from the Commonwealth Day service and believe that Harry was showing clear signs of stress and "tension" throughout the event.
According to Mirror, expert Judi James argued that Harry was very tense when he and Meghan Markle arrived at Westminster Abbey and often touched his wedding ring for comfort.
"When he arrived, the minute he and Meghan had to drop hands, he immediately reached for his wedding ring which is a self comfort," James stated. "Even when she was beside him after they had stopped holding hands, he was missing her, needing her support."
Like other royal experts, James thought the greeting between the Sussexes and the Cambridges was very "odd." Although she thought Harry and Kate exchanged a warm smile, the Duke of Sussex was "more rigid" when his attention turned to William.
Prior to Meghan and Harry's exit, there were a plethora of rumors about Harry and William feuding. Their relationship has certainly been strained at times, and Harry's decision to leave the royal family probably didn't smooth things over between the brothers.
Meghan Markle and Queen Elizabeth fight before her wedding
Speaking of feuds, a recently unearthed report claims that Meghan and Queen Elizabeth got into a huge fight prior to her 2018 wedding.
According to Express, an insider said that Queen Elizabeth denied Meghan's request to wear a certain tiara for her wedding. Harry was reportedly very angry when he heard the news and Queen Elizabeth quickly put her foot down.
"Meghan had her heart set on this tiara with emeralds in it and Prince Harry hit the roof when they were told it was impossible for her to wear it," the source shared. "There was a very heated exchange that prompted the Queen to speak to Harry. She said: 'Meghan cannot have whatever she wants. She gets what tiara she's given by me.'"
Meghan and Harry tied the knot in a gorgeous ceremony in the spring of 2018. Before her relationship with Harry, the former Suits star married Trevor Engelson, whom she divorced in 2013.
Despite all the drama surrounding their final engagement, Prince Harry and Meghan Markle have not commented on their interaction with William and Kate. Queen Elizabeth will re-examine the move in 12 months, though the chances of them returning to the monarchy is regrettably slim.