Meghan Markle and Prince Harry Are Oprah Level Famous in LA Claims Royal Expert
Move aside Oprah, Meghan Markle and Prince Harry are now the most famous celebrities in Los Angeles, at least according to one royal expert. The Duke and Duchess of Sussex moved to California at the end of March and are reportedly settling down in Malibu amid the coronavirus pandemic. While the couple keeps a low-profile in the City of Angels, one royal expert believes they have achieved the same level of fame as Oprah.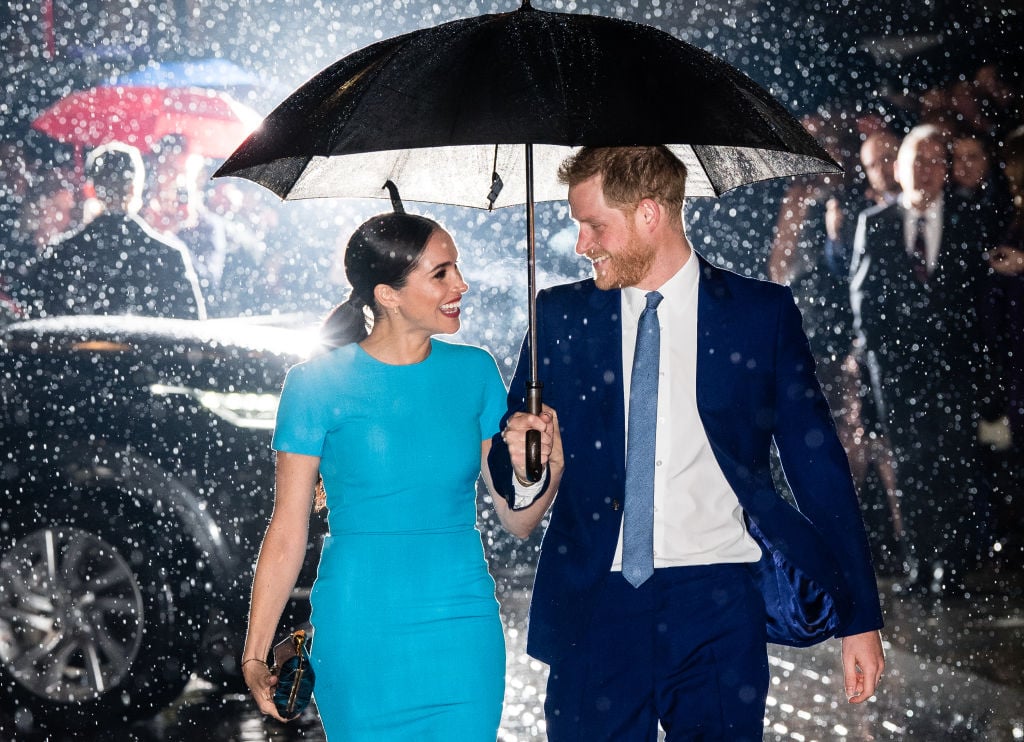 Meghan Markle and Prince Harry head to Los Angeles
After announcing their split from the royal family, Harry and Meghan, Duchess of Sussex, spent a few months living in a lavish rental on Vancouver Island. Everybody knew the couple wanted to settle down in North America, but they refused to reveal an exact landing spot — until now.
In the final days of March, Harry and Meghan secretly flew to Los Angeles, arriving right before the U.S. and Canada shut down the borders. Although the timing of the move surprised fans, there are several reasons LA is a good fit for the Sussexes.
Meghan Markle grew up in Los Angeles and launched her acting career in Hollywood. Her mother, Doria Ragland, also lives in the area, and the two are very close.
According to Express, E! News' Chief News Correspondent Melanie Bromley revealed that Meghan's personal and professional connections to the city are probably why they picked it over Canada. Not only does it allow Meghan to spend more time with her mother, but it also opens the door for an array of opportunities in Hollywood.
"As much as they both have – Meghan especially – some roots in Canada, LA is her home," Bromley stated. "It is where she grew up, it's the place that she knows best, and so it isn't a surprise that they're here. I think what has surprised people is just the fact that they came here so quickly."
How famous are Meghan and Harry?
There is no doubt that Meghan and Harry are household names, but Bromley believes their fame is on the same level as some of Hollywood's most elite celebrities, including Oprah.
"Ultimately, this is a city where royalty trumps celebrity," Bromley claimed. "They are potentially the most famous residents of LA. Or at least they're on the same level as Oprah (Winfrey), as that kind of celebrity, AAA list."
Prince Harry and Meghan Markle have not confirmed the reports surrounding their move to LA, but it is safe to say that they are at the top of the list when it comes to celebrities.
This is probably not good news for the couple, who left the royal spotlight so they could raise their son, Archie Harrison, in a semi-normal environment.
On the other hand, being the most famous pair in LA will undoubtedly open doors for Harry and Meghan to build their brand, a move that is essential if they want to fund their own endeavors.
What's next for the Sussexes?
Meghan and Harry have not revealed how they plan on earning a living now that they are no longer receiving money from the crown. The two have the freedom to do whatever they want, but they recently told fans that their focus at the moment is helping out with the pandemic.
In a recent post on social media, the Sussexes revealed that they are looking into ways they can help individuals deal with the ongoing crisis. Given their background in the charitable world, this probably means working with a non-profit to help those in need.
"What's most important right now is the health and wellbeing across the globe and finding solutions for the many issues that have presented themselves as a result of this pandemic," they explained, adding that they are "focusing this new chapter to understand how we can best contribute."
Once the coronavirus pandemic has slowed down, Prince Harry and Meghan Markle will likely launch several new projects. This includes setting up a new charitable entity and possibly re-launching Meghan's old blog, The Tig.
While it is less clear what Harry will do with his time, there has been speculation that Meghan will re-start her career in Hollywood.
Will Meghan Markle return to acting?
This month, Meghan's first post-Megxit project hit Disney+ in the form of a documentary titled Elephants. The Duchess of Sussex agreed to narrate the project last summer, donating her entire salary to a charity in Africa called Elephants without Borders.
The deal has led to quite a bit of talk about Meghan re-launching her acting career. Although she is free to act again, a source claims that Meghan is only willing to work with high-profile directors.
According to Express, the insider revealed that several directors have already approached Meghan about potential gigs, but the former Suits star thought the projects were "cheesy and beneath her."
The insider added that Meghan Markle has reached out to Ava DuVernay about working together, though the two have yet to agree on a film.
"Meghan is worried that she won't be taken seriously as an actress," the source dished. "Meghan has made it clear to her team that she will only work with A-list directors, but she doesn't understand that this doesn't necessarily mean they want to work with her."