Meghan Markle and Prince Harry Exit: What Will Meghan's Last Name Be When She Is No Longer HRH?
With Prince Harry and Meghan Markle officially stepping down as senior members of the royal family on March 31, there has been a lot of confusion about the couple's future. Many things are still up in the air, including where they will live, how they will make money, and who will pay for their security. During their 12-month transition period, the couple is expected to answer all of these questions. But, what about their names? The Duke and Duchess of Sussex will retain their royal titles, but not use them. Will they be known simply as "Harry and Meghan" from now on?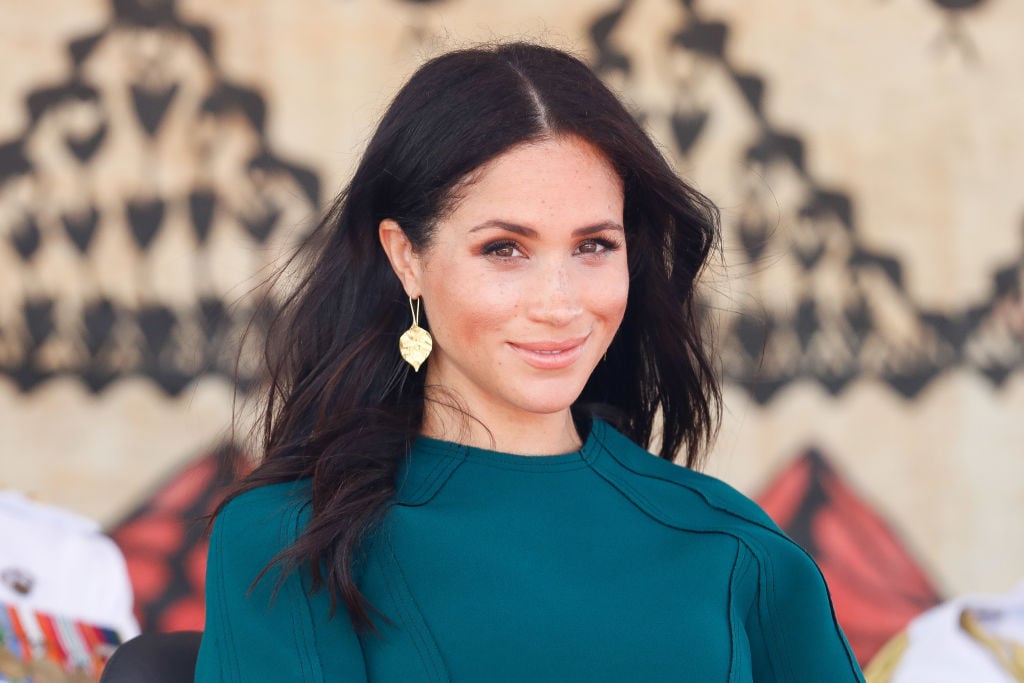 Prince Harry and Meghan Markle are not interested in titles post-Megxit
Even though they will no longer be working royals, Prince Harry and Meghan will still retain their HRH titles (His Royal Highness/Her Royal Highness). And, they will still be the Duke and Duchess of Sussex.
However, since they announced that they were stepping down, both of them have made it clear that they are not interested in titles post-Megxit. Months before their announcement, Meghan Markle told British Vogue editor Edward Enninful to call her "Meghan" instead of Duchess. And, during a recent appearance at the Travelyst summit, Prince Harry asked to be introduced as just "Harry."
This is still confusing for many fans since neither Harry nor Meghan uses a last name. Harry's official name is His Royal Highness Henry Charles Albert David Duke of Sussex. He is formally referred to as "Prince Harry" or "Harry, Duke of Sussex."
After their May 2018 wedding, the Duchess officially dropped her maiden name of Rachel Meghan Markle. But she didn't take Prince Harry's last name because he doesn't have one. Instead, she became Rachel Meghan Her Royal Highness the Duchess of Sussex. She is formally referred to as Meghan, Duchess of Sussex.
Will Harry and Meghan share a last name with baby Archie?
Even though Prince Harry and Meghan Markle don't officially have last names, their nine-month-old son Archie Harrison does. The name on his birth certificate is Archie Harrison Mountbatten-Windsor, as his parents opted not to give him an HRH title despite the fact that he is seventh in line to the British throne.
According to the royal family's website, the members of the family who have HRH titles are not legally required to have a last name. However, if they need one, they can use Mountbatten-Windsor, which is a combination of two family names.
Mountbatten is the name of Prince Philip's side of the family. And, Windsor is the official name of the descendants of King George V, from Queen Elizabeth's side of the family.
"It was therefore declared in the Privy Council that The Queen's descendants, other than those with the style of Royal Highness and the title of Prince/Princess, or female descendants who marry, would carry the name of Mountbatten-Windsor," reads a statement on the royal website.
That statement seemingly implies that after their official exit on March 31st, both Harry and Meghan could use the last name Mountbatten-Windsor like their son.
Prince Harry and Meghan Markle have other options
If for some reason the couple doesn't want to share a last name with Archie Harrison, they do have other name options. The royal website also states that members of the family can be known both by the name of the Royal house and by a surname, which are not always the same.
Insider points out that before he became the Duke of Sussex, Harry used Prince Charles' official title, or "House." Prince Charles is also known as the Prince of Wales. And, when Prince Harry was going through his 44 weeks of training in the army, he was known as "Officer Cadet Wales," not "Officer Cadet Mountbatten-Windsor."
Prince William and Kate Middleton's two oldest children — Prince George and Princess Charlotte — use Cambridge as their last name in school. They use this name because their parents are the Duke and Duchess of Cambridge.
This means that Harry and Meghan could choose to use Sussex as their last name, even though they don't want to be referred to as Duke and Duchess.
Chances are, Prince Harry and Meghan Markle will not reveal their new choice of names until they officially step down from their senior roles in the royal family. However, no matter what they choose – Sussex, Mountbatten-Windsor, or no last name – all versions are technically correct.