Meghan Markle and Prince Harry Have Reported Multiple Security Threats To the LAPD
Prince Harry and Meghan Markle have reportedly made several calls to the LAPD concerning security threats, now the Sussexes are taking the matter into their own hands by hiring a security team.
Prince Harry and Meghan Markle have encountered a new problem as they set down roots in Los Angeles. The Duke and Duchess of Sussex, whose exit from the royal family became official on March 31, have reported multiple security threats to the LAPD this month. While the police deal with the couple's calls, the Sussexes are reportedly taking the matter into their own hands by hiring a security team.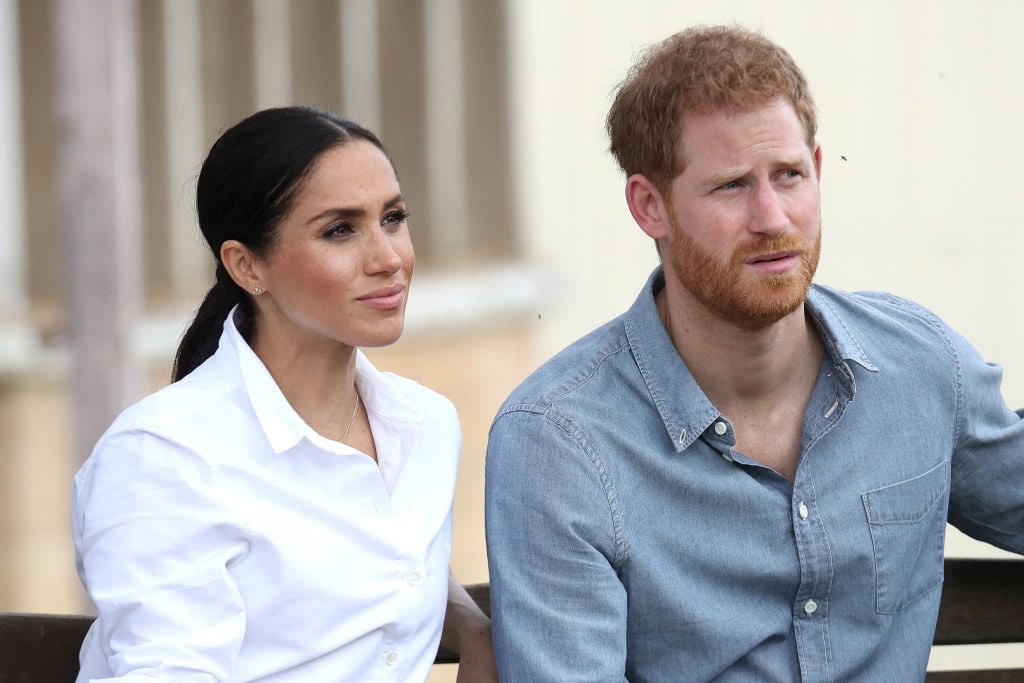 Prince Harry and Meghan Markle struggle to settle in LA
At some point in March, Harry and Meghan, Duchess of Sussex, made the big move from Canada to LA. Although they moved to the bright lights of Hollywood, they have remained relatively low-key amid the coronavirus pandemic.
A few weeks ago, it was revealed that the couple is staying at Tyler Perry's mansion in the Hollywood Hills. We do not know if Harry and Meghan are paying rent to stay with Perry, who is currently working on a project in Atlanta.
Although the couple left the royal family to escape the spotlight, moving to LA hasn't exactly given them more privacy. Instead, the Sussexes have reportedly faced numerous violations of their privacy, mostly via the use of drones.
To that end, Harry and Meghan have called the LAPD on multiple occasions to report what they believe are more than just violations of their private life.
The Sussexes report multiple security threats in LA
Members of the paparazzi are likely the ones operating the drones. While photographs of Harry, Meghan, and their son, Archie Harrison, are definitely valuable, sources claim that the pair are viewing the drones as a potential security threat.
According to The Daily Beast, Harry and Meghan have called the police on numerous occasions to report drones flying under 20 feet above their house. This includes phone calls on the 9th, 19th, 20th, 21st, and 25th of May.  
"They see these drones coming in at them, and they guess that they are being operated by photographers, but they can't just assume that. Meghan received racist death threats at the time of her wedding, so the terror threat is very real for them," a friend of the couple shared.
The source added that Harry and Meghan just want to keep their privacy secure and are worried about Archie's safety. They also revealed that the two are going to hire their own security team who will deal with future drone issues.
Harry and Meghan have not commented on the situation surrounding their stay in LA, but sources recently revealed how they can afford to pay the extra security costs.
This is how Meghan Markle and Prince Harry are paying for security
Meghan and Harry have taken plenty of heat over how they are going to pay for security. After the world discovered that LA was their final destination, even President Donald Trump warned that the US would not be paying for their security.
The two have remained silent on the issue, but an inside source claims that Prince Charles is the one paying to keep the Sussexes safe in America. According to Vanity Fair, the source revealed that Charles agreed to pay the security bill, around $4 million a year, in exchange for Harry and Meghan paying back Queen Elizabeth for renovating Frogmore Cottage.
"They had fully expected that British taxpayers would continue to foot the bill for their protection," the insider dished. "But then the rug was pulled from under their feet, and they had to ask Prince Charles to step in. That's the reason why they are now able to start paying back the queen and the Crown Estate, who met the cost of the building work out of public funds."
One of the stipulations of their exit from the royal family was to become financially independent from the crown. Although Harry and Meghan won't be receiving any direct public funding, it sounds like they will still be getting help from Charles.
How much did Megxit cost British taxpayers?
Speaking of funding, a politician in the UK named Norman Baker claims that Harry and Meghan's exit from the royal family cost British taxpayers over $50 million.
According to Marie Claire, Baker came up with this figure by adding up all of the money the crown spent on Harry and Meghan over the past two years, most of which turned out to be an empty investment.
"From their wedding day to March 31 this year, I estimate the British taxpayer has forked out more than £44 million ($53 million) to provide Harry and Meghan with, it seems, whatever they want," Baker shared.
This includes renovations to Nottingham Cottage ($1.7 million) and Frogmore Cottage ($2.9 million), staffing expenses ($2.9 million), security bills ($8.5 million), and their wedding ($40.7 million). Other costs that factored into Baker's estimate include travel expenses and taxable income losses.
Prince Harry and Meghan Markle have not commented on the new reports surrounding the cost to British taxpayers.