Meghan Markle and Prince Harry: The Insane Amount of Money They Could Earn For Just 1 Speech
Meghan Markle and Prince Harry are striking out on their own now that they are no longer active members of the royal family. The Duke and Duchess of Sussex will be funding their endeavors as part of their exit plan and public speaking could be one of the ways they earn money. Turns out the couple can make an insane amount of money for each speech they undertake.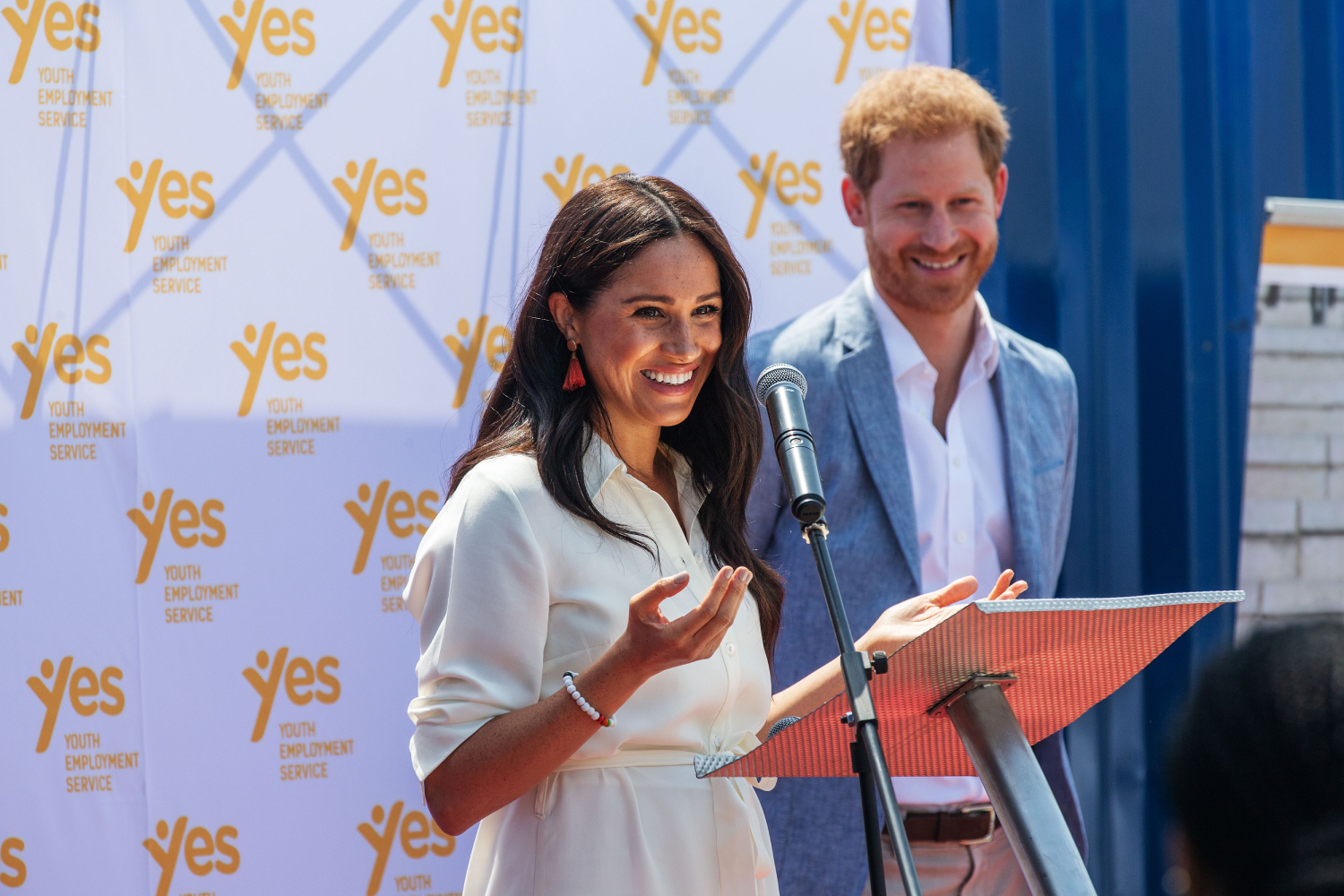 Meghan Markle and Prince Harry sign a new deal with talent agency
Meghan, Duchess of Sussex, and Harry announced their departure from the royal family at the start of the year. They finalized their exit at the end of March and announced they would be financially independent from the crown.
They also moved to Los Angeles in March and will be launching their new charitable foundation, Archewell, soon. The couple's plans, however, were delayed in light of the coronavirus pandemic.
RELATED: Meghan Markle and Prince Harry Just Made a Major Move In Their Quest To Be Financially Independent
Meghan and Harry have kept quiet about their future plans, but inside sources say that they have signed a deal with a high-profile public speaking agency. According to Express, the Duke and Duchess of Sussex are the latest clients of the Harry Walker Agency, a firm based out of New York City.
An insider close to the situation says that Meghan and Harry "will be engaging in moderated discussions and keynote speeches with trade associations, corporations and community forums."
The source added that the Sussexes will likely speak about social issues that they feel passionate about, such as mental health and racial injustice. The two have not confirmed their involvement with the firm, but they aren't the only celebrities that have inked deals with the Harry Walker Agency.
How much can the Duke and Duchess of Sussex make for 1 speech?
Meghan and Harry are part of a larger group of celebrities and notable leaders who make up the Harry Walker Agency. This includes Meghan's good friend, Serena Williams, and Barack and Michelle Obama.
Although we cannot say for sure that Meghan and Harry will go on a public speaking tour, it is something they have experience in. Prior to the coronavirus pandemic, for example, Harry gave a public speech in Miami for a JP Morgan event.
Sources claim that Harry made over $750,000 for the speech. Mark Borkowski, an expert in public relations, believes that Meghan and Harry could each earn over $1 million for a single public speaking event.
"I'm surprised they haven't done this sooner," Borkowski shared. "It will be one of the great income generators for them. They will clean up — they are up there with the Obamas."
Unfortunately, Meghan and Harry have kept very quiet about their plans to make money. The only thing we know for sure is that they are planning on launching their charity, Archewell, at some point this year.
Beyond that, it is anyone's guess what they might do to earn a living. But if they can pull down over $1 million apiece for a speaking event, that is certainly a viable option.
Prince Charles might not be able to fund Prince Harry and Meghan Markle's exit
Harry and Meghan are no longer receiving money from the crown, but they were reportedly going to lean on his father, Prince Charles, to cover some of their expenses. But in light of the coronavirus pandemic, sources claim that Charles is having a difficult time finding the money to fund Harry and Meghan's various endeavors.
Charles receives the bulk of his income from the Duchy of Cornwall, which has taken a huge hit over the shutdown. While the Prince of Wales still pulls down over $22 million a year, his income is expected to drop in 2021.
RELATED: Meghan Markle and Prince Harry Fans Blast Prince Charles Claiming He 'Did Absolutely Nothing' To Protect Them
An insider claims that Charles is going to review Harry and Meghan's financial standing next year. In the meantime, he has reportedly warned them that he does not have an "inexhaustible" amount of money.
Charles has not commented on the reports surrounding Harry and Meghan's finances. Even if they don't receive money from Charles, they still have plenty of other ways they can earn a living outside of the crown.