Meghan Markle and Prince Harry's Move to Los Angeles Was a 'Serious Disappointment' to Queen Elizabeth, Claims Royal Expert
Meghan Markle and Prince Harry's move to Los Angeles didn't go over well with Queen Elizabeth, according to one royal expert.
Prince Harry and Meghan, Duchess of Sussex have moved on from royal life, leaving behind their duties, HRH titles, and public funding to live out of the spotlight and away from the constant media scrutiny. The couple initially moved to Canada, but have reportedly now planted their roots in Los Angeles. Their decision to move to the states wasn't so well received by Queen Elizabeth, according to one royal expert.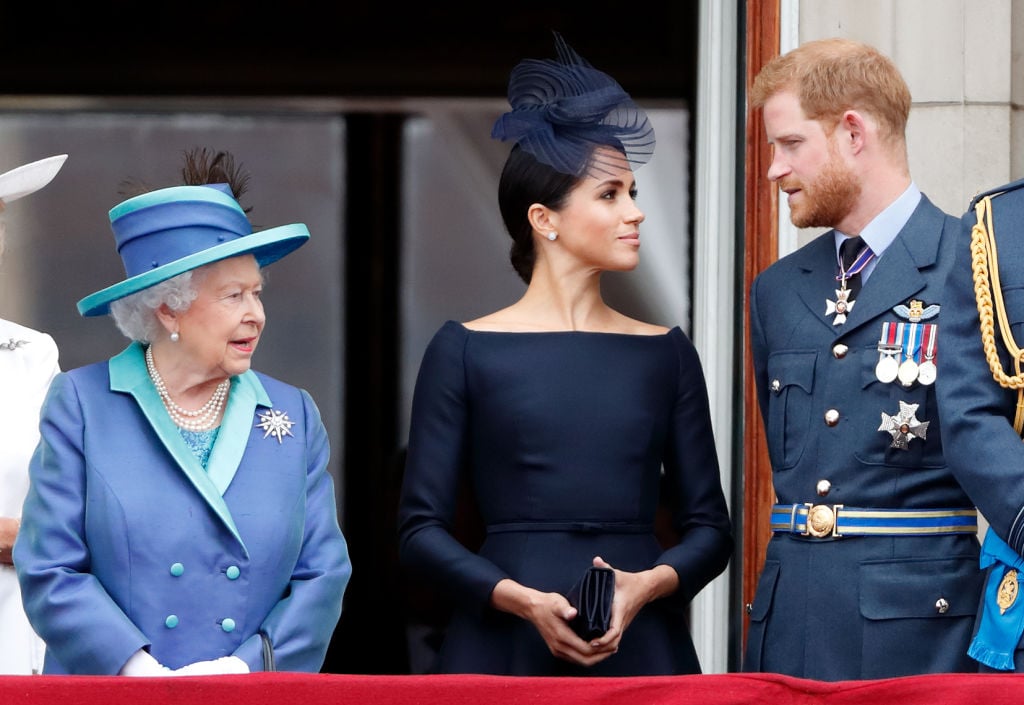 Prince Harry and Meghan made their royal exit
After Prince Harry and Meghan announced their intentions to exit the royal family, the details were ironed out with Queen Elizabeth and other senior royals.
At the time, the queen offered a statement in support of their decision. "I want to thank them for all their dedicated work across this country, the Commonwealth and beyond, and am particularly proud of how Meghan has so quickly become one of the family. It is my whole family's hope that today's agreement allows them to start building a happy and peaceful new life," the queen shared in her statement.
The couple moved to Canada and then LA
As things were being finalized, Prince Harry and Meghan settled on Vancouver Island in Canada, where many royal watchers believed they would stay for some considerable time. People.com reported on Mar.26 that, according to a source, the couple moved to Los Angeles and were living on a secluded compound.
As they embarked on their royal exit, Prince Harry and Meghan posted a note of thanks on their Instagram account, writing on Mar. 30: "As we can all feel, the world at this moment seems extraordinarily fragile. Yet we are confident that every human being has the potential and opportunity to make a difference — as seen now across the globe, in our families, our communities and those on the front line — together we can lift each other up to realise the fullness of that promise."

Their statement continued: "What's most important right now is the health and wellbeing of everyone across the globe and finding solutions for the many issues that have presented themselves as a result of this pandemic. As we all find the part we are to play in this global shift and changing of habits, we are focusing this new chapter to understand how we can best contribute."

"While you may not see us here, the work continues," they assured. "Thank you to this community – for the support, the inspiration and the shared commitment to the good in the world. We look forward to reconnecting with you soon. You've been great! Until then, please take good care of yourselves, and of one another," they concluded.
The queen was reportedly disappointed by their move
The Sun's royal editor, Dan Wootton, shared during his Talkradio show how the Sussexes' move not only was a disappointment to the queen but also appears to put "a lot of pressure on Prince William and Kate" due to the current coronavirus (COVID-19) pandemic.
"I can tell you that, within the royal family, there is serious disappointment about this decision from Harry and Meghan to go from Canada to Los Angeles rather than, at least during this crisis period, move back to Frogmore Cottage in Windsor," Wootton stated during his show.
He continued, "They could have been there, just a stone's throw away from the queen and Prince Philip, who are isolating at Windsor Castle."
"I think it was particularly shocking to those within the royal family that Harry and Meghan did not return to the UK after Prince Charles was struck down by COVID-19," Wootton shared. "It puts a lot of pressure on Prince William and Kate because, right now, the other members of the royal family are out of action."
He added, "You've got all that combination of events and, really, Harry and Meghan could have helped."
During a discussion with Meghan's half-sister, Samantha Markle, Wootton noted, "I can tell you Samantha, that there was absolute shock and horror within the British royal family that Harry and Meghan had not at least temporarily decided to return to Frogmore Cottage."
Wootton added, "But I guess relations between the members of the family are just so strained that couldn't happen."