Meghan Markle and Prince Harry's Simple yet Adorable Nicknames for Each Other
Nicknames in the British royal family aren't uncommon. Ahead, find out what simple nicknames Meghan Markle and Prince Harry have for each other that were partially revealed in Oct. 2019.
Prince Harry, Duke of Sussex and Meghan, Duchess of Sussex are no strangers to nicknames.
While they call each other by their full names in public per royal protocol (it's why royal fans will never hear Prince William, Duke of Cambridge refer to his wife as "Kate" instead of Catherine, Duchess of Cambridge during interviews or speeches) they can relax behind closed doors and use nicknames. Ahead, find out what Meghan and Harry call each other.
They call each other 'M' and 'H'
People reported in Feb. 2020, the Duke and Duchess of Sussex call each other by the simple and cute nicknames of "M" and "H." A source told the publication about the nicknames and said Meghan and Harry "are besotted and very sweet with each other" just as they were when they got married on May 19, 2018, at St. George's Chapel inside Windsor Castle.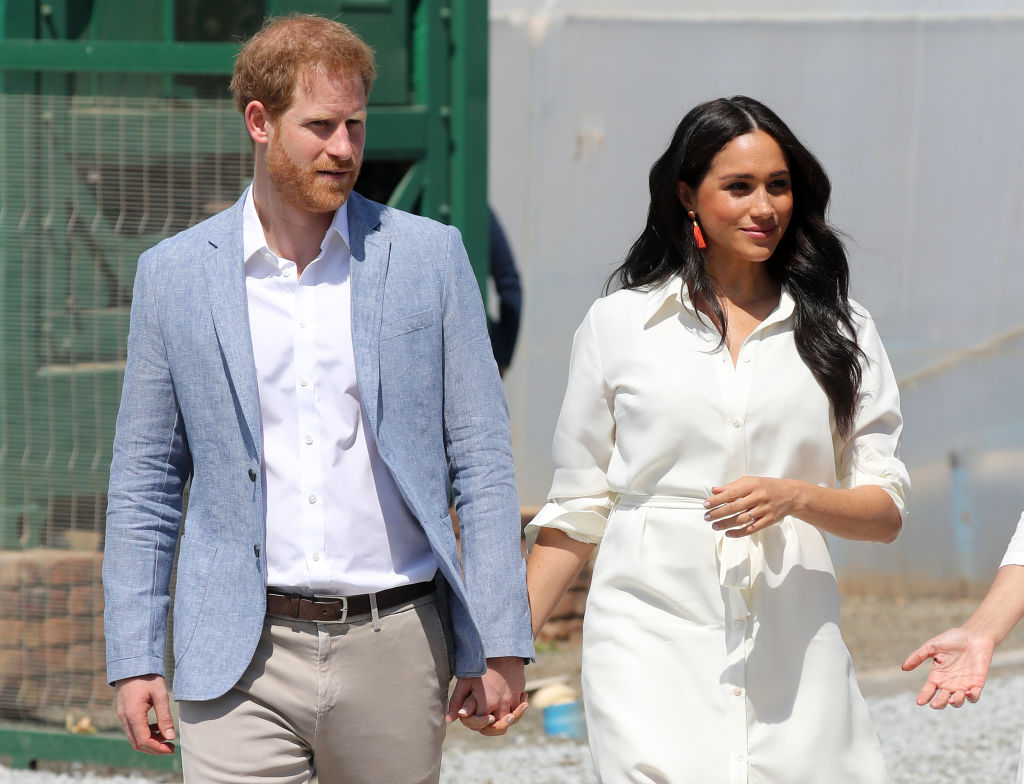 While neither Meghan nor Harry have confirmed the "M" nickname, the Duchess of Sussex has said she does indeed call Harry "H."

Meghan Markle shared her nickname for Prince Harry is 'H' in Oct. 2019
The report from People wasn't the first time we got a taste of Meghan and Harry's nicknames for each other. During their documentary, Meghan and Harry: An African Journey, which aired in Oct. 2019 following their royal tour of Africa, we learned a lot abotu the royal couple including that the Duchess of Sussex called Harry "H."
In a one-on-one interview with journalist Tom Bradby, Meghan famously admitted to being "not OK" in the midst of intense media scrutiny but she also revealed her nickname for Harry. 
Here's what she told Bradby: 
"I have said for a long time to H — that's what I call him — 'It's not enough to just survive something. That's not the point of life. You have got to thrive. You have got to feel happy.'"

She has another nickname for Prince Harry 
"H" isn't the only nickname Meghan has for Harry. While posing with the cast of Hamilton for photos following a special performance of the hit musical, the Duchess of Sussex let it slip a private name she has for the Duke of Sussex.
Thinking she might've been in the way of a photographer, Meghan asked Harry, "Can you see, my love?" causing a round of "aws" to erupt from the cast members who caught the sweet exchange. Meghan responded with an "Oh!" while Harry laughed, clearly blushing. 
We don't know for certain whether or not Harry calls Meghan "my love" but he certainly could given their affinity for nicknames. 
Prince Harry and Meghan Markle  have nicknames for their son
Now a family of three, the Duke and Duchess of Sussex have taken to giving their son, Archie Harrison Mountbatten-Windsor, nicknames of his own. The young royal who will celebrate his first birthday on May 6, 2020, has been called various cute pet names by his adoring parents. 
In the caption of a Halloween Instagram post in Oct. 2019, Harry and Meghan referred to Archie as their "little pumpkin." During the family's royal tour of Africa, the Duchess of Sussex called Archie "bubba" and in another instance, Harry called him his "little boy." 
Even though Meghan and Harry have stepped down as senior royals, we're hoping they keep sharing nicknames they have for each other and Archie.