Meghan Markle and Prince Harry's 'Social Butterfly' Son Takes Just After His Parents
The apple doesn't fall far from the tree. At least that's how the saying goes. It's not always true, though. Sometimes kids don't turn out like their parents. Personality is a complicated thing, and children sometimes have very different personality traits than their predecessors.
That's doesn't seem to be the case for Baby Archie. Even though he's still little, he's already being compared to his mom, Meghan Markle, and dad, Prince Harry.
Apparently 7-month-old Archie takes after his famous parents: the Duke and Duchess of Sussex. He is quite the people person, even at such a young age. 
Baby Archie is a 'social butterfly' 
Those who know Archie are impressed by how friendly he is. Babies can get nervous around strangers, and may not like to be held by anyone but mom or dad. Archie isn't like that.
An insider who knows Archie told Us Weekly: "He loves being entertained and interacting with people. Some children get shy or nervous around new people, but not Archie. He'll go to anyone without kicking up a fuss!"
Archie definitely got his "social butterfly" personality from his parents. Although Duchess Meghan and Prince Harry try to keep their private lives private, they still thrive on social interaction.
A quick look at their Sussex Royal instagram page shows a lot of pictures of the duke and duchess engaging in conversation with all kinds of people. They're known for engaging with the public and world leaders alike.
Archie even tags along with them to important meetings and functions. Apparently he loves seeing new places and meeting new people. The royal insider says: "He takes a keen interest in his surroundings and is already engaging and interacting with people. He loves to be entertained."
Archie had a great first Christmas 
Christmas time meant a lot of new things to entertain Archie. And not just in the form of gifts. Holidays usually come with holiday parties. That means Archie probably got to socialize, which he loves. The holidays also meant presents for the newest member of the royal family.
According to the royal insider, Prince Harry and Duchess Meghan spoiled Archie a bit, but they didn't go too overboard. The insider revealed: "For Christmas, they bought him books, building blocks, a baby ball pit. … It's not all about extravagant gifts for them."
Prince Harry and Duchess Meghan obviously love Archie very much. They've said over and over how happy they are with the little guy. 
Archie is an all around great baby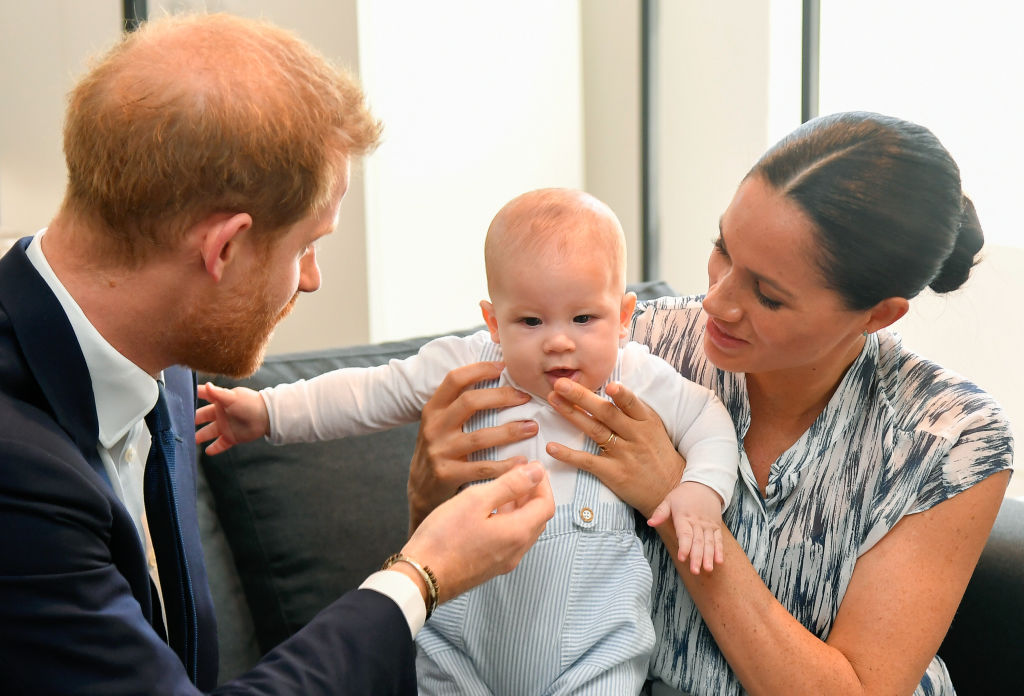 Duchess Meghan and Prince Harry are very satisfied with Baby Archie. He's an easy baby, according to his mom and dad. Even when he was a newborn, which can be a difficult time for new parents, the duke and duchess said he was no trouble at all. 
A few days after Archie's birth, Prince Harry said: "He's really calm. He's been the dream, so it's been a special couple of days." Duchess Meghan even once said "[Archie] has the sweetest temperament."
Now that Archie is a little bigger, he's showing his mom and dad that he loves them back. According to the insider, "When Harry walks into the room, Archie gets so excited, he puts his arms out — his way of saying, 'Pick me up!'"
It's a good thing that he's calm and social, considering he's already a tiny royal ambassador. Those are both great traits for a baby who flies around the globe meeting with world leaders.
This past fall Archie went to Africa with his parents. They met Archbishop Desmond Tutu, and Archie was in his element. He apparently smiled and laughed with the Archbishop and his daughter, in true social butterfly fashion.