Meghan Markle and Prince Harry's Son, Archie, Is a 'Bundle of Energy' Says Friend
Archie Harrison Mountbatten-Windsor is poised to become as famous as his parents, although he probably doesn't know it yet. Seventh in line for the throne, the adorable infant is already showing signs of becoming a high-octane toddler who is sure to keep his parents, the Duke and Duchess of Sussex, on their toes. A few days ago, a family friend revealed that the royal tot's doting mom, Meghan, Duchess of Sussex, describes her firstborn as a 'bundle of energy' who prefers playtime to sleep.
Prince Harry's had three nannies so far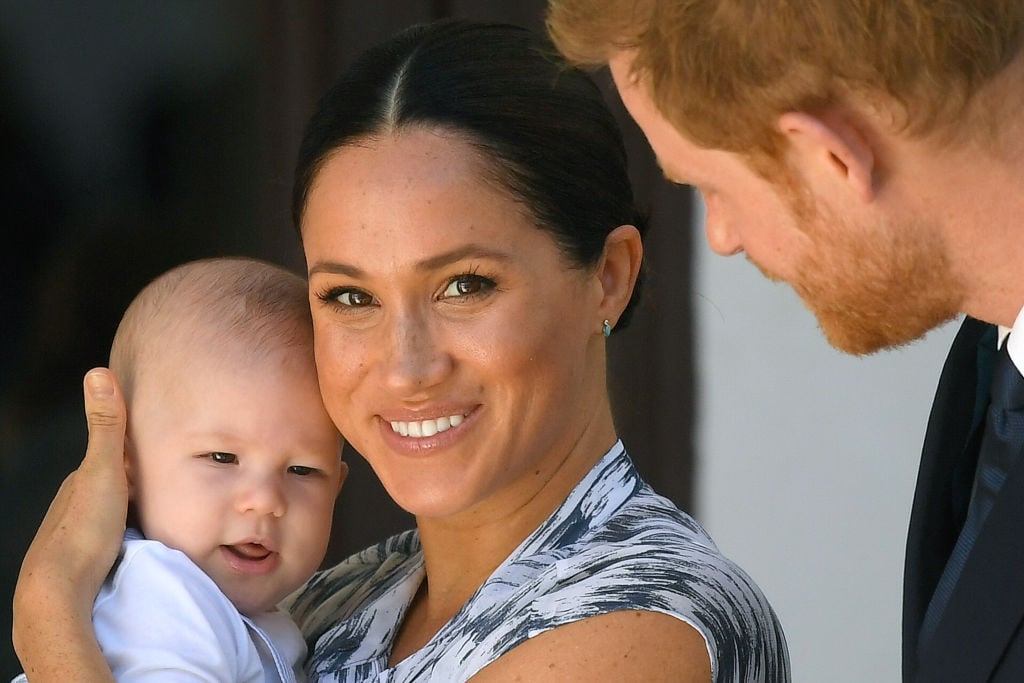 Since making his royal debut, at least three nannies have been hired by Meghan and Prince Harry to look after their lively youngster. None of their identities have been made public, as the royals seek to maintain some semblance of privacy in their new Los Angeles home.
Hello! magazine did reveal, however, that the first nanny was relieved of her position, and the second nanny to be hired worked only at night. The third nanny traveled with the Sussexes to tend to Archie when he made his first royal tour to Africa last September.
The duke and duchess may avail themselves of nanny services — it's a royal tradition, after all — but they are hands-on parents who are madly in love with their little one. In fact, they enjoy being Archie's mom and dad so much, they are seriously thinking about creating a pint-sized playmate for him to grow up with.
Glowing praise from the prince
Meghan and Prince Harry, who stepped down from their royal duties at the end of March, are typically tight-lipped about their firstborn. But, once in a while, they do make an official announcement to keep fans of the royal family apprised.
Shortly after witnessing his wife give birth, the prince exclaimed: "I'm so incredibly proud of my wife. And as every father and parent would say, your baby is absolutely amazing. But this little thing is absolutely to-die-for so I'm absolutely over the moon."
When Archie was five months old, his mum made the long-anticipated announcement that the queen's eighth great-grandchild was starting to grow red hair and eyebrows like his father. The revelation came at the Well Child Awards in London during a conversation with royal insider Angela Sunderland and her 11-year old daughter, Milly, according to Allure magazine.
What do we know about Baby Archie?
At the Endeavor Fund Awards in London in March, a stylishly dressed Meghan told attendee Claire Spencer that then ten-month-old Archie 'is into everything.' The infant was not in attendance at the gala event, having been left in the care of a nanny in Vancouver, Canada. The whirlwind trip also saw Meghan deliver an inspiring Women's Day speech during a surprise visit to an East London girls' school before the duke and duchess jetted home to reunite with their vivacious young son in California.
The same unnamed source who revealed Meghan's summation of her son as a 'bundle of energy' also says that the duchess 'lights up' when she speaks of Archie while simultaneously suggesting that the ten-month-old heir to the throne 'needs a little buddy that isn't the dogs.'
Whether or not a new Sussex is on the way remains to be seen. In the meantime, Prince Charles' grandson amuses himself with mini-instruments upon which he loves to bang, says his mom, who adds that she finds it especially amusing when Prince Harry plays harmonica for a giggling Archie, according to UK Express.
On May 6, Meghan and Prince Harry are expected to release an authorized portrait of their toddler. It is unclear where the image will be released to the world, however, as the prince and his wife no longer active their Sussex Royal account on Instagram, explains Hello! Magazine.