This Adorable New Photo of Meghan Markle and Archie Proves the Duchess Is Ready to Give Birth Soon
Meghan Markle has remained very low-key since her bombshell interview with Oprah Winfrey. Now, a new paparazzi photo of the pregnant duchess with her son Archie, proves she's doing just fine in her new California life.
Meghan, Duchess of Sussex, has been using her voice since stepping away from the British royal family in March 2020. Though the former actor has not been in the spotlight as much, she has chosen to speak out for Black Lives Matter about pregnancy loss and, of course, in her bombshell interview with Oprah Winfrey, where she spoke candidly along with Prince Harry about their decision to leave the British royal family.
At the time, the heavily pregnant duchess announced that she and the prince would be welcoming a baby girl in the spring of 2021. However, since the duo, who have moved to California for more private life, have chosen to shield their son Archie Harrison from the spotlight, we've seen little else of her.
Now, a new photo of Meghan and Archie proves the duchess is ready to give birth soon.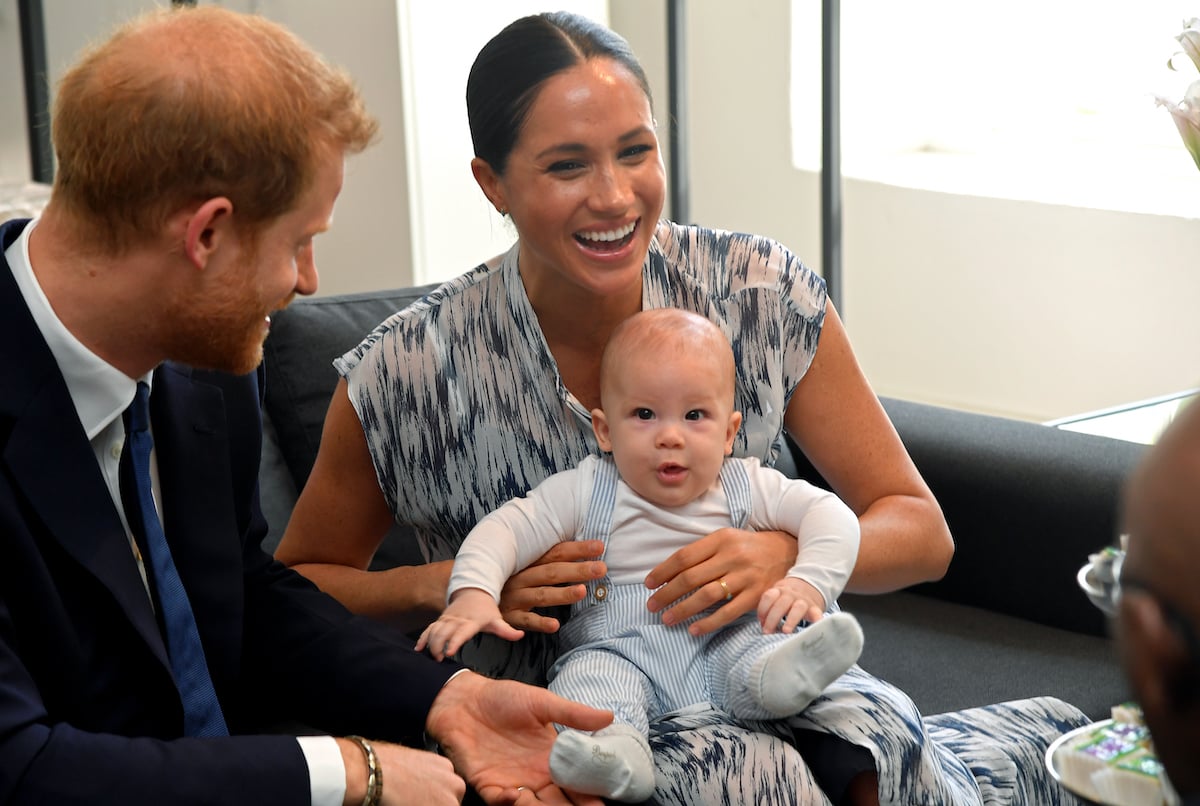 Meghan Markle was unable to travel to the U.K. for Prince Philip's funeral
Prince Philip, Prince Harry's grandfather, died at age 99 on April 9. Though Meghan desperately wanted to travel to the U.K. with Prince Harry to pay her respects at the Duke of Edinburgh's funeral, she was not given clearance by her doctors.
Instead, the duchess and Archie spoke with Queen Elizabeth II to offer their sympathies. Together, the Sussexes also honored Prince Philip with a thoughtful message on their Archewell website. It stated, "In loving memory of His Royal Highness The Duke of Edinburgh 1921-2021. Thank you for your service…you will be greatly missed."
Additionally, though Prince Harry was present at the funeral, Meghan watched it from home. She contributed a custom wreath laid in honor of the Duke of Edinburgh at his funeral service at Windsor Castle, along with a handwritten note.
Prince Harry worried about leaving Meghan Markle and Archie behind in California
Prince Harry traveled to the U.K. for the first time in a year to honor his grandfather's life. However, with a heavily pregnant wife and a toddler son halfway around the world amid a pandemic, the Duke of Sussex was reportedly extremely stressed about the entire ordeal.
"Meghan and Harry have been in touch every day," a source told People. "She knows the trip to England has been difficult for Harry. He didn't want to leave Meghan and Archie alone. Meghan has insisted to him every day though that they are fine. She hasn't wanted him to worry."
Thankfully, FaceTime and video calling helped alleviate many of the prince's worries, and now that he's back in LA, he and Meghan can focus on the forthcoming birth of their daughter.
Meghan Markle and Archie's new photo proves they are doing just fine
The paparazzi snapped a rare photo of Meghan and Archie in California on April 22. It appeared that the duchess was picking her son up from school as she was carrying the toddler while carrying a space-themed lunchbox in another hand.
Both Meghan and Archie were dressed for the spring weather, with the duchess wearing jeans and slides along with a face mask, and Archie sporting jeans, sneakers, and a beanie. The adorable tot was also wearing a backpack.
It appears that the Sussexes have fully settled into their life in California.