Which Members of the Royal Family Did Meghan Markle Reveal Were 'Concerned' About How Dark Archie Would Be?
 Meghan, Duchess of Sussex and Prince Harry shocked the world when they revealed that they were dating. They had a short courtship and were married, making Meghan the first Black woman to marry into the British royal family. When they announced that they were pregnant with their first child, Archie, most royal fans were excited, but according to Meghan and Harry, there were members of the royal family who were more concerned about how dark Archie's skin color would turn out to be.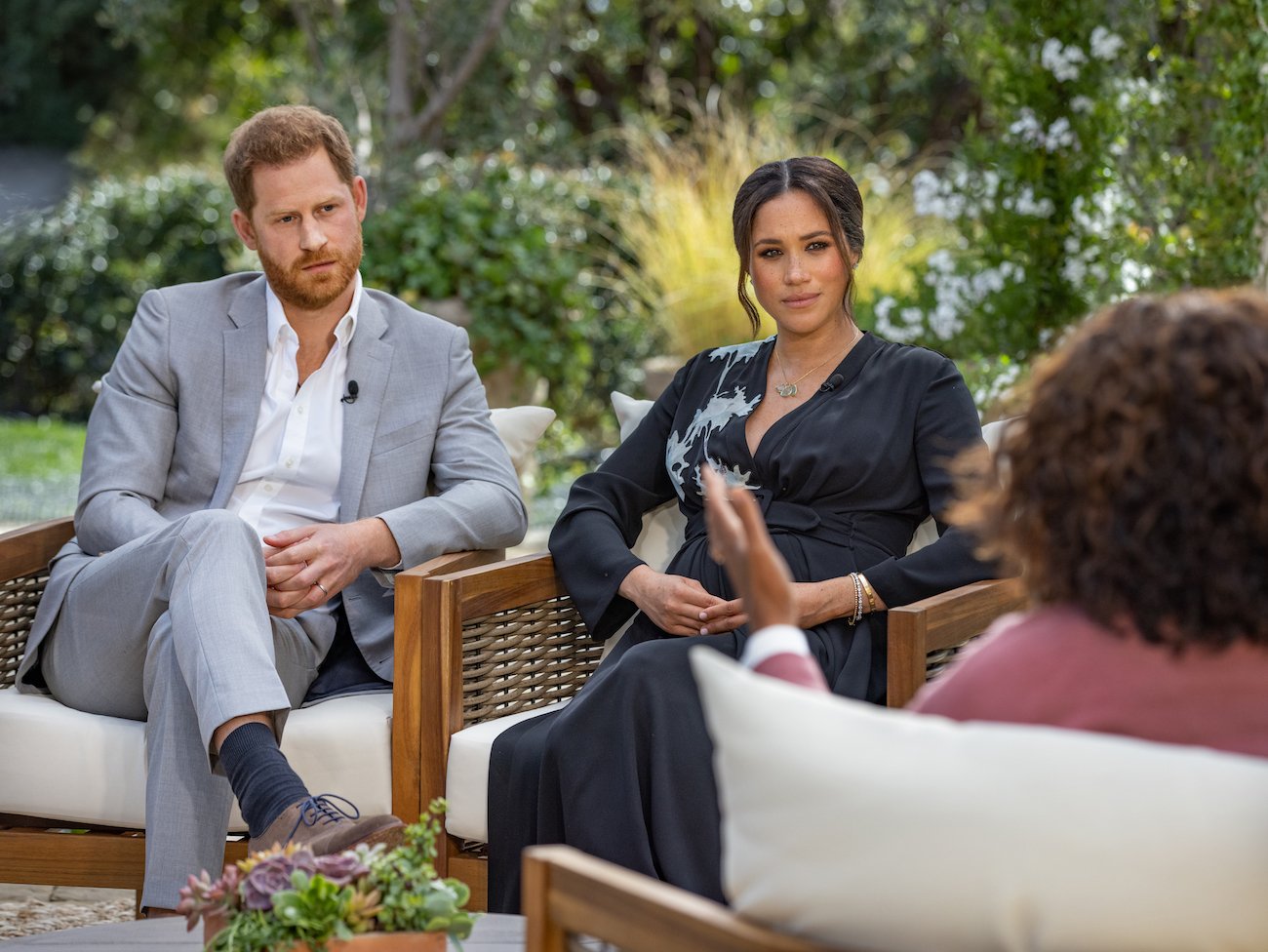 Harry has always defended Meghan against racism
When Harry and Meghan first started dating, Harry began to wonder if people's treatment toward his future wife had to do with her race.
"When he first started seeing her, Harry, sensitive to even the slightest hint of prejudice, had fallouts within his own circle," an excerpt from Finding Freedom: Harry and Meghan and the Making of A Modern Royal Family reads. "When some questioned his new relationship, and whether she was suitable, he would wonder, 'Is this about race? Is it snobbery?'"
"If he was willing to confront those close to him, when it came to the media, Harry was poised for outright war," the book says.
RELATED: Meghan Markle Says She Couldn't Remain Silent After the Palace Presented 'Falsehoods' About Her and Prince Harry
Related post url: 
Concern over Archie's skin color
During her groundbreaking interview with Oprah Winfrey, Meghan revealed that it wasn't her and Harry who decided not to let Archie have a title, he was actually not given one.
"In those months when I was pregnant, all around this same time… we have in tandem the conversation of, he won't be given security, he's not gonna be given a title and also concerns and conversations about how dark his skin might when he's born," she said told Oprah.
Meghan, who is half Black, was not privy to those conversations.
"That was relayed to me from Harry," she said, "Those were conversations that family had with him. It was really hard to be able to see those as compartmentalized conversations…"
For Meghan, not embracing the family members of color didn't make any sense as most of the Commonwealth are people of color.
"The Commonwealth is a huge part of the monarchy and I lived in Canada, which is a Commonwealth country, for seven years," she said. "But it wasn't until Harry and I were together that we started to travel through the Commonwealth… 60, 70 percent of which is people of color."
RELATED: Meghan Markle's 'Suits' Costars and Childhood Friends Slam Palace Bullying Accusations
Related post url: 
"Growing up…as a little girl of color, I know how important representation is," she continued. "I know how you want to see someone who looks like you in certain positions."
To her, it seemed like the royals should have been excited to have someone who looked different in their ranks.
"I could never understand how it wouldn't be seen as an added benefit and a reflection of the world today, at all times, but especially right now," she said. "To go, how inclusive is that you can see someone who looks like you in this family, much less one who's born into it." 
Neither Prince Harry nor Meghan would reveal who it was in the royal family who expressed concerns about Archie's coloring.