All the Ways Meghan Markle Is Like Princess Diana (and 3 Ways She Is Completely Different)
Now that Meghan Markle and Prince Harry are officially married, comparisons are being drawn between Markle and Princess Diana. There are some definite similarities between the two, something Markle would be happy to hear. After all, as a kid, Markle was reportedly "obsessed" with watching Diana's wedding, according to The Daily Express. And Page Six reports that Markle "wants to be Princess Diana 2.0."
So just how accurate is that label? In what ways are Markle and Diana similar, and in what ways are they different? Here's what you need to know.
Both of their parents divorced when they were young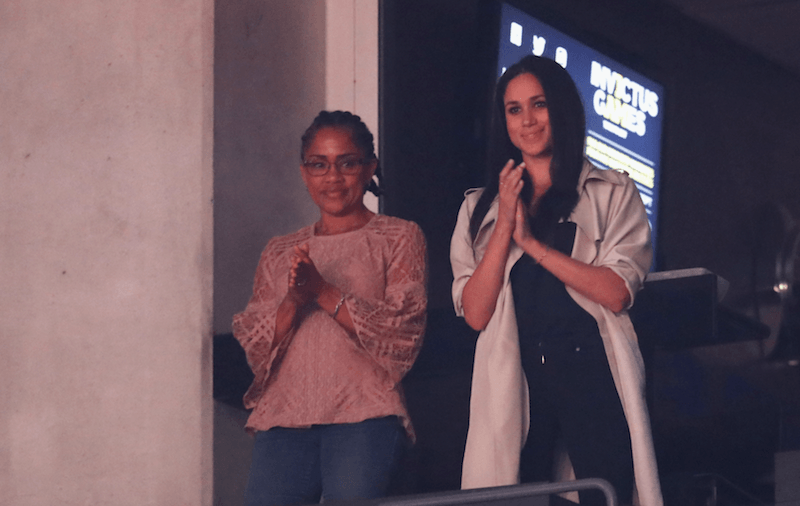 Both Princess Diana and Meghan Markle went through their parents separating when they were young. With Diana, her father, John Spencer, and her mother, Frances Spencer, divorced in 1969, when Diana was seven.
Meanwhile, Markle's parents, Thomas Markle and Doria Radlan, divorced when she was two years old, she told Vanity Fair. 
They both got engaged the year after they started dating the prince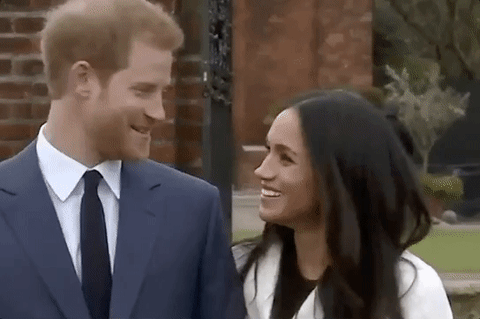 Both Diana and Markle got engaged fairly soon after their relationship with the prince began. For Princess Diana, she started dating Charles in the summer of 1980. In February 1981, they were engaged.
Similarly, Markle and Harry met in the summer of 2016, according to Vanity Fair. In November 2017, they announced their engagement.
However, the actual circumstances surrounding the meetings were quite dissimilar. Markle met Harry on a blind date that was set up by a mutual friend. On the other hand, Diana met Charles because he was dating her sister, and they did not strike up a romance until years later.
Unlike Diana, Markle was married once before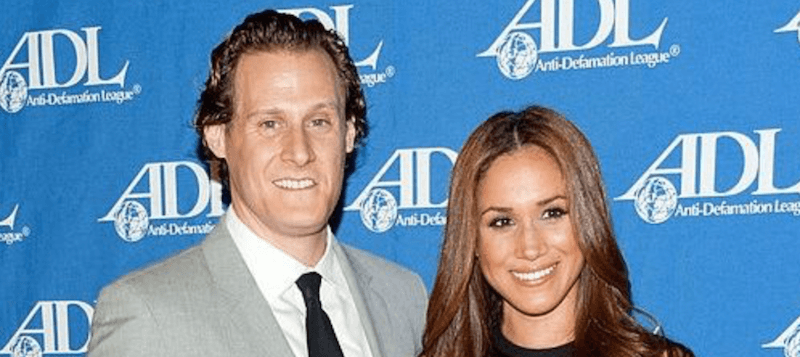 Princess Diana was only married once, and she was not married before meeting Charles. After all, she met him when she was just 16 years old. They got engaged a few years later.
But Markle did not start dating Prince Harry until she was 34 years old. By the time they met, Markle had already been married once. She married fellow actor Trevor Engelson in 2011, but they were divorced in 2013, according to The Sun. 
Markle shares Diana's passion for philanthropy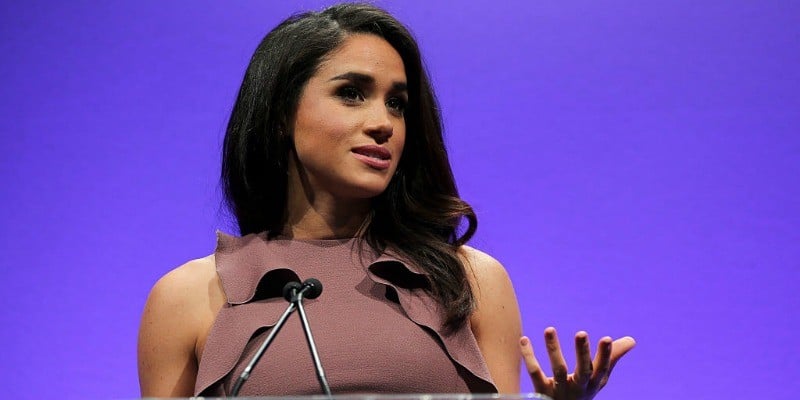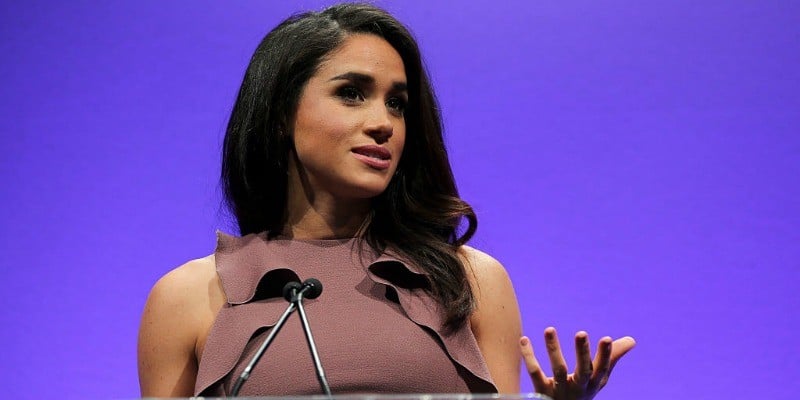 Princess Diana at one point was a patron of over 100 charities, according to Harper's Bazaar. She advocated for a variety of causes, perhaps most famously HIV and AIDS awareness. In 1987, Diana shook the hand of an AIDS patient without wearing gloves in order to combat the stigma and show the world that AIDS cannot be spread in this way.
Similarly, Markle has already made clear that she wants to use her position to help others. In the same way that AIDS awareness was a cause championed by Diana, Markle recently appeared at the Terrence Higgins Trust World AIDS Day Charity Fair, according to ABC News. It seemed like no coincidence that the very first charity event Markle attended after her engagement was for one of Diana's main causes.
Markle is also an advocate for the United Nations Entity for Gender Equality and the Empowerment of Women. She has spoken about gender equality at events like the One Young World conference, and she also participated in a Clean Water Campaign in Rwanda. 
Unlike Diana, Markle comes from a humble background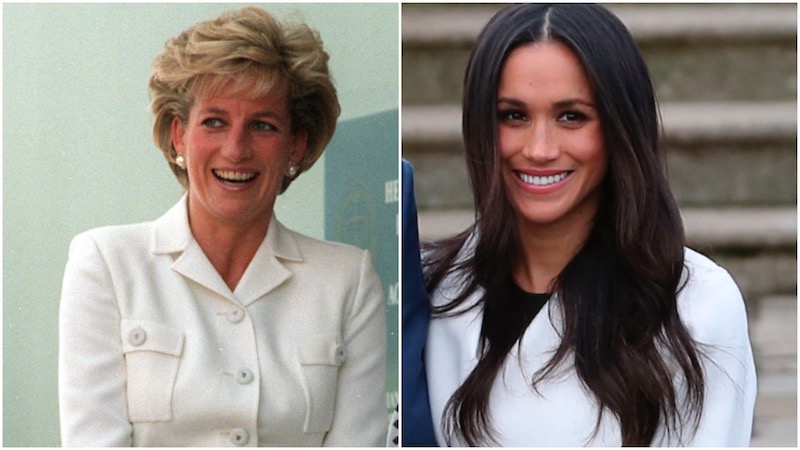 The families of Diana and Meghan Markle are quite different. Diana was born in Sandringham, Norfolk into a well-known British family, the Spencers. Diana's grandmothers were both ladies-in-waiting for Queen Elizabeth. In addition, her father served as equerry to King George VI and Queen Elizabeth II and was a member of the Royal Victorian Order.
Meanwhile, Markle came from no such family. She was born in Los Angeles, California to a yoga instructor and a lighting director. Her father is Caucasian and her mother is African American.
Also unlike Diana, Markle has no siblings that she shares both parents with. Diana had three: Sarah, Jane, and Charles, with a fourth sibling, John, who died before she was born. Markle has two half-siblings through her father's first marriage. 
They were both educated at all-girls private schools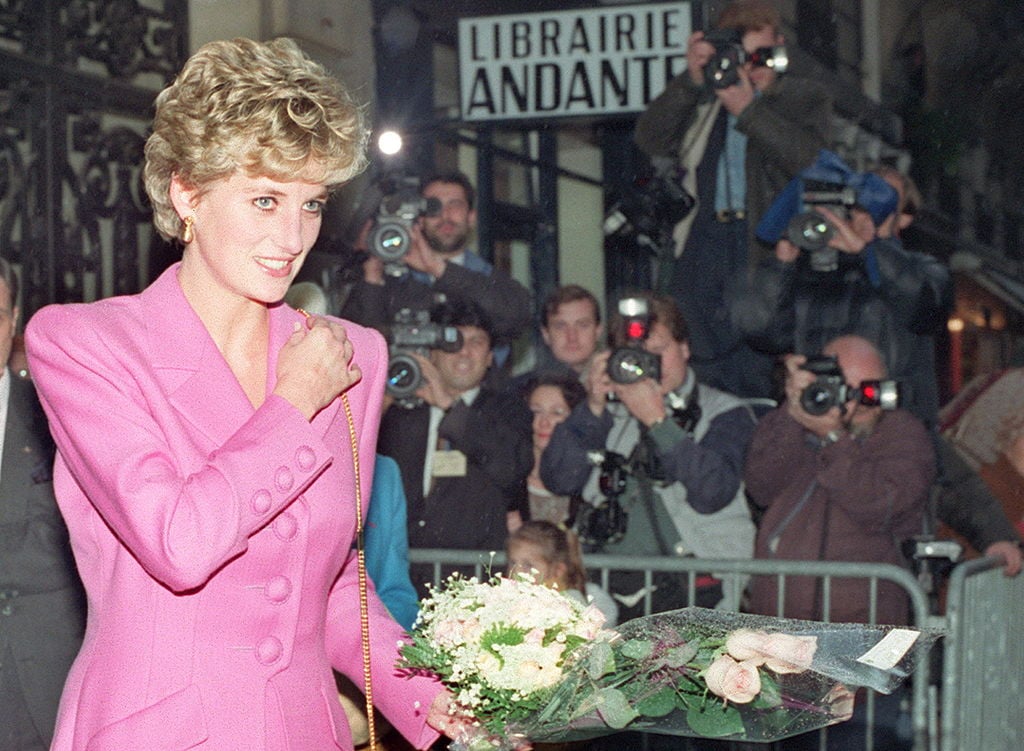 One way that Diana and Markle's backgrounds line up, though, is that they both attended an all-girls school. When she was nine years old, Diana was sent to Riddlesworth Hall School, an all-girls school in Norfolk, according to the Eastern Daily Express; the school has since become co-ed. She later attended West Heath Girls' School.
Meanwhile, Markle attended Immaculate Heart High School, an all-girls private school in Los Angeles, according to ABC News. She had previously attended private schools from when she was 5 years old. 
They have similar fashion styles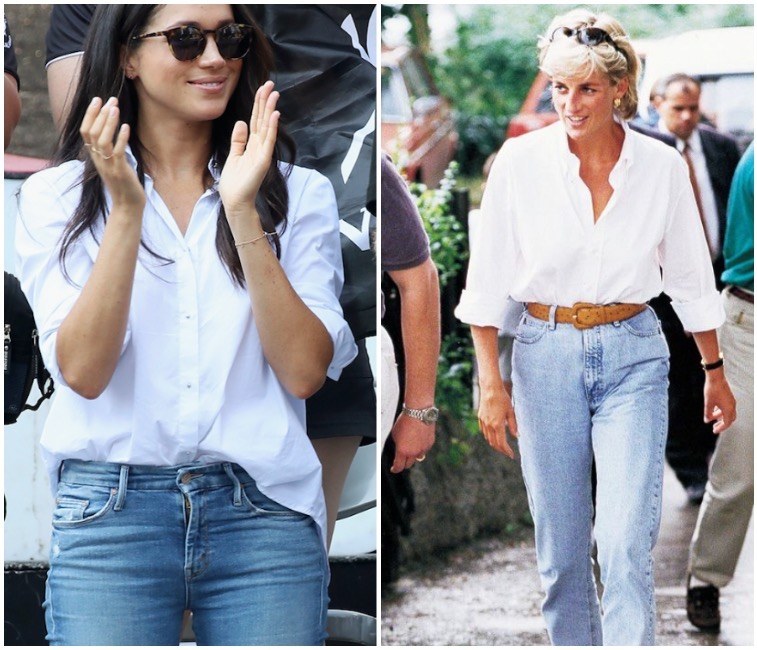 Many have drawn comparisons between the fashion of Diana and Markle. For instance, as pointed out by The Mirror, Markle has been known to dress down and wear jeans with a white collared shirt, an outfit Diana too would sometimes sport.
They are also both fans of baseball caps. On numerous occasions, Markle has been seen wearing outfits that are quite similar to iconic outfits worn by the late princess, including a blue gown Markle wore to an event in Los Angeles.
Plus, Markle has already been highly aware of the fact that wearing an outfit calls attention to its designer, something Diana knew quite well. Both share an interest in fashion, with Markle having released a line of women's clothing.
Unlike Diana, Markle was a successful actress before she met the prince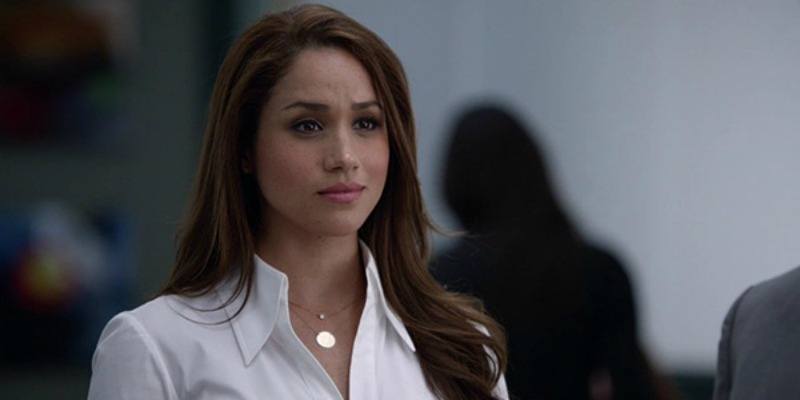 Because Markle met the prince at a later age than Diana, she had the chance to make a successful career for herself beforehand. In fact, Markle was already moderately famous before becoming extremely famous due to her association with Harry.
Markle spent over a decade working as an actress before meeting Harry. Her biggest role was on USA's Suits, on which she appeared as a series regular since the first season before departing at the end of the seventh. Markle has also appeared in films like Get Him to the Greek, Horrible Bosses, and Remember Me.
At the time that she got engaged to Prince Charles, Diana was working as a teacher's assistant. Naturally, both Diana and Markle gave up their jobs when they got engaged, with Markle announcing she was retiring from acting prior to the wedding, according to US Weekly.
Like Diana, Markle is perceived as being warm and approachable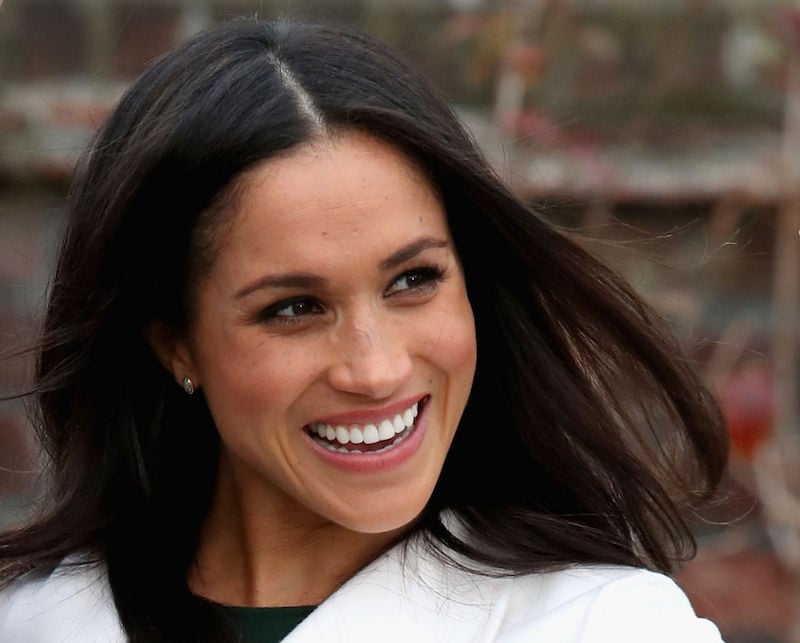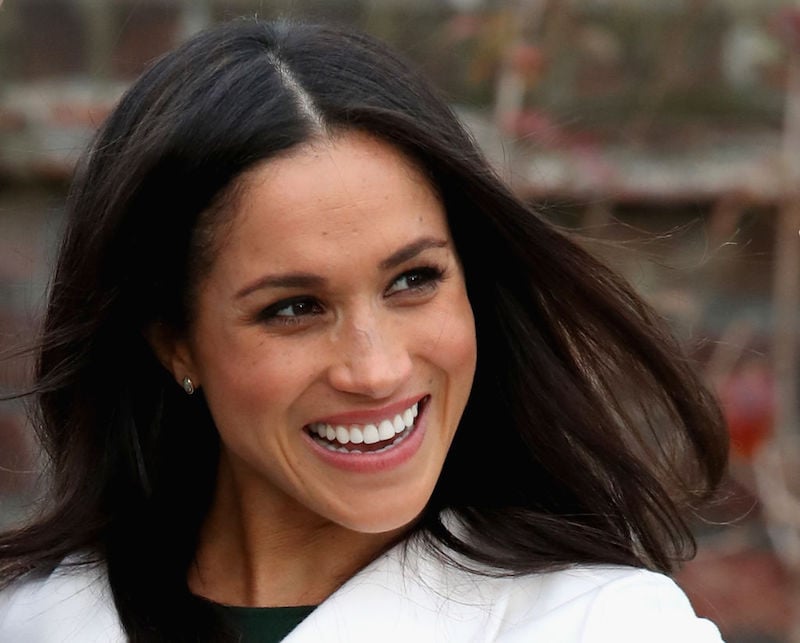 Princess Diana was nicknamed the "People's Princess," due to her ability to connect with the average person and advocate for the causes of common people through her charity work. Similarly, Markle is already being spoken of in similar terms.
In her first public appearance following the engagement announcement, Markle greeted and shook hands with members of the crowd who were going wild, thanking people one on one for coming to see her. According to The Express, she also crouched down to talk to children and even made one person's day by picking up their dropped glove.
An expert in body language told The Express, "This type of spontaneous and natural response completely mirrors the kind of behaviour that Diana used, and which earned her the tag The Peoples' Princess."
Markle's engagement ring includes some of Diana's diamonds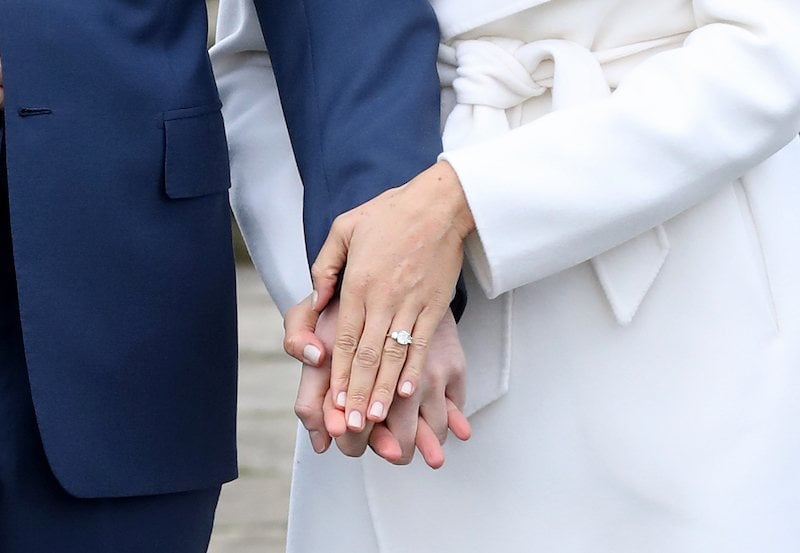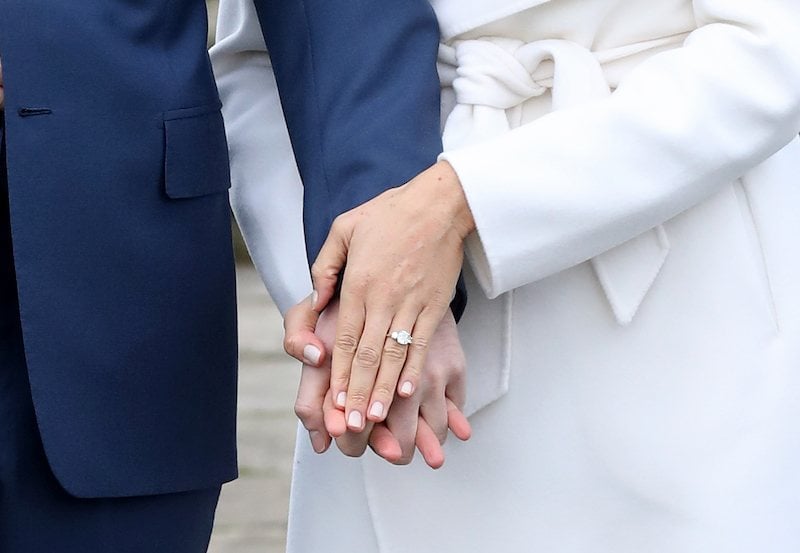 Markle and Diana are now closely connected through Markle's engagement ring. According to The Hollywood Reporter, Prince Harry designed Markle's engagement ring himself, and it actually includes two diamonds from Diana's collection. The central diamond is from Botswana, where Harry and Meghan have spent time together.
In their first post-engagement interview, Harry and Markle said that Diana's memory is still with them. "Not being able to meet his mom, it's so important to me to know that she's a part of this with us," Markle said.
Check out The Cheat Sheet on Facebook!