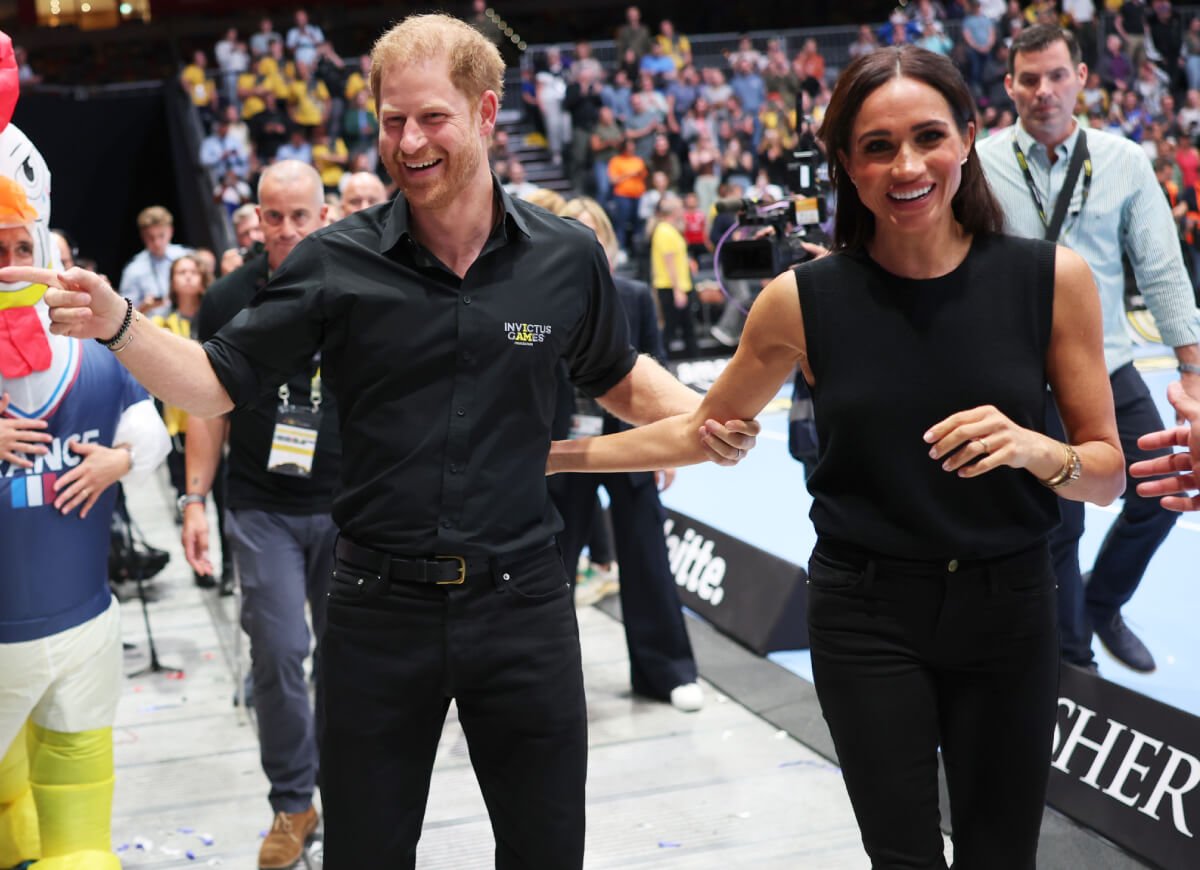 Meghan Markle Displayed 'Inner Irritation' as Prince Harry 'Ignored' Her at the Invictus Games, Claims Body Language Expert
In an awkward moment, Meghan Markle displayed her 'inner irritation' as Prince Harry 'ignored' her during a public appearance at the Invictus Games claims a body language expert.
The dynamics between members of the royal family have always held the public's attention, and the relationship between Meghan Markle and Prince Harry is no exception. Fans and experts often dissect their interactions, gestures, and expressions with meticulous detail.
Recently, during the Invictus Games in Germany, a moment captured on camera between the royal couple has stirred up fresh speculation. As onlookers and fans dissected their every move, a body language specialist provided a deeper analysis of what might have happened between Meghan and Harry.
Prince Harry 'ignored' Meghan Markle causing her to display her 'inner irritation' at the Invictus Games
A video recently surfaced showing Meghan, apparently overlooked by Harry during the Invictus Games. A professional in body language has shared their thoughts on this instance.
Just last week, the Duchess of Sussex accompanied her spouse to a gathering in Germany. Roughly 1,600 athletes attended the event alongside their acquaintances and loved ones.
Shortly after landing in Dusseldorf, Meghan was spotted positioned between Harry and a female representative who were deeply engaged in conversation. As the lady shifted toward Harry to respond, Meghan seemed momentarily sidelined, giving off subtle discomfort.
According to The Sun, body language specialist Judi James believes Meghan showed "inner irritation" after Harry "ignored" her.
After watching the video closely, Judi summed it up, saying Harry appeared more absorbed in the discussion, possibly not noticing Meghan's attempt to engage. This left Meghan momentarily halted in her attempt to communicate.
"Harry is in a much more serious mode and, seeming to have missed the fact his wife is talking to the woman, or trying to, he appears to commandeer the conversation, talking over her," Judi explained.
Body Language Expert believes the Duchess of Sussex displayed internal frustration at the Invictus Games
Judi delved deeper into her observations about Harry and Meghan's interaction during the Invictus Games.
The expert in body language pointed out that Meghan had an opportunity to flash a smile and make eye contact with Harry, possibly pretending she wasn't intending to chime in. Instead, she withdrew from the chat, brushing both sides of her hair simultaneously, which appeared as a defensive move.
This was accompanied by a change in her facial expression when she lowered her chin. As she looked up again, her jaw position showed a noticeable shift.
This kind of jaw movement is reminiscent of kids who pout. However, in grown-ups, it's more suggestive of jaw tension, potentially indicating internal frustration.
Luckily for Meghan, someone handed her a microphone shortly after, pulling her out of her momentarily sidelined position. Meanwhile, Prince Harry seemed unaware of the subtle dynamics that had just unfolded.
Meghan Markle makes a public appearance in Germany following her event with Prince Harry
Before wrapping up her time in Germany after the Invictus Games, the Duchess of Sussex stopped at TrebeCafé for a surprise visit. The organization is a community hub catering to girls and women experiencing homelessness.
In snapshots from the visit, Meghan shares a warm moment with a woman believed to be Aylin Aydemir.
According to The Daily Mail, Meghan's ensemble for the visit showcased her preference for monochromatic styles. She wore a grey cable knit top coupled with pleated wide-legged pants, both from Toteme.
During her time at the café, Meghan engaged with the staff and the women frequenting the establishment. Her surprise visit came toward the end of the Sussexes' collective journey to Germany.
Harry, however, did not join Meghan for this particular outing. The Duke and Duchess of Sussex have remained tight-lipped about their experiences at the Invictus Games.