Meghan Markle Showed 'Dominance' Over Prince Harry During Oprah Interview, Body Language Expert Says
Meghan, Duchess of Sussex's body language during the Oprah Winfrey interview was revealing about her relationship with Prince Harry, according to a body language expert. The way Meghan held on to Prince Harry's hand during the interview may indicate that she was showing "dominance."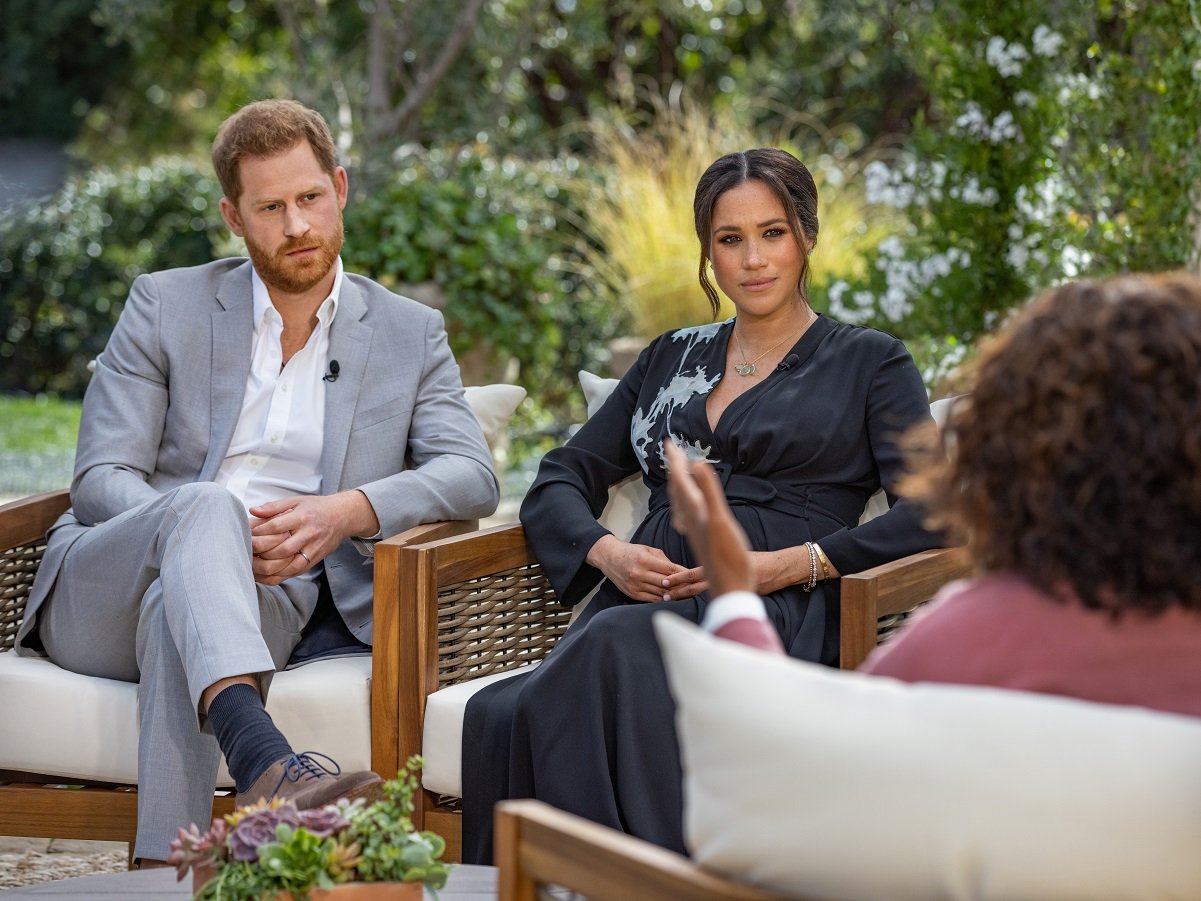 Meghan Markle showed 'dominance' during Oprah interview, expert said
During their interview with Oprah, Prince Harry and Meghan held hands and were supportive as they shared their experience with the royal family. Body language expert Andrea Gordon explained to Express that Meghan showed "dominance" in the way they held hands.
"They are gripping each other's hands with fingers spread and entwined, as opposed to relaxed hand holding," Gordon explained. "This grip shows both intensity of feeling and of the situation they are in."
"Most of the time Meghan's hand is on top which shows dominance," she added.
While Meghan's hand placement may have shown dominance, Gordon said that she was also reassuring Prince Harry during the interview.
"Also there is a nurturing sense to Meghan's hand hold over Harry, a reassurance of being safe, I got your back," she explained.
The body language expert addressed Prince Harry's 'baseline behavior'
Interestingly, Gordon shared some of Prince Harry's "baseline behavior" which could be compared to his body language in the Oprah interview.
He often shows a "nervousness" around cameras, according to Gordon, which can be seen with some of the fidgeting he's displayed in the past.
"Harry has a baseline behavior — we all do by the way, body language readers have to figure out an individual's baseline behavior before they can correctly read someone," Gordon explained.
"So, Harry blinks a lot and fidgets with things; his wedding ring his fingertips, and when walking in public his jacket button," she added. "That's his baseline behavior."
Gordon further pointed to how "he will cover his torso with usually his right hand" and that's seen in the interview as well. "He covers his lower torso most of the time in this interview with his hands, which is what readers call a barrier and denotes nervousness," she explained. "He is not comfortable in front of any camera, ever, as we have seen on previous footage."
Prince Harry and Meghan Markle displayed 'protective' body language, expert says
Body language expert Judi James also examined the couple during their sitdown with Oprah and shared her analysis with the Daily Mail. James found that their hand holding and other nonverbal cues showed an element of being "protective."
"Meghan looks protective of Harry though and the way that she cradles her baby bump with one hand (also displaying her wedding band) and places her left hand on top of Harry's when he joins her suggests she is keen to protect both," James explained.
She also shared the way Prince Harry is seated is revealing. "Harry sits across his seat in a way that suggests he is keen to talk, but his air of awkwardness is in contrast to his wife's poise," she explained.
"His hand looks balled into a fist beneath Meghan's reassuring hand and his free hand is placed between his legs in a 'fig-leaf' pose, suggesting a very basic desire to form a protective barrier," James added.