Meghan Markle Had an 'Uncomfortably Close' Relationship With Her 'Suits' Co-Star Patrick J. Adams According to Wedding Guests
Meghan Markle's relationship with her former Suits co-star Patrick J. Adams has raised more than a few eyebrows over the years. Meghan, Duchess of Sussex, starred on Suits as Patrick's romantic interest until their mutual departure in season 7. Long before Meghan married into the royal family, royal experts say that her relationship with Patrick made some of her close friends "uncomfortable."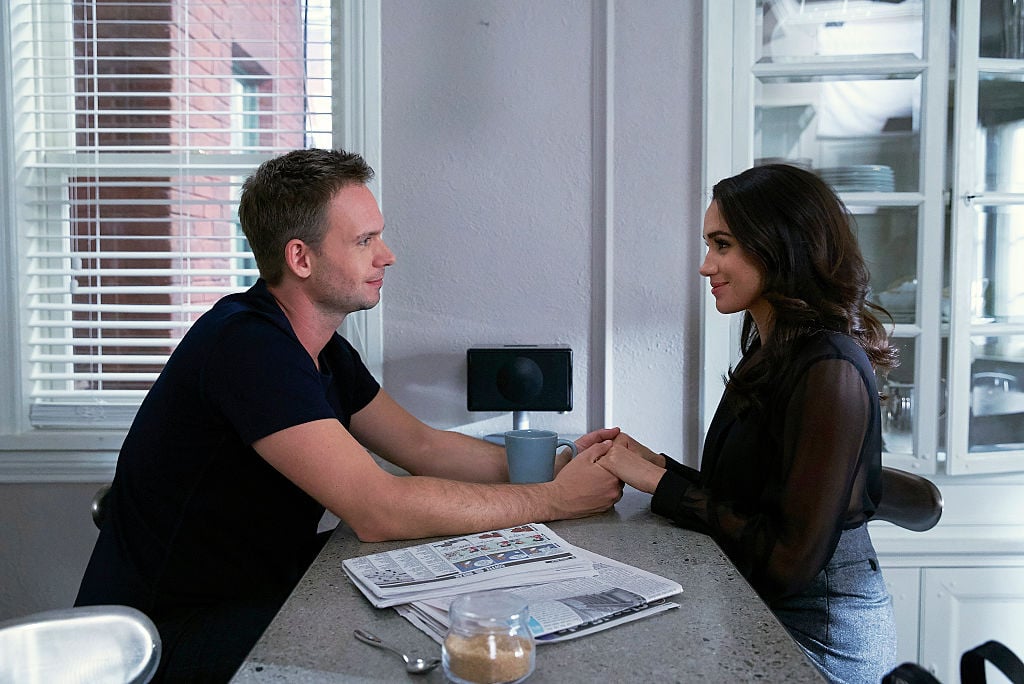 Inside Meghan Markle's steamy on-screen romance
Prior to her wedding to Prince Harry in 2018, Meghan enjoyed a successful run on the popular legal drama Suits. The Duchess of Sussex played Rachel Zane on the show, who was romantically involved with Patrick's Mike Ross.
Fans immediately picked up on the chemistry between Meghan and Patrick, and experts believe producers were "thrilled" that casting Meghan worked out. According to Express, Andrew Morton explained how Meghan and Patrick's chemistry was one of the driving forces behind the show's early success.
"Cast, crew and the money men at the network were ecstatic, the producers thrilled that their gamble to cast Meghan opposite Patrick had paid off big time, the show's fans buzzing about the couple's on-screen chemistry," Morton shared. "Their off-screen chemistry was equally noticeable, almost uncomfortably so, according to guests at Meghan and Trevor's wedding, which took place in Jamaica in 2011."
While fans loved watching Meghan Markle and Patrick interact on the series, their chemistry outside of work was also getting attention. In fact, Morton revealed that the two had a strong "bond" off the set, mostly because they spent so much time working together on the show.
And during a 2011 wedding, guests recalled feeling uncomfortable about their relationship.
Did the Duchess of Sussex fall for Adams?
Morton went on to claim that several guests at Meghan Markle's 2011 wedding to Trevor Engelson felt uncomfortable with the future Duchess of Sussex's relationship with Patrick.
"Their off-screen chemistry was equally noticeable, almost uncomfortably so, according to guests at Meghan and Trevor's wedding, which took place in Jamaica in 2011," Morton stated.
Actors falling for each other after working on a project is nothing new. There are plenty of examples of this happening, from Elizabeth Taylor and Richard Burton to Angelina Jolie and Brad Pitt.
A few years before Suits, Patrick started dating his Equivocation co-star, Troian Bellisario. After experiencing some ups and downs, the pair tied the knot in 2016.
Meghan and Trevor, meanwhile, parted ways in 2013. She started dating Harry a few years later and they exchanged vows in the spring of 2018. Patrick and Troian were invited to the wedding and attended the lavish ceremony, which was held inside St. George's Chapel.
Patrick J. Adams opens up about his relationship with Meghan Markle
Once things heated up between Meghan and Harry, the actress decided to leave the series for a new life with the royal family. With his on-screen romance gone, Patrick left the series as well, though he did return for a brief appearance in season 9.
In speaking about their relationship outside of the show, Patrick revealed that they developed a close bond because they shared so many scenes together. He also noted that they were both cast as young actors and basically "grew up together."
"In some ways, Meghan and I were the closest because we were the youngest people in the cast and both came in with the least experience," he explained. "We grew up together over the course of the show."
Meghan Markle, of course, had more than one friend on the set of Suits. She was close with most of her co-stars, including Gina Torres, Gabriel Macht, Sarah Rafferty, Abigail Spencer, and Rick Hoffman, all of whom made it her wedding.
It is unclear if Meghan has remained in contact with her old friends in Hollywood. The actress is currently living in Canada with Harry and their son, Archie Harrison, so it is possible that she has kept in touch.
Was Patrick forced to delete his Instagram because of Meghan Markle?
While it is clear that Patrick and Meghan shared a close connection, he was forced to delete his Instagram account after sharing a questionable photo of himself and Meghan.
The image was a throwback pic of Meghan Markle giving Patrick a kiss on the cheek and was taken during one of the first episodes they worked together. Unfortunately, Patrick shared the photo while Meghan was getting ready to tie the knot with Harry.
"I went to bed, and woke up in the morning and realized 'Oh, yeah. I live in a world where you can't post things about Meghan,'" Patrick admitted.
Patrick went on to assure fans that the kiss was perfectly innocent and that nothing romantic has ever happened between him and Meghan. He even went as far as to say that he views Meghan as a sister, which explains why they share such a tight bond.
Meghan Markle has not commented on the reports surrounding her relationship with Patrick. Now that she is no longer a part of the royal family, it is possible that she addresses the reports at some point in the future.