Meghan Markle Has Never Attended One Of Queen Elizabeth's Favorite Yearly Events
Meghan Markle spent nearly two years as a royal, attending a variety of the family's biggest engagements. From Trooping the Colour to Christmas at Sandringham and Commonwealth Day, the Duchess of Sussex rarely skipped out on an important event. But there is one engagement that Meghan, Duchess of Sussex, has never attended, and it is one of Queen Elizabeth's favorite yearly events.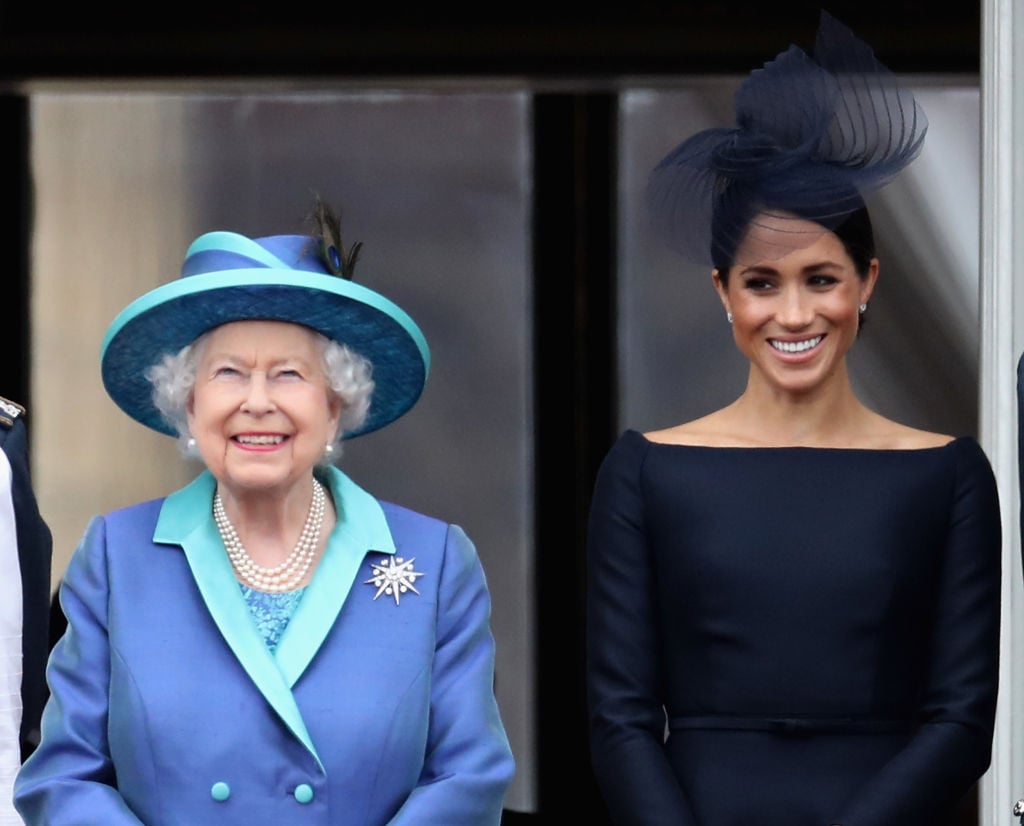 Inside one of Queen Elizabeth's favorite annual events
One of Queen Elizabeth's favorite yearly event is Easter at Windsor Castle. All of the senior members of the royal family gather for the annual Easter Sunday service, which is usually held inside St. George's Chapel, where Meghan Markle and Prince Harry tied the knot.
But before the service, Queen Elizabeth spends the entire weekend with her family and performs a few royal duties along the way. This includes passing out Maundy Money across the country to men and women who have contributed to the church and their individual communities.
Queen Elizabeth also hosts an Easter egg hunt at the palace. A bunch of children is invited to the event, including a few members of the royal family. In previous years, Kate Middleton and Prince William's children, Prince George, Princess Charlotte, and Prince Louis have appeared at the event.
Her Majesty, of course, does not get involved in the hunt herself. She does, however, display some artful eggs the palace has in their holdings, some of which have been given to her by ambassadors around the world.
Meghan Markle skips this one event
Easter may be one of Queen Elizabeth's favorite annual events, but Meghan has never attended the service at St. George's Chapel. According to Hello Magazine, Prince Harry has appeared at the event several times, including a surprise showing in 2019.
Turns out, there is a good reason Meghan has never joined the royal family during Easter. In 2018, the Duchess of Sussex skipped the event because she was too busy preparing for her wedding.
Last year, Meghan Markle was pregnant with Archie Harrison and Easter was too close to her due date. She ended up giving birth on May 6, a few weeks after the Easter holiday.
Due to the coronavirus pandemic, the royal family has canceled their Easter plans. The United Kingdom is currently under lockdown and the royals will not resume their schedules until after the pandemic is under control.
Harry and Meghan, meanwhile, have started their new lives in Los Angeles. Their exit from the royal family became official on March 31, though that does not mean a future appearance at Easter is out of the question.
Will Meghan Markle ever attend Easter service with Queen Elizabeth?
Meghan and Harry's exit from the monarchy means they will no longer appear in public on behalf of the crown. The couple's decision to split their time between North America and the UK will also lessen their public appearances throughout the year.
While the Duke and Duchess of Sussex are no longer a part of the monarchy, they could appear at certain events with the royal family. Events like Easter, for example, often include non-active royals, such as Princess Beatrice, Princess Eugenie, Zara Tindall, and Peter Phillips.
Depending on how things go over the next year, Prince Harry and Meghan Markle might be open to appearing at events like Easter. This is especially true once Archie gets older and is able to participate in Easter egg hunts with other children his age.
For now, Harry and Meghan are currently hunkering down in LA and are reportedly looking to buy a home in Malibu. The Sussexes have not commented on their future plans except to say that they are focusing on helping people hardest hit by the coronavirus pandemic.
As part of their exit, the couple will no longer use their royal titles and will be seeking to become financially independent from the crown. The details of Prince Harry and Meghan Markle's departure will be re-examined after 12 months. At that time, the royals will make appropriate adjustments to the plan.