Meghan Markle Honored Mom Doria Ragland in 1 Subtle Way With Daughter Lilibet's Name
Meghan, Duchess of Sussex and her husband, Prince Harry, recently welcomed a daughter named Lilibet. Like many royals before them, Meghan and Harry paid tributes to various royals with Lilibet's first and middle names. While not as obvious, the couple may have given a sweet nod to Meghan's mother as well.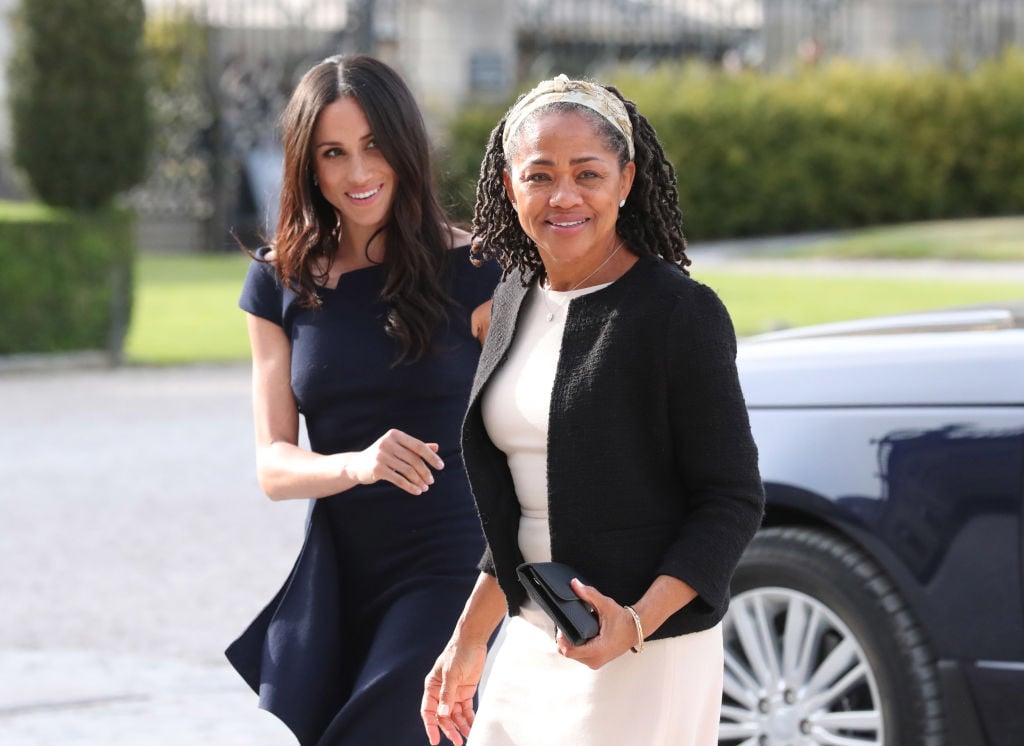 Baby Lilibet's name has nods to Queen Elizabeth and Princess Diana
Baby Lilibet's full name is Lilibet Diana Mountbatten-Windsor. Both her first and middle names are nods to special people in Meghan and Harry's life.
"Lilibet" is a tribute to Queen Elizabeth. The name is Her Majesty's childhood nickname, and it reportedly came about because young Elizabeth had trouble saying her full name. Since then, various royal family members have called the queen "Lilibet." Meghan and Harry have also chosen to give their child the nickname of "Lili."
Meanwhile, "Diana" is a tribute to Harry's late mother, Princess Diana. Both Meghan and Harry have talked about their love and admiration for her. They even have a picture of Diana in the nursery of their first child, Archie Harrison, and some of his first words referred to her. As such, it is perhaps not surprising that they gave baby Lilibet this meaningful middle name.
'Lili' is also a nod to Meghan Markle's mom
RELATED: Meghan Markle's Mom Doria Ragland Was Shocked She Wasn't Allowed to Take Her Daughter out for Coffee, Insider Reveals
Meghan's mother, Doria Ragland, might not have her name as a part of Lilibet's name, but she did get a subtle nod as well.
Lilibet's nickname, "Lili," is similar to the flower lily. Ever since she was a child, Ragland often called Meghan "Flower." In 2016, when Meghan was still an actor, she revealed her childhood nicknames during a questionnaire.
"My nickname is Meg, MM, M&M, and Flower (which my mum has called me since I was little)," she said.
Ragland currently lives in Southern California, where Meghan grew up.
Will Baby Lilibet receive a title?
RELATED: Meghan Markle and Prince Harry Reportedly Spent Up to $400,000 on Their Daughter's Nursery
In 2020, Meghan and Harry stepped down as senior royals. The couple has since moved to Montecito, California, and tried to lead a more private existence.
Their son Archie was born in 2019. At the time, reports said that Meghan and Harry declined a title for him because they wanted him to live life as a private citizen. However, earlier this year, Meghan said in an interview with Oprah Winfrey that the royal family refused to give Archie a "prince" title because of her biracial background.
In any case, it does not seem like Lilibet will get a title anytime soon. However, according to Harper's Bazaar, some royal experts predict that Harry's children could get titles when Prince Charles ascends the throne, seeing as Archie and Lilibet will be grandchildren of a monarch.
Things could still change, of course. Prince Charles reportedly wants to slim down the monarchy when he becomes king, so Harry's kids might not be granted royal titles if they are too far down the line of succession. In that situation, Archie and Lilibet will remain as they are.