Meghan Markle Ignored Camilla Parker Bowles' Advice About Handling the Pressures of Royal Life, Source Claims
Meghan, Duchess of Sussex reportedly got some solid advice from Camilla, Duchess of Cornwall about surviving royal life but, according to one source, Meghan ignored the guidance. Should she have listened to Camilla's recommendation to "ride out the storm"?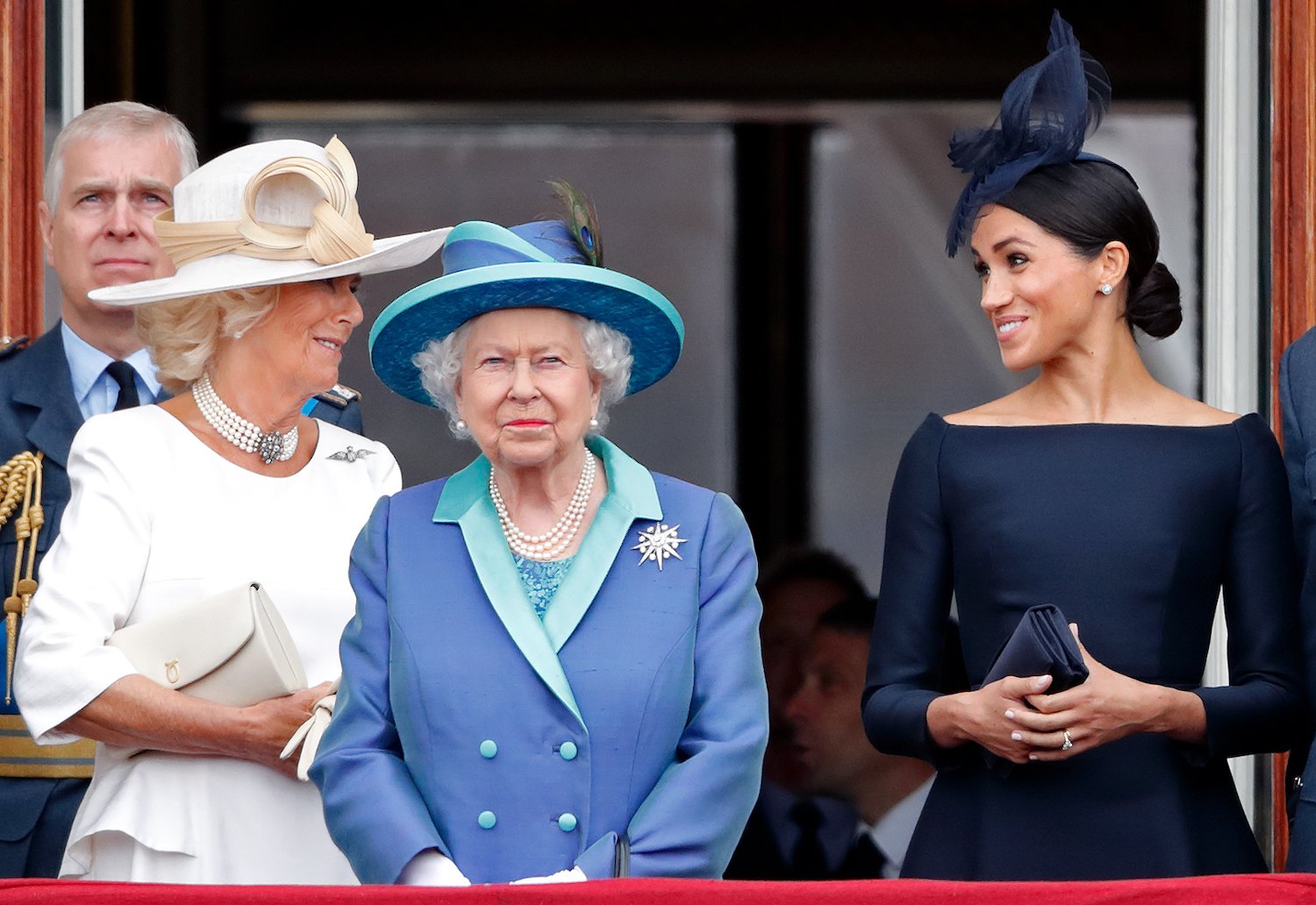 Meghan Markle reportedly ignored Camilla Parker Bowles' advice
Meghan and Prince Harry's decision to exit the royal family came after they endured overwhelming media scrutiny. Their next chapter includes a more peaceful life out of the royal spotlight, but one source claims Meghan was given some advice from Camilla that might have made a big difference, had she listened.
Camilla was certainly no stranger to learning how to adapt to the pressures that accompany royal life and Meghan could have learned a lot from her. One of Meghan's friends told Mail on Sunday that Camilla offered the duchess advice before she married Prince Harry.
Camilla reportedly spoke with Meghan during a private lunch and advised her to "ride out the storm."
"Meg was really grateful to Camilla who was very supportive and invited her out for private lunches, particularly around the time of her marriage," the insider shared. "She listened to her and understood that it's really difficult joining the royal family from an otherwise 'normal' life."
Camilla's experience provided a unique perspective for Meghan, but she "didn't listen," the source explained. "Much like Meghan, Camilla had experienced a lot of negative press and hostility from courtiers due to her relationship with Charles when he was still married to Diana," the insider shared.
They continued, "She was very sensitive to Meghan and provided her with support, advising her to ride out the storm and that it would all pass — but ultimately Meghan didn't listen."
RELATED: Prince Harry and Meghan Markle Were 'Failed by the Monarchy' and Racism Played a Role in Their Exit, Expert Claims
Camilla Parker Bowles gave Kate Middleton similar advice
Camilla also reportedly gave Catherine, Duchess of Cambridge similar advice about how to adapt to life in the royal family. A palace aide shared, "The Duchess of Cornwall does understand what it's like to come from a normal life and then land in the completely extraordinary world that the royal family exist in."
They added, "As a consequence, she tries very hard to make people welcome and help them find their feet, and has done so for many years. Her consciously offering to mentor and guide is something that she really does try and do."
"That applies to many people, not just the Duchess of Cambridge and the Duchess of Sussex," the insider explained.
Meghan Markle reportedly felt unprotected by the royal family
Despite this report of Camilla's guidance, Meghan felt like the royal family didn't protect her, Finding Freedom author Omid Scobie claims.
During the August 21 HeirPod podcast episode, Scobie was asked if there was a moment where everything went wrong for Prince Harry and Meghan that prompted their bombshell announcement to step back from royal duties.
"I wouldn't say there was one specific moment but really what we outline in the book is this build up of frustration after several different moments," he explained.
Scobie continued, "I think where it really started to crack was during the Duchess of Sussex's pregnancy because I think that was a time in which the press commentary, particularly in certain sections of the tabloids, became extremely negative at such a vulnerable moment in any woman's life."
"I think that was really one time where the couple, and particularly Meghan, felt extremely unprotected by the institution of the monarchy," he added.